We were so thrilled to partner with Eva Chen on the launch of her new book Juno Valentine and the Magical Shoes.  
We are absolutely in love with the inspirational storyline and the magical illustrations by Derek Desierto. Eva found Derek on Instagram, and the rest is history!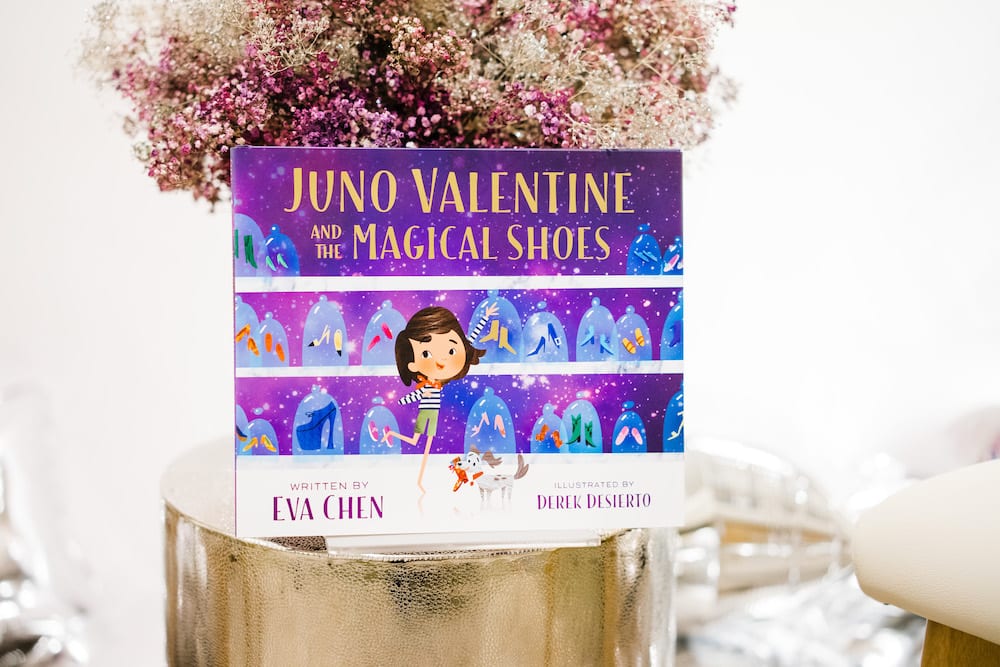 The Concept
To start out, we began the process in August with discussions on the overall concept and events with Eva.  We were thrilled to learn that the project included a store window takeover and a book launch party at the iconic Books of Wonder in Manhattan.
Next, we worked with talented stylist Jenny of Forrest and J. to come up with a visual design that was full of fun galaxy colors with metallic balloons and adorable character cut-outs: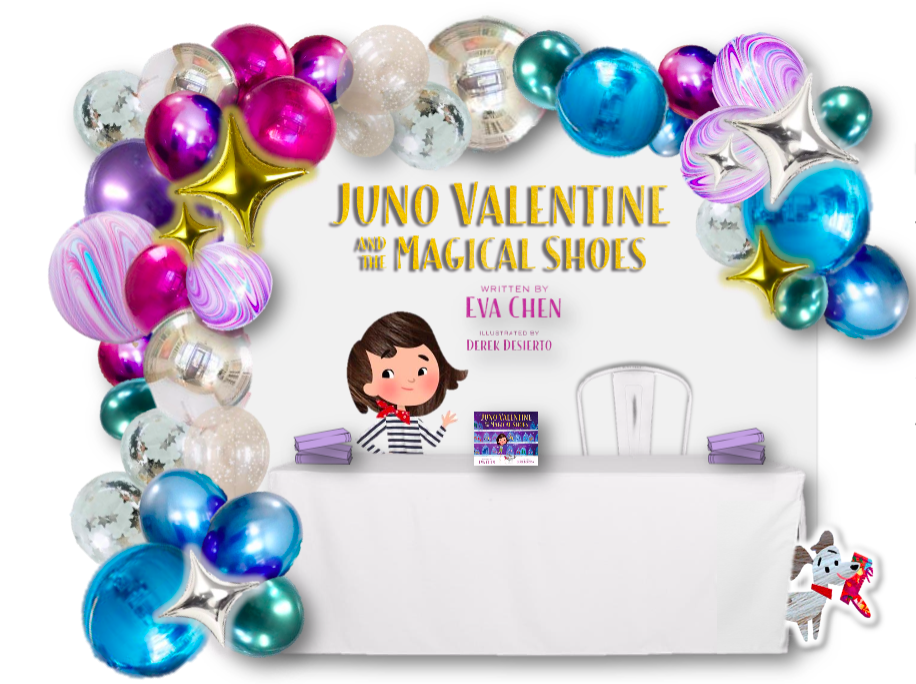 In October, we were excited to start translating this inspiration into reality, beginning with the store window installation.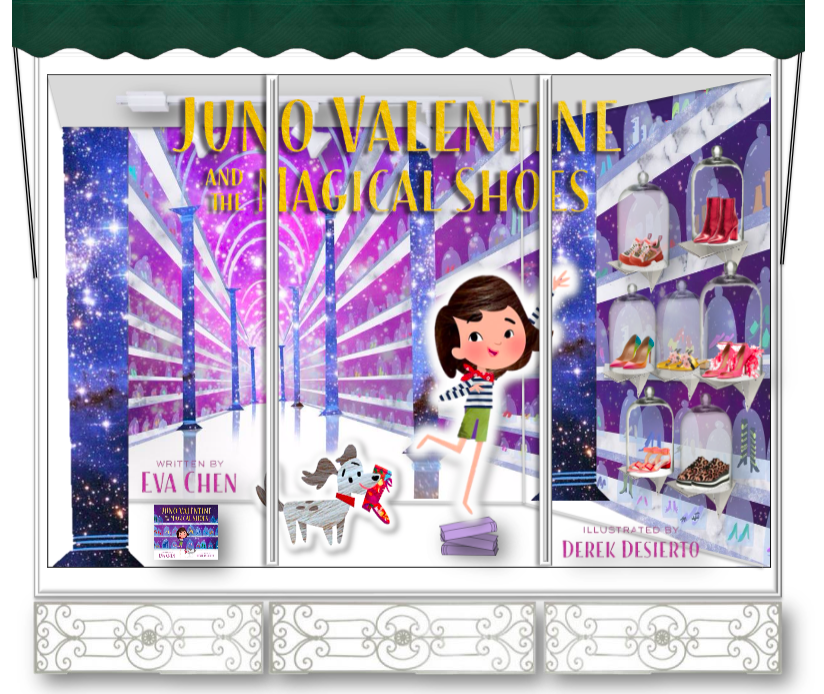 The Store Window
After developing the concept, it was time to bring the vision to life with a physical store window installation!  
First off, we collaborated with Derek the illustrator and our team of graphic designers to create the gorgeous backdrop.  The backdrop featured the hall of shoes from the Juno Valentine book. 
Next, Kelsie of Pop Up Florist who brought her A-game with purple ombré glitter baby's breath. Finally, we used metallic balloons from Qualatex to create a galaxy inspired balloon garland. 
Wow, we love the final result, a labor of love, creativity, and collaboration!
The Balloon Garland
We wanted to create something truly special to greet attendees to the book launch party and create a buzz around the event.  Therefore, starting the balloon garland in the store window, we continued it outdoors.  We also included Juno Valentine decals in the revolving door.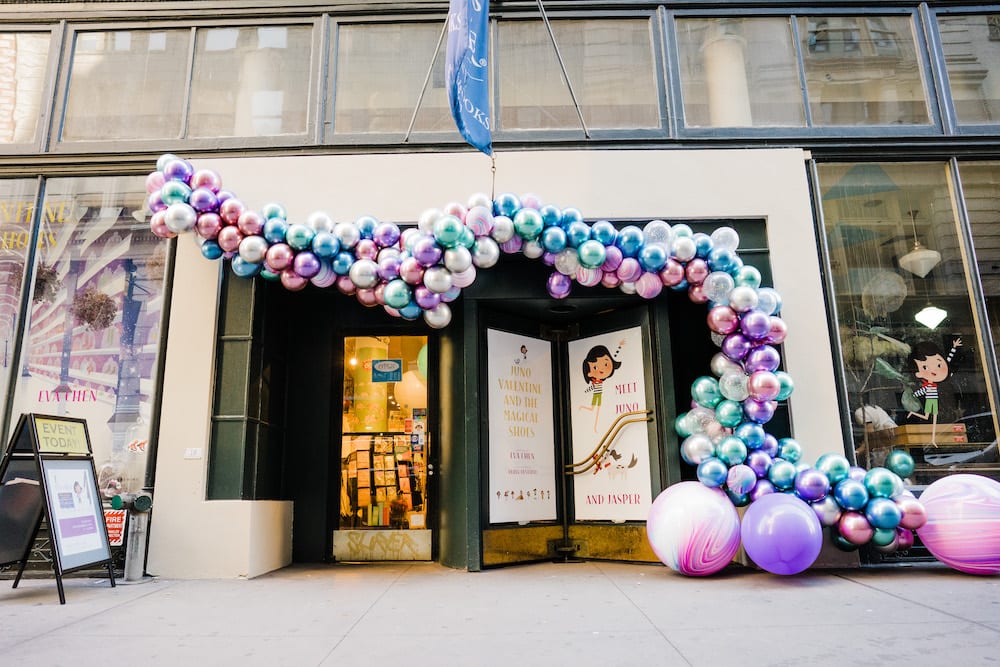 The Book Reading
We continued the magic indoors with a balloon garland over the book reading area.  Fun fact: we used about 600 balloons to create the indoor and outdoor balloon garlands for this live activation.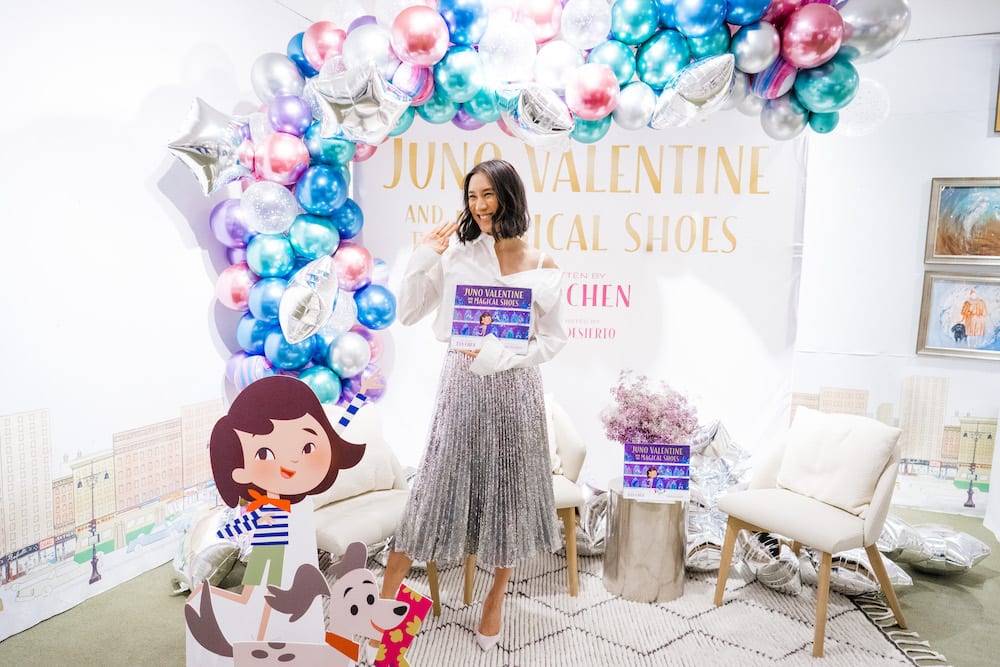 Don't you love how Eva's sparkly outfit matches perfectly with the white and metallic backdrop?  Home Nature, one of Eva's favorite stores in NYC, contributed the furniture for the reading.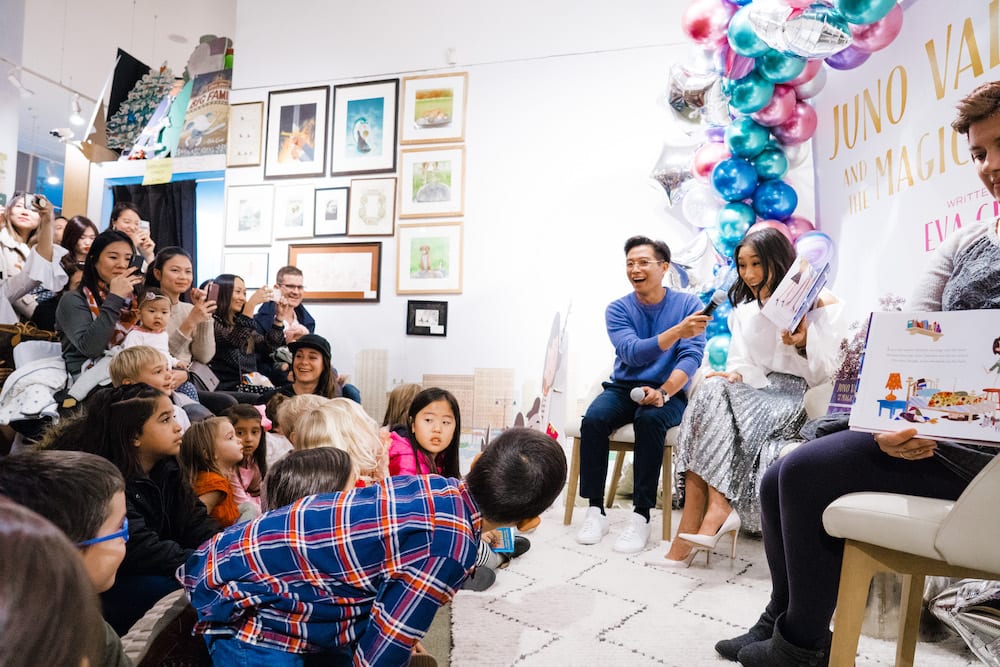 The Party
After the reading, guests enjoyed Juno Valentine cupcakes from Sprinkles, burgers from Shake Shack, and drinks from La Croix and Califia.  The light bites were perfectly matched with galactic and cosmic party ware from Daydream Society.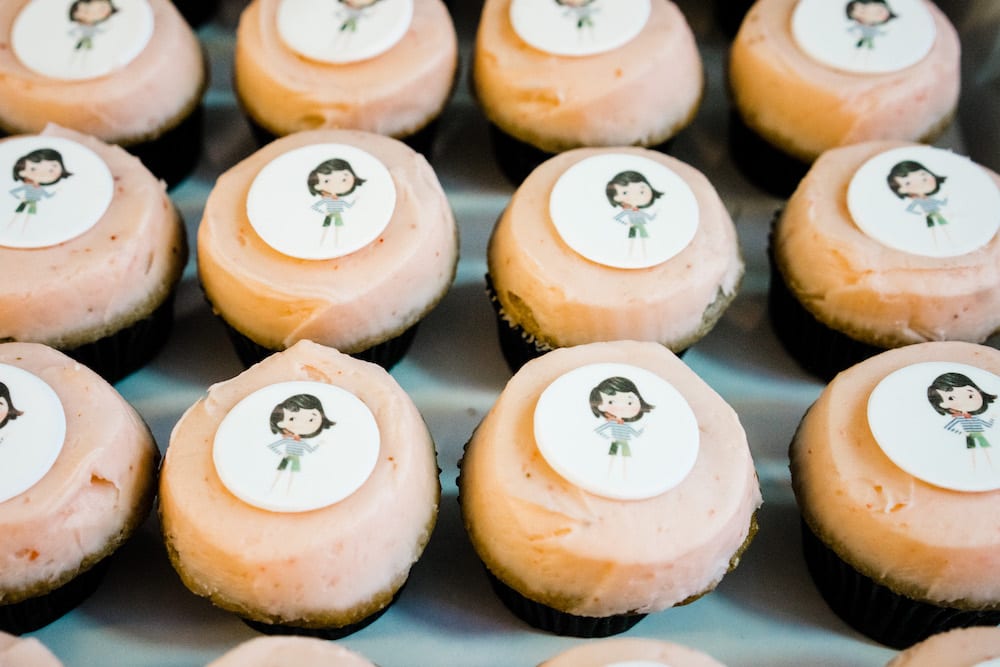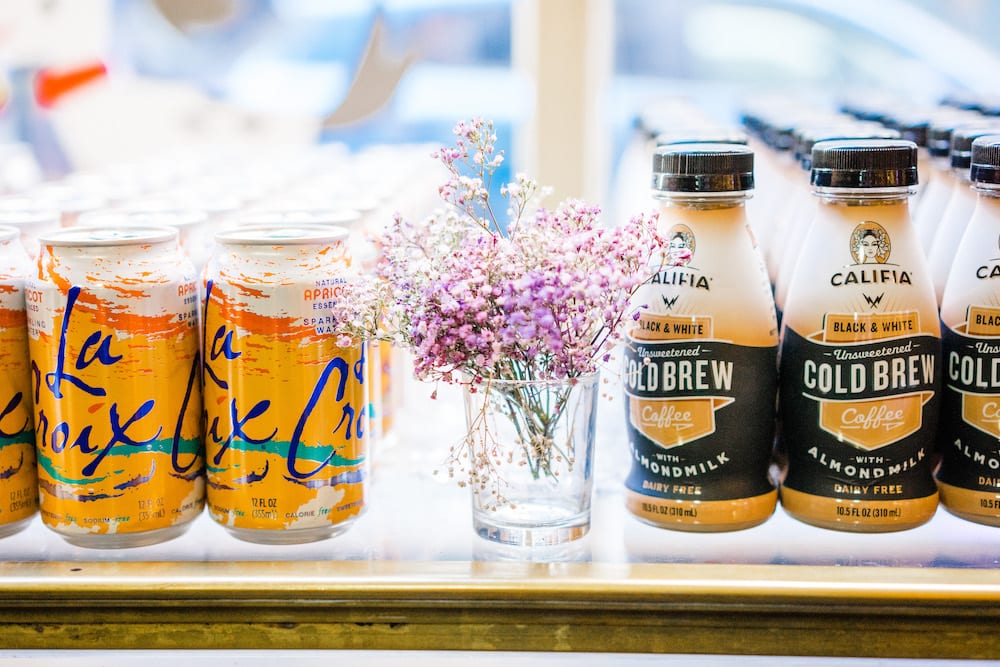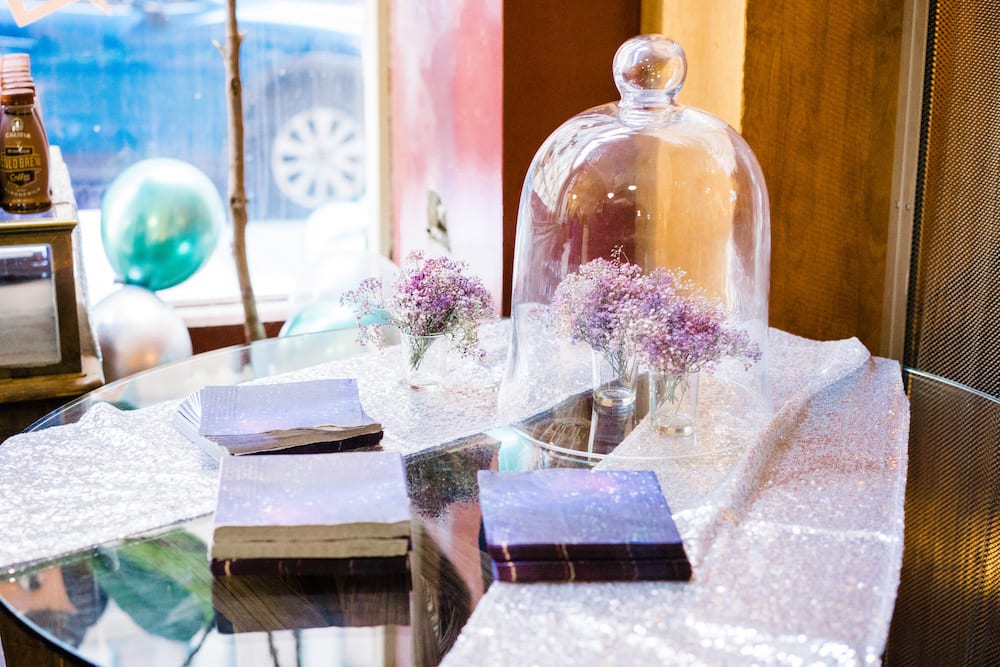 Guests took their Juno Valentine books home in these custom tote bags designed by Katie of Swag Bags Co.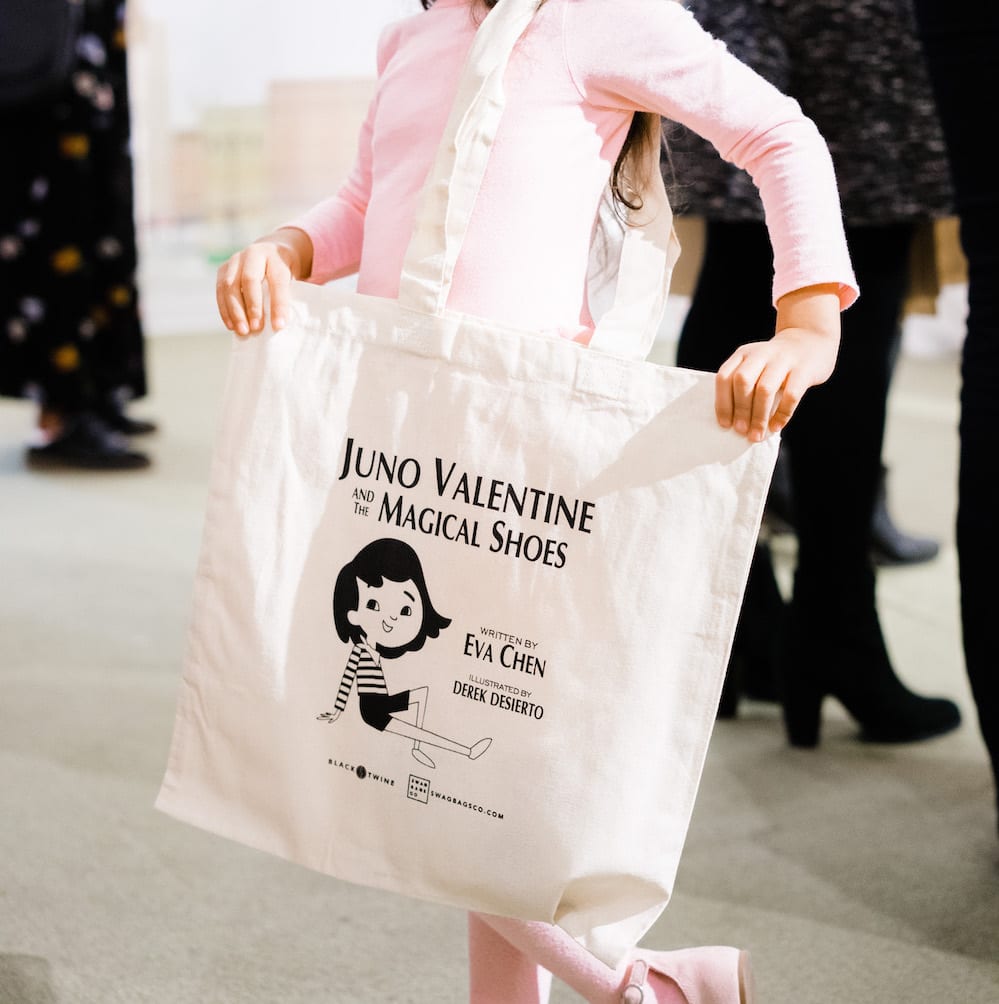 We are so happy that we got to work on this project with Eva.  We have followed her throughout her career and feel that she is such an inspirational role model for women and girls.
Watch out world, we know Eva will continue to do great things and we are thrilled that we got to bring some magic to her book launch for Juno Valentine.
For more information on how Black Twine can help your brand with a live activation, please reach out to us at info@blacktwine.co.