As a mom of two young children and hostess who prides herself on photo-worthy but simple parties, Jackie Walter, owner of Sprinkles & Confetti online party boutique, shares her advice on how to conquer the challenge of entertaining in style even with a young guest list in attendance!  We've seen her parties in action and we knew she'd have the right advice for how to host a tasteful but childproof celebration! 
Below Jackie shares her top 3 tips on sophisticated party planning that is fit for entertaining with kids!
1. Have a Plan for the Table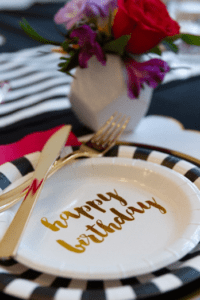 Mix & Match sizes & textures to create an impressive table setting!
For any party, we're a fan of replacing the standard plastic party tablecloth with something more unique.  Good linens don't have to be expensive and can often be found at Target or Amazon for less than $12 a table. They become even more important for protecting your nice tables when you have children in attendance. The reality is that kids spill!  They get bored and push silverware around… don't risk table damage when you can inexpensively cover it and add an element of interest to your décor at the same time! 
But when it comes to adding kids into the mix, even more important than table coverings is thinking about your place settings!  We are huge fans of premium paper & plastic products because they simply make cleanup easier for the hostess. With so many great brands and color options out there, it allows you to create a really impressive table setting as well!  Believe it or not this entire place setting is kid friendly using Sprinkle and Confetti's collections of paper and plastic plates even down to the gold metallic plastic silverware. 
Using premium paper & plastic plates is more affordable than renting place settings, and you don't have to worry about any of your guests breaking your fine china. The color choices in paper products add so much more interest to the entire tablescape!
2. Delight All Your Guests with a Fun Beverage Choice
With the table tackled, we like to spend a few minutes thinking about beverages as well!  We enjoy making at least part of your beverage station child friendly and giving them an extra reason to celebrate!  An Italian Soda bar not only makes for a nice non-alcoholic kid-friendly party treat but it actually is pretty intriguing to a lot of adult guests too.  With just a bit of pre-planning all the ingredients can easily be ordered or purchased at your local grocery store.  Find out more details on how to make a simple Italian Soda Bar here.
Regardless of your beverage choice, there's one thing kids love and that is fun straws to drink with! You can stick to fun patterned straws or enhance them with straw flags which is why we've created this party flag template and are offering it as a FREE printable to all Black Twine readers!  The best part about these party flags is that you can print them on any color paper or light patterns and they add an extra pop of décor and personality to the party!
Choose just one page or print them all for a variety of cute saying for your event!
3. Enjoy the Party!
Lastly, don't just think about surviving the meal when it comes to entertaining children (especially for evening events) you'll need to think about the entire night. 
Assume your smaller guests will be snackers, we always like to have fruit or kid friendly snacks on hand for appetizers because the last thing you want is hungry kids complaining just as the party is getting started!  We keep this in an easily accessible place where kids can help themselves or easily be assisted by a nearby adult.   Snack cups make for easy transport and low key snacks like popcorn, grapes, kid friendly finger foods go a long way to keep kids satisfied until everyone sits down for dinner.
Depending on the ages of your younger guests, it's also a good idea to have a few activities for them which can be as simple as a coloring book, movie, or a fun game that several children can play together.   If you're planning a later evening celebration, we recommend excusing the children from the table right after they finish eating and allowing the adults time to visit and enjoy the celebration. We like to to hire our go-to babysitter to come to the house for a few hours when we're hosting so she can run point with the kids while we enjoy the party and our guests.  If you're not someone who typically needs a babysitter – just ask the neighbors!  There's usually always a local high school or college student happy to help out and your guests will be pleased they can relax and enjoy visiting as well!
The most important part is to enjoy the party!  When it comes to entertaining any number of guests the key is to start with proper planning!   Set yourself up for success by thinking through the evening in advance and that should give you plenty of opportunity to figure out how to cater to your smaller guests needs while hosting a fabulous party for all to enjoy.
Vendor Credits:
Party Supplies & Styling | Sprinkles & Confetti (@sprinkles_and_confetti; www.sprinklesandconfetti.com)
Cake | Ink Sweets @ink_sweets
Flowers| Oak & Lily Studios @oakandlilystudios
Photography | Rodel Q Photography @rodel.querubin; additional photography courtesy of @citysouthmagazine
About Sprinkles and Confetti:
Jackie is always happy to help!  And loves to connect with busy hostesses to offer solutions to make parties simpler.  Find the party supplies showcased above as well as more about Sprinkles & Confetti custom party box services here.
At Sprinkles & Confetti, Jackie specializes in helping busy hostesses prep for children's birthday parties, kid's events, pool parties and playdates but those are easy because they are all about the kids.  What happens when the party is really for the adults and children are just part of the guest list?  More sophisticated parties can be stressful for any hostess, but there's a time and a place for them including milestone birthday celebrations, engagement parties, anniversary parties and many more small & large moments throughout life.
Thanks Jackie for sharing your kid-friendly yet sophisticated party planning tips with us!