It's finally approaching America's favorite holiday – the Fourth of July, meaning that it is the perfect time to host the best party! What's better than BBQ and fireworks? If you're thinking of hosting a banging Fourth of July party, here are our favorite entertaining ideas for the Fourth of July.
1. Star-Spangled Snacks
These star-spangled snack bags are perfect for any Fourth of July party – they are festive and made for easy cleanup! Not keen on using them for snacks? Don't worry, they also make the perfect bag to hold party favors! Get yours at Sprinkles and Confetti. 
2. Snap, Crackle, Pop
Party snacks make hosting a BBQ easy and fun. Popcorn is a classic treat that pairs well with a Fourth of July carnival theme (see Tinseldot's Americana blueprint for more inspiration). Other party food includes Cracker Jacks, potato chips, pretzels, and of course, ice cream!
3. Invitations!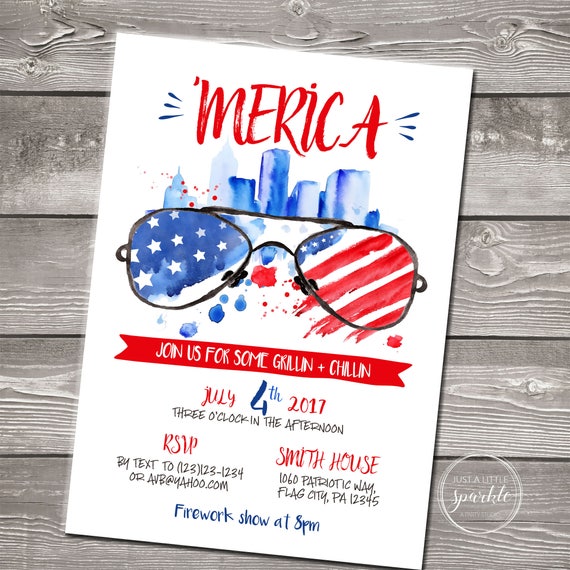 Everybody knows when you're hosting a party you should have patriotic invitations, right? Luckily Just a Little Sparkle has you covered! Look how cute these invites are! How could a guest say no to these?
4. Do these spark your interest?
How cute are these Fourth of July decorations by Fancy Flamingo Designs? Contact Elizabeth to have Fourth of July themed tassels and pom poms custom made. They are a perfect decoration fit for any Fourth of July party!
5. Balloon Darts
We all know that balloons make a great decoration for any occasion, especially for the Fourth of July, but have you ever thought about incorporating a game with the balloons? A fun game that is often played on Fourth of July is balloon darts. You can fill the balloons with treats, or even confetti if you want, and have your guests throw darts at the balloons – whoever pops the most wins! This may involve some cleanup, but it's a fun game that will for sure entertain guests.
6. A Charming Fourth of July


This charming Fourth of July party styled by Event Prep is one of the patriotic parties that we are loving for the Fourth of July! This party aesthetic is perfect for any summer party, and guests will love the details, from the red cherries in woven baskets to the DIY calligraphy picnic bags. See the Charming 4th of July Party blueprint to spark your inspiration for this party.
7. Independence day Punch!

Refreshing drinks are an important part of any Fourth of July celebration. Why not take the day to get creative with drinks and make a Fourth of July themed punch? Country Living has a lot of recipes that are perfect for the occasion, including kid friendly Fourth of July Punch.
8. Wine Popsicles

Take a look at this clever way to hydrate – these wine popsicles are the perfect addition to any Fourth of July party! Try Roasted Strawberry Red Wine popsicles in Event Prep's Charming Fourth of July Party blueprint, or take a look at more wine popsicle recipes here.
Thanks everyone for taking a look at our ideas.  Happy Fourth of July!