Bright & Girly Bride Tribe Brunch
Featuring ONEHOPE
In Collaboration with But First, Party! and Bonjour Fete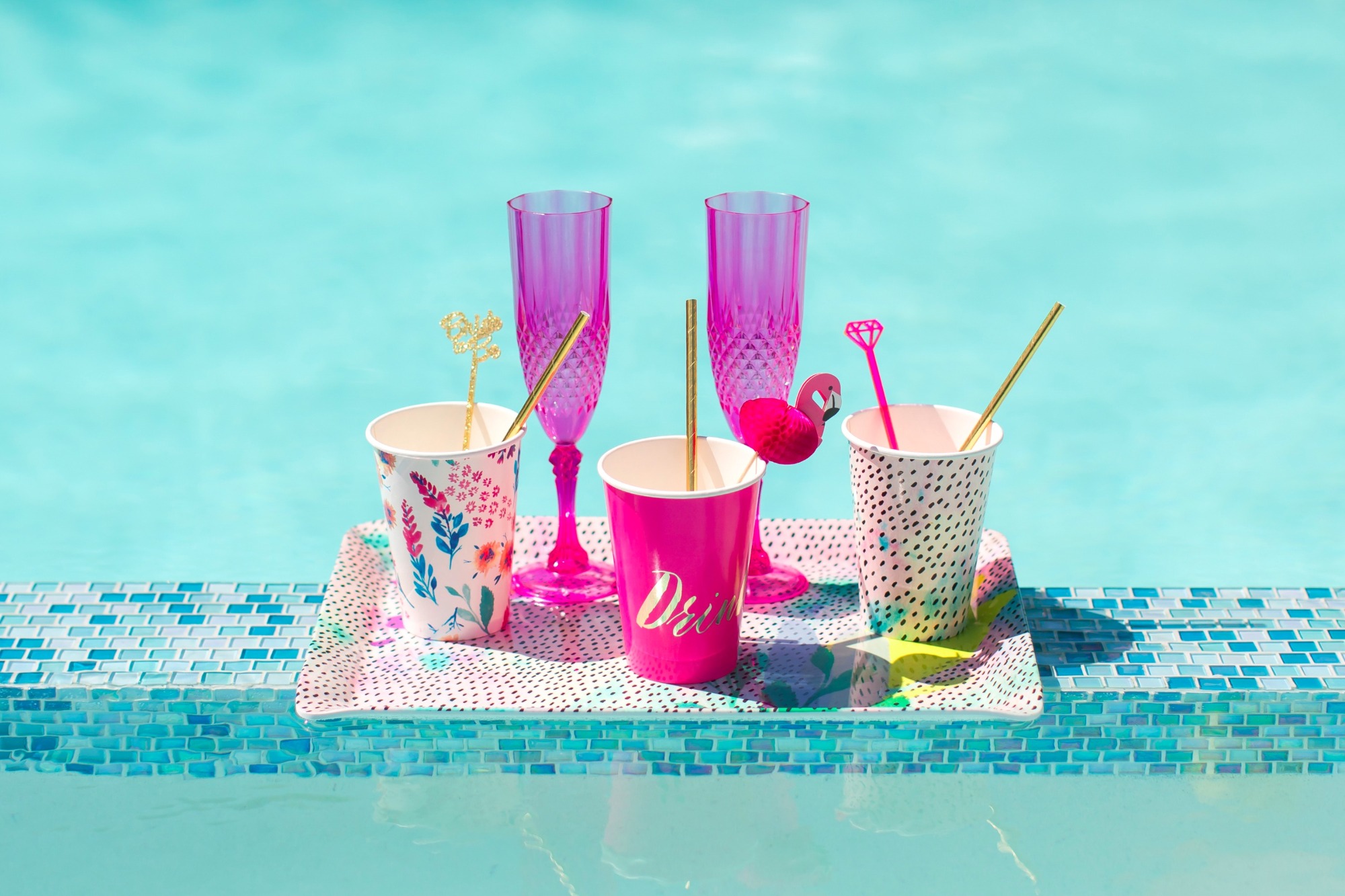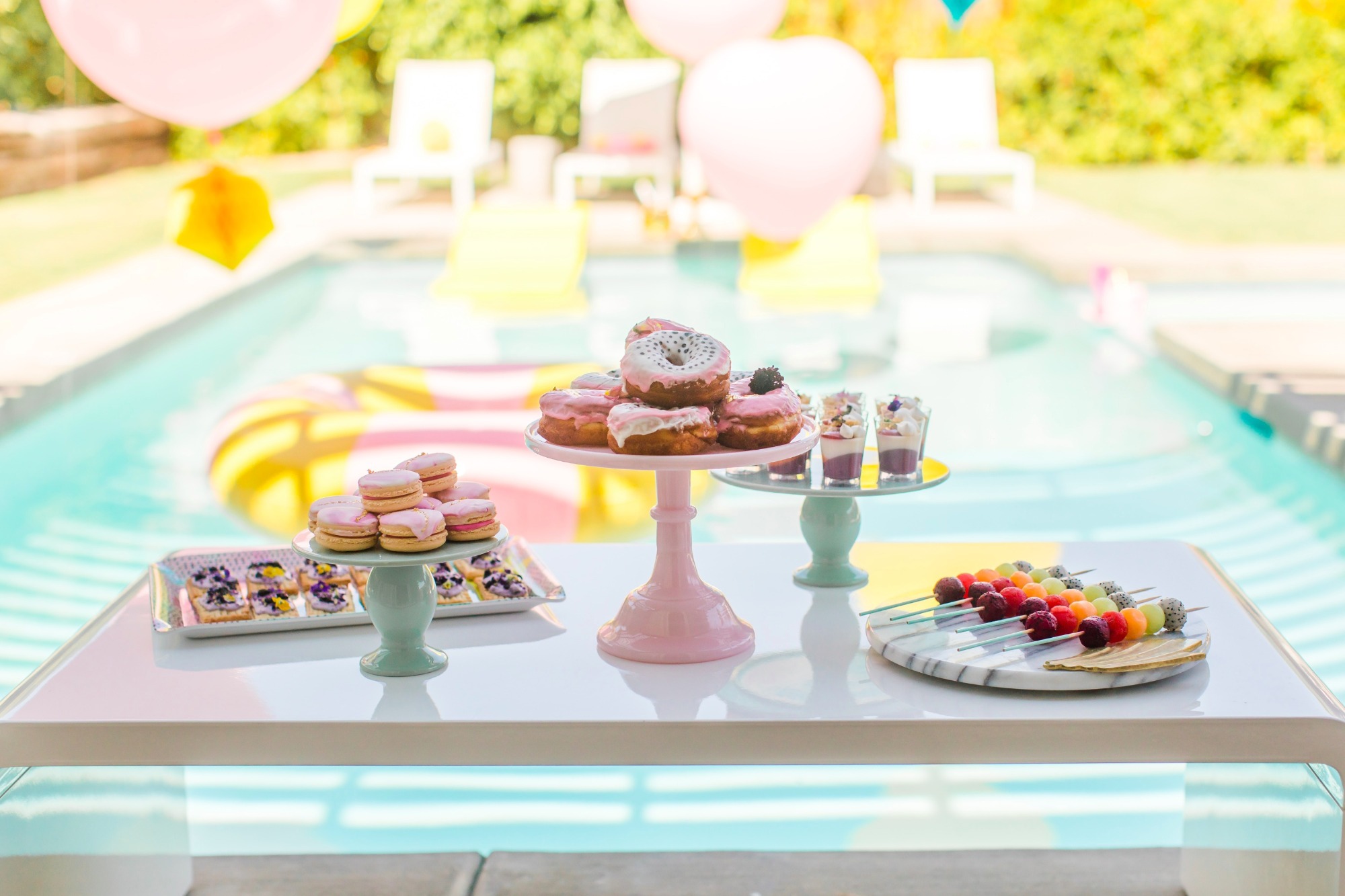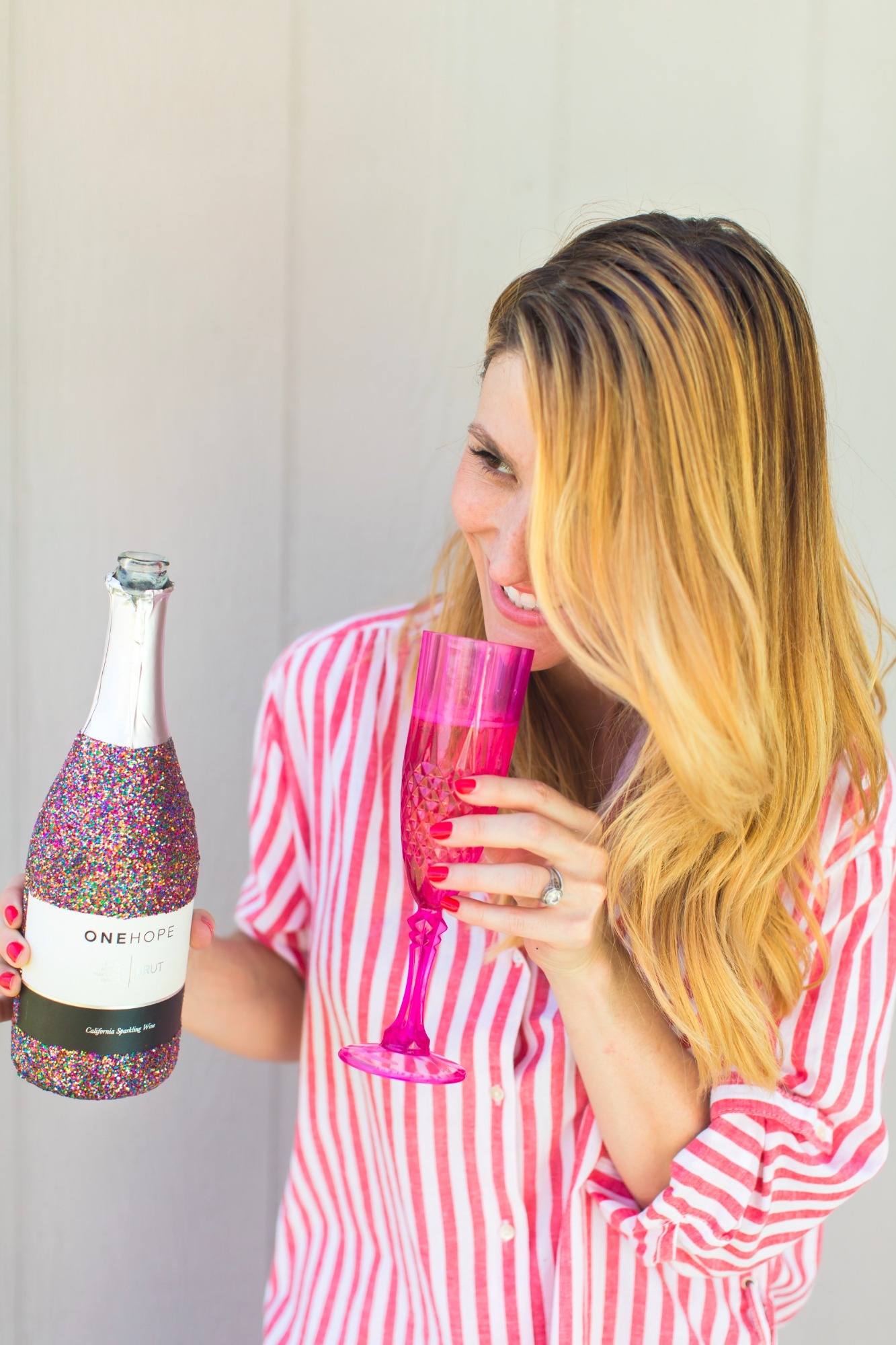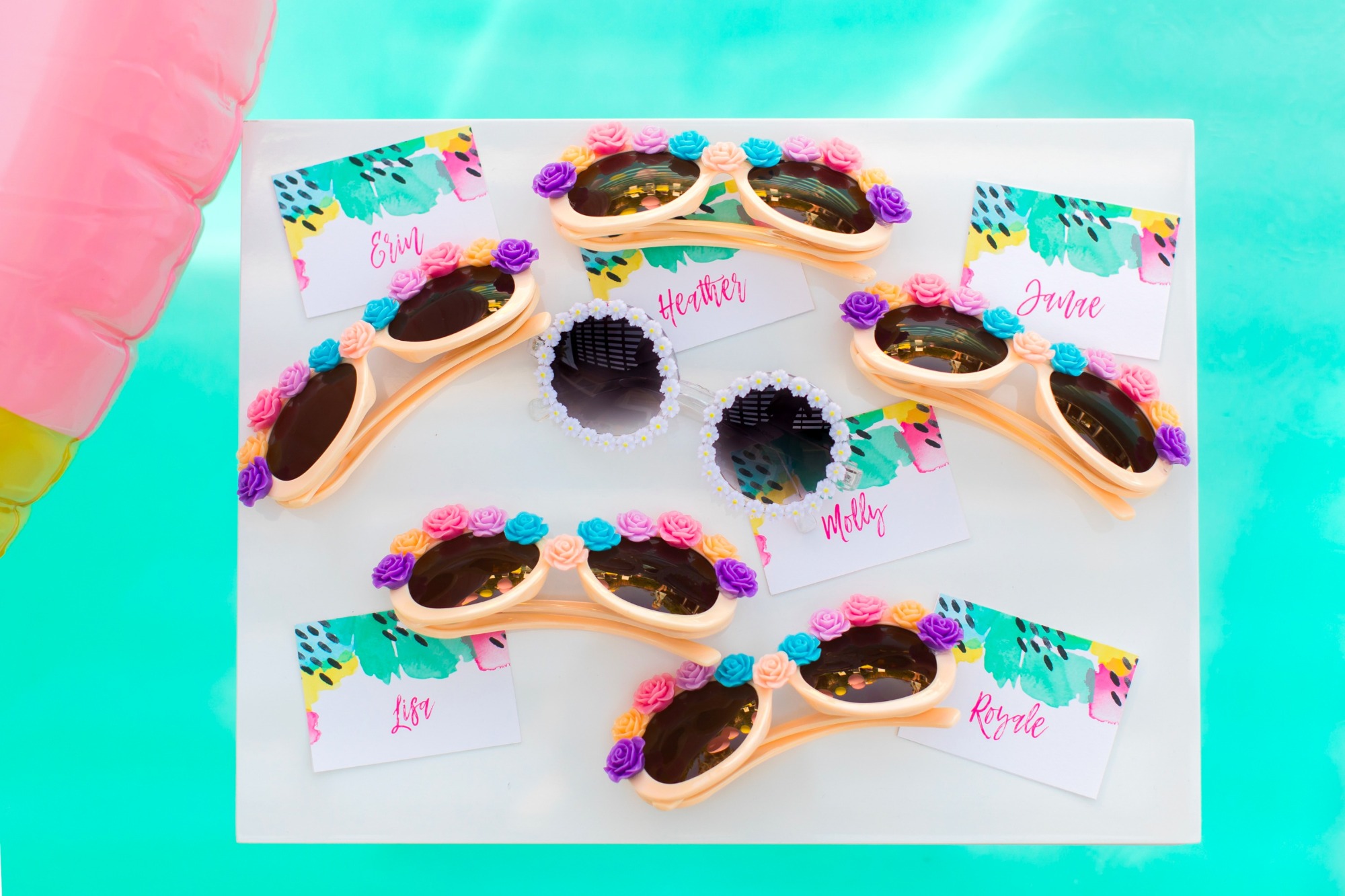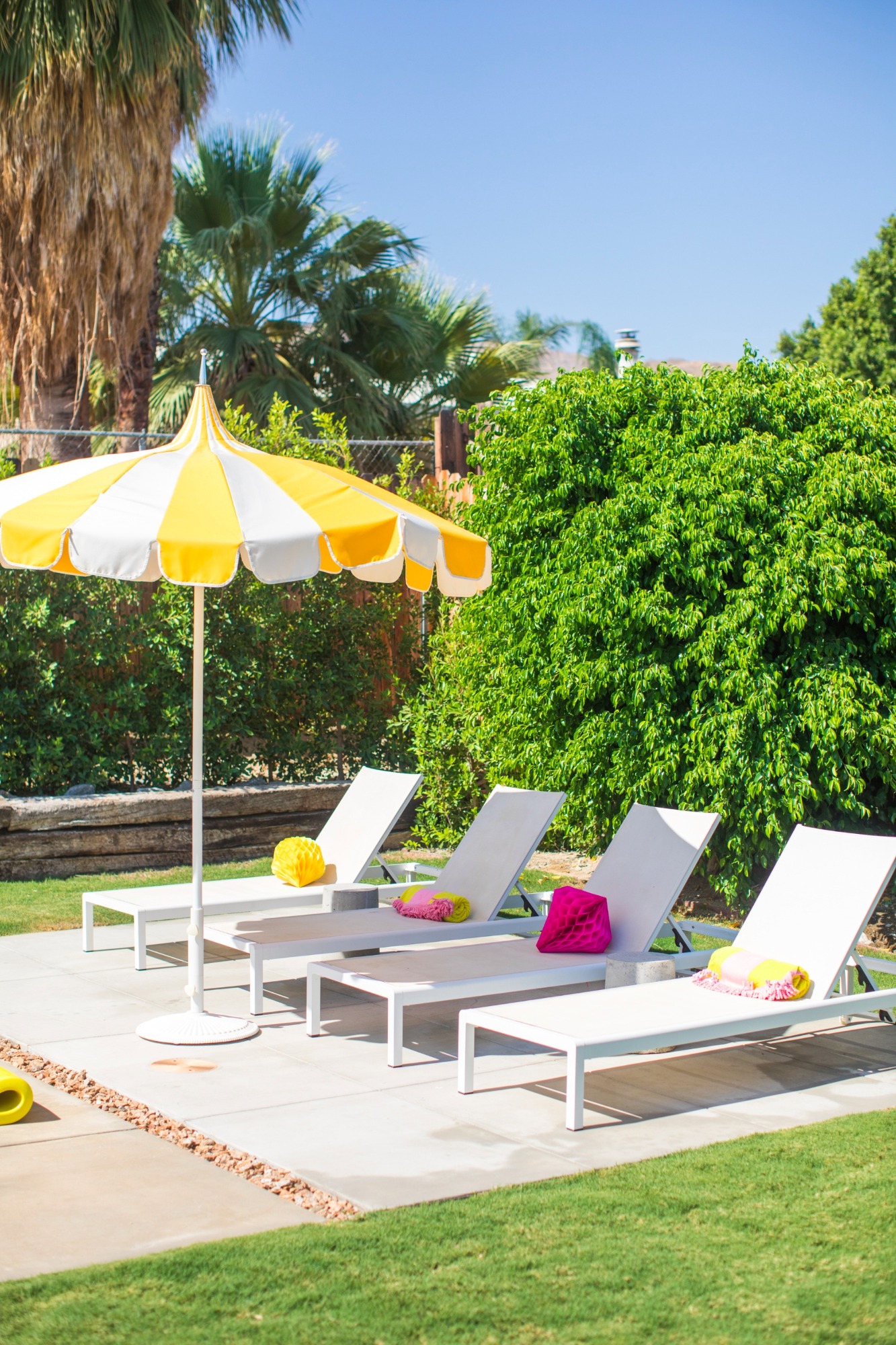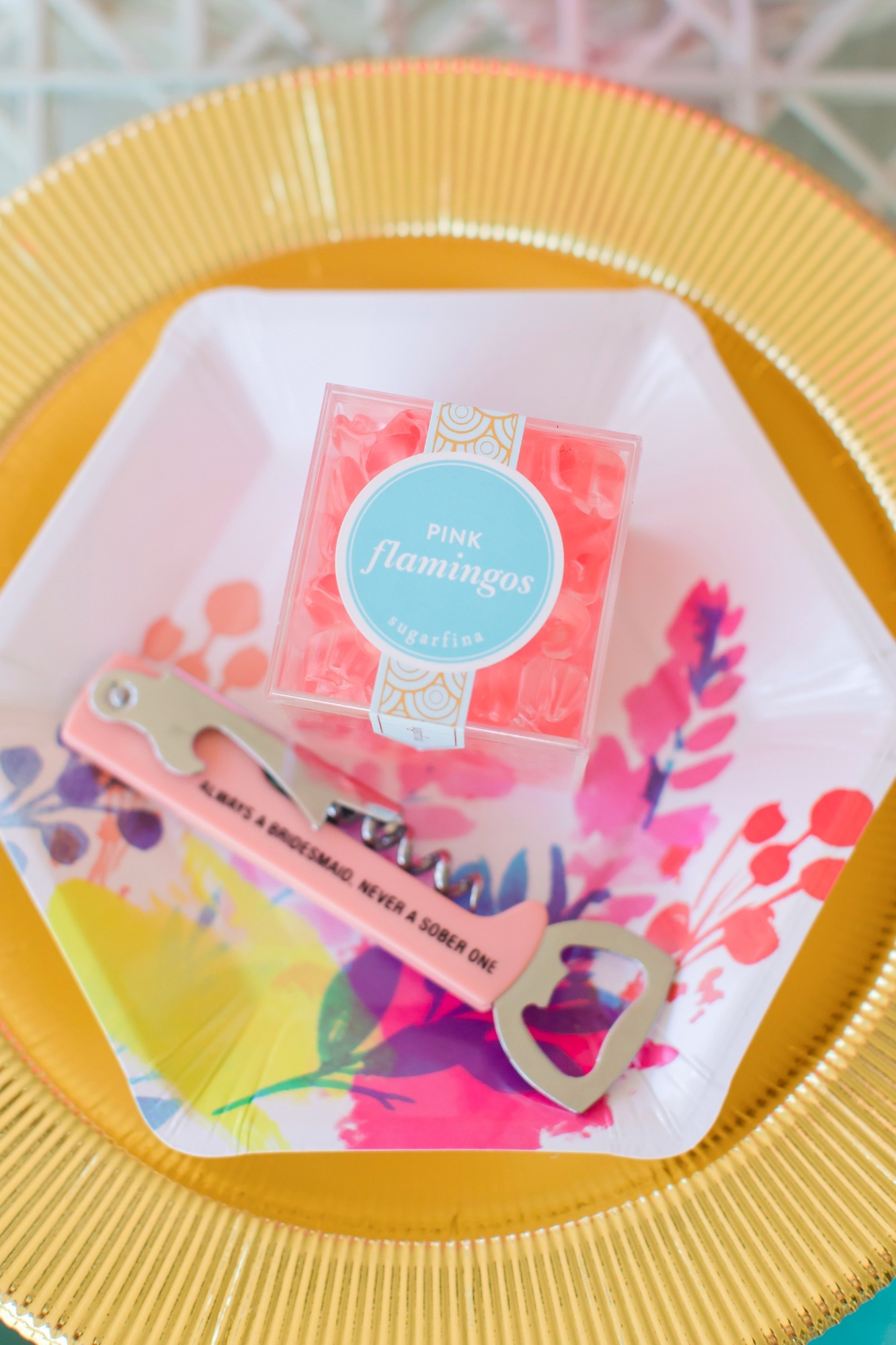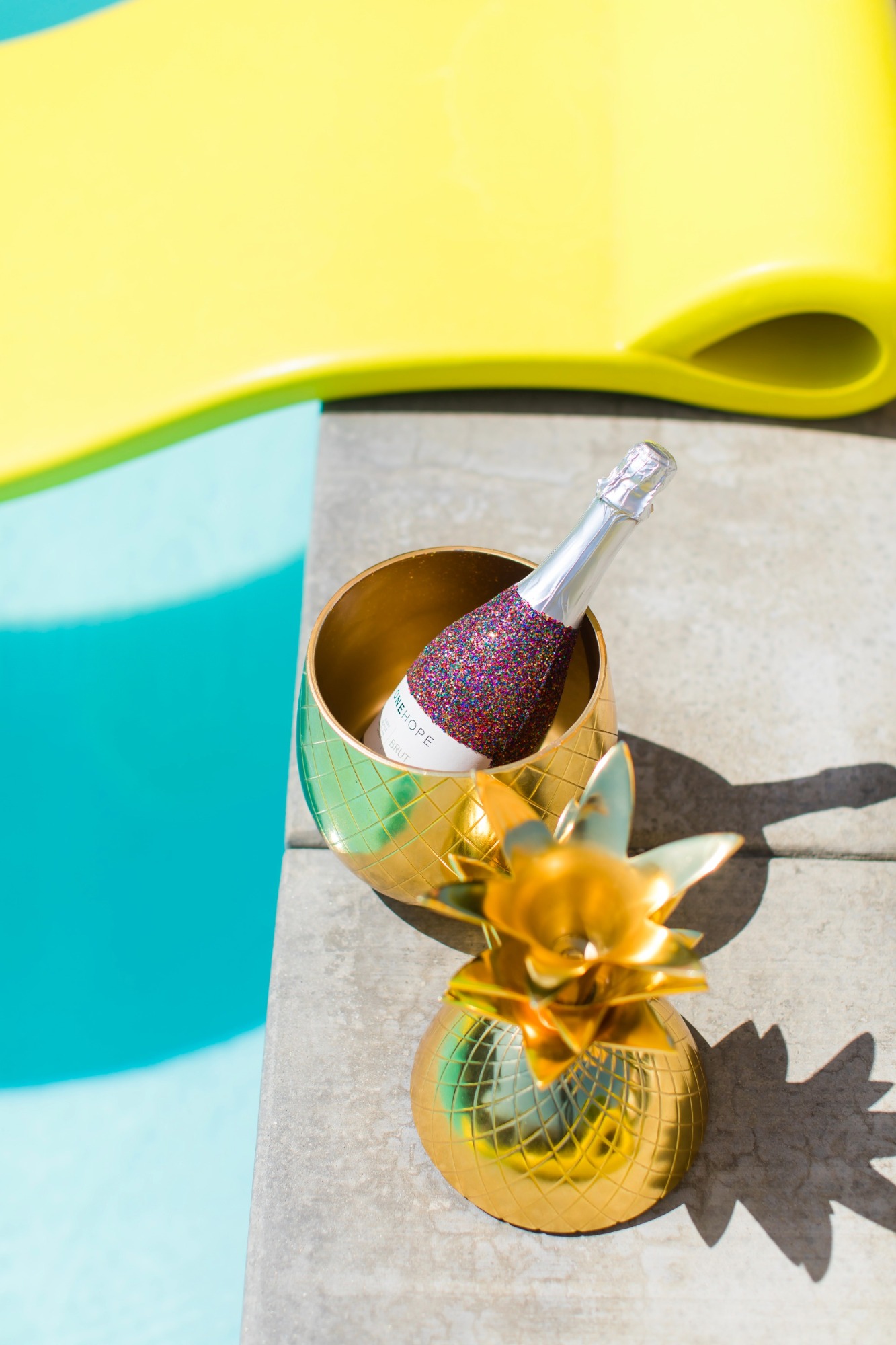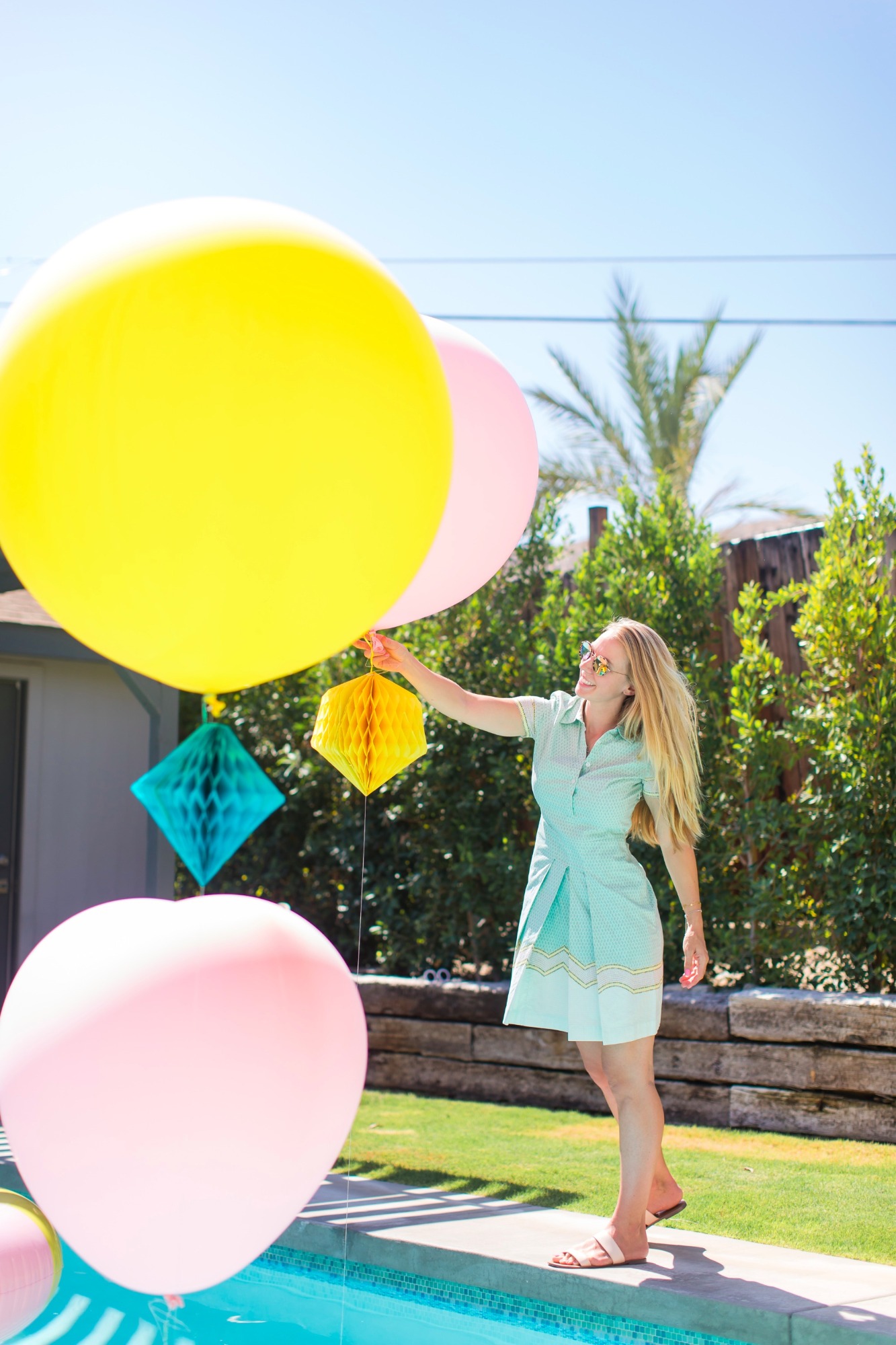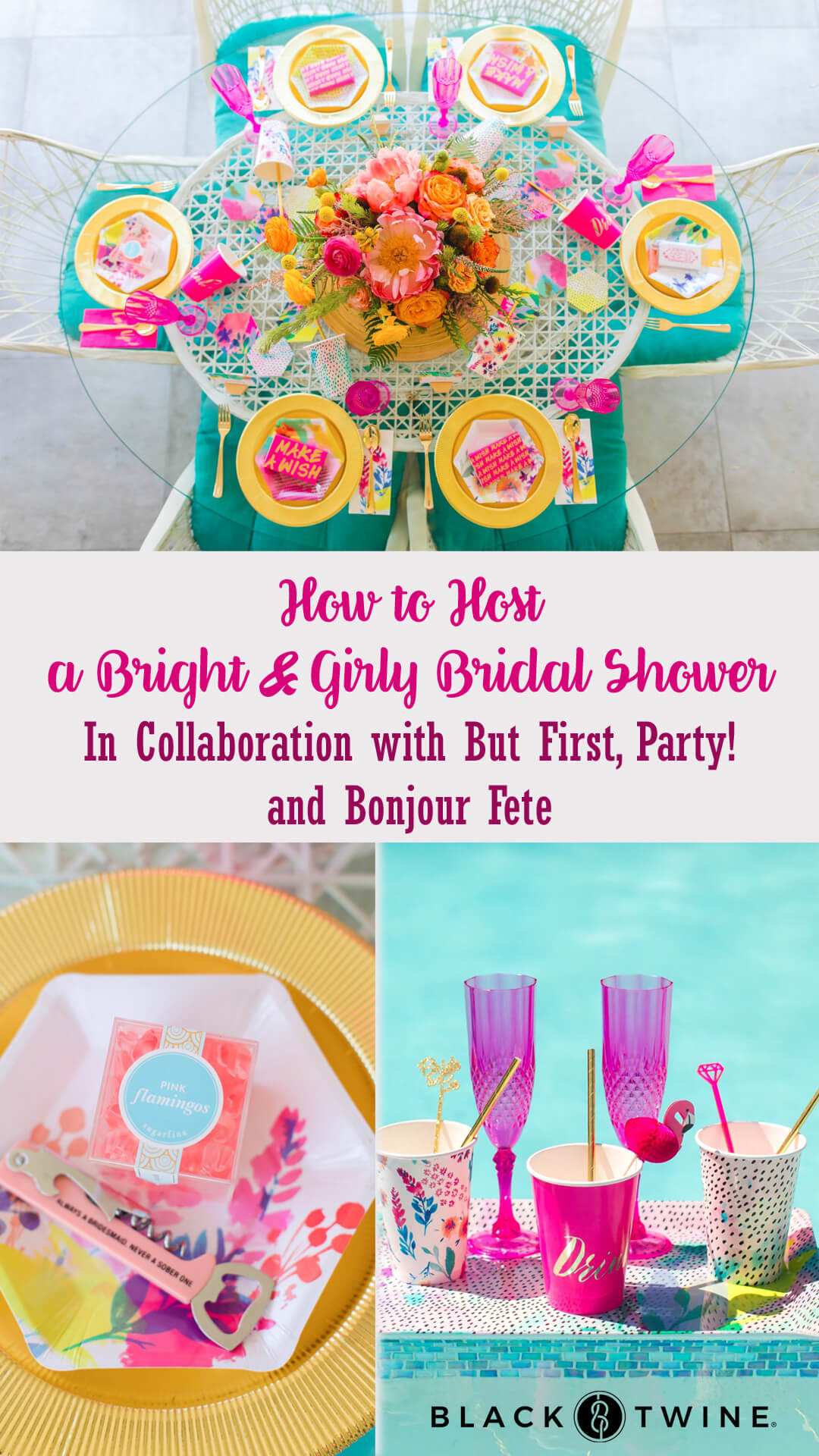 You're only 3 steps away from the perfect party.
Purchase
Review the blueprint and purchase the party items in a few easy steps.
Prep
Follow our easy ideas to wow your guests.
Assemble
Follow our timeline and party tips for seamless execution.
Buy your party items with a few simple clicks.
(prices and availability subject to change)
Prepare perfect party decor + party food.
Bright & Fun Poolside Balloons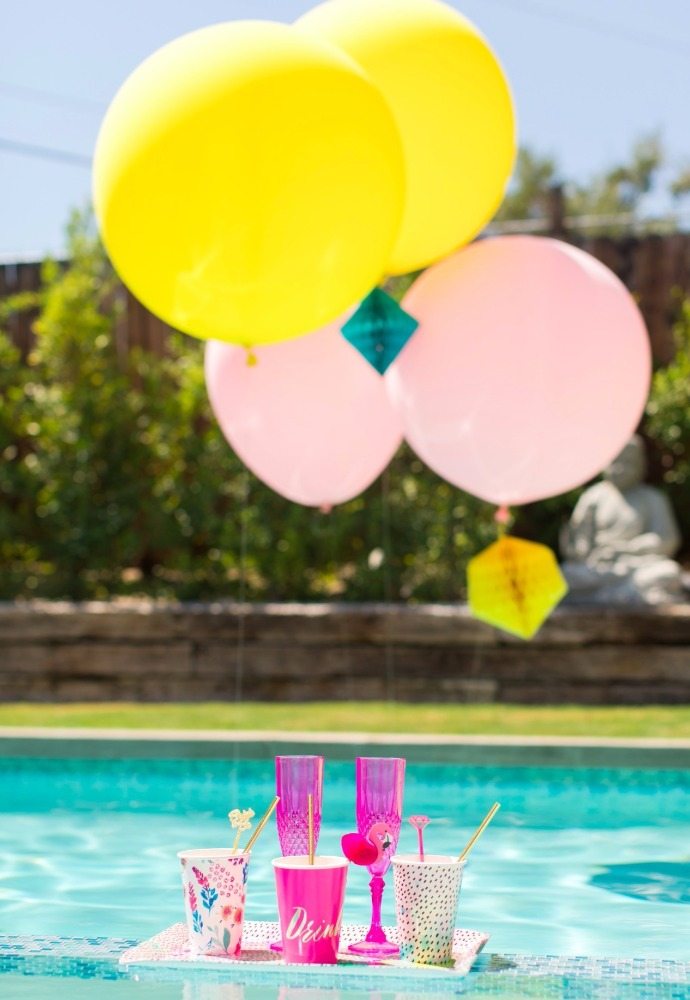 Materials
Pink and yellow jumbo helium balloons
Colorful honeycombs
Balloon weights
Directions
Fill the pink and yellow jumbo balloons with pure helium (so that they are strong enough to support the honeycombs you will add). If you are having the balloons inflated for you, pick them up the day of the party.
Add colorful honeycombs for flair by attaching them to the balloon strings.
Tie down the balloon to a heavy weight. If you are planning on lowering them into the pool, use extra balloon weights (or wrap a brick in foil) — the pure helium jumbo balloons are real floaters!
Voila! You've got yourself a party!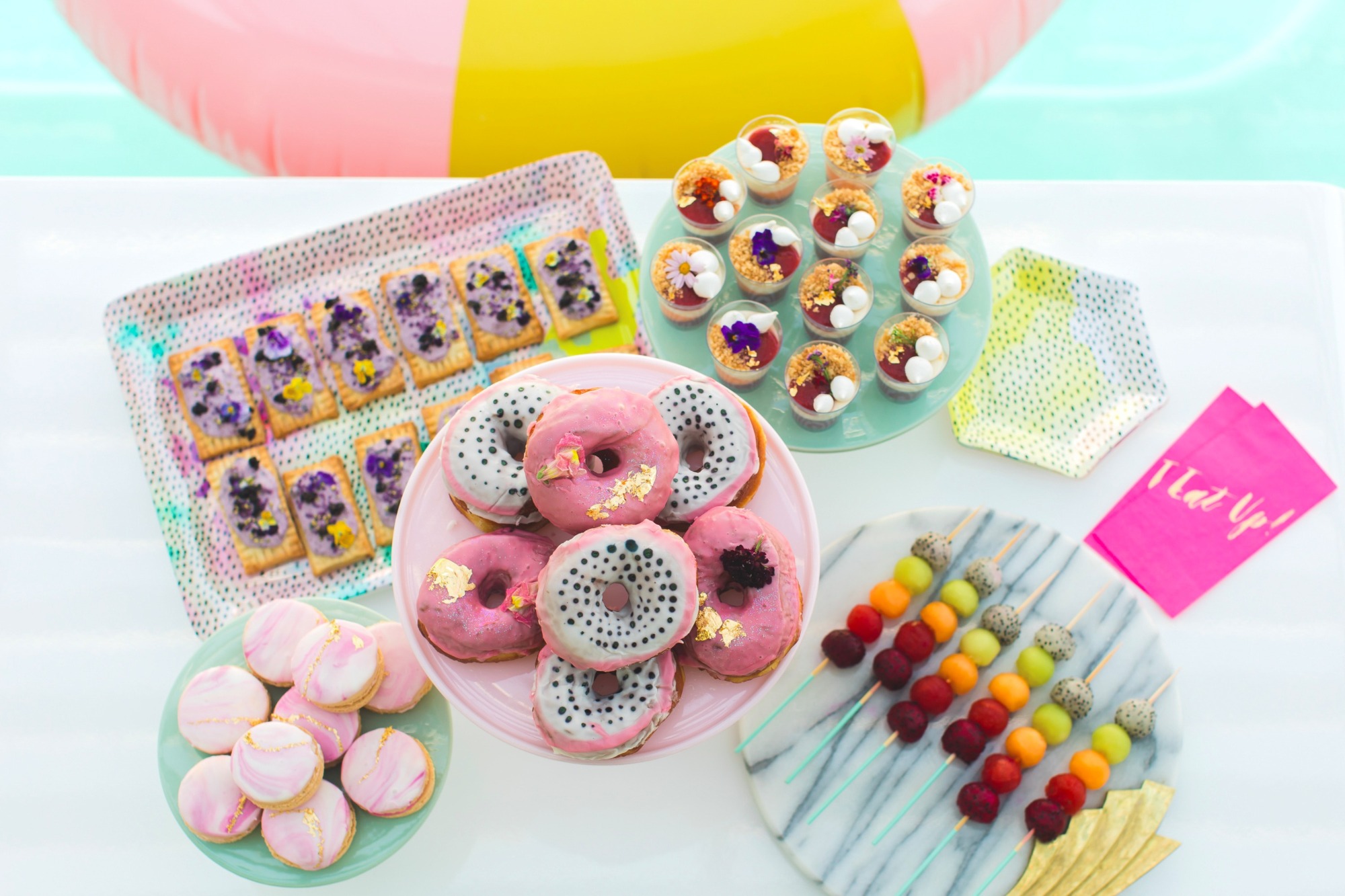 Fancy Donuts

Peaches & Cream Shooters

Savory Pop Tarts

Marbled Macarons

Rainbow Fruit Skewers (see recipe below)
Fun & Fresh Rainbow Fruit Skewers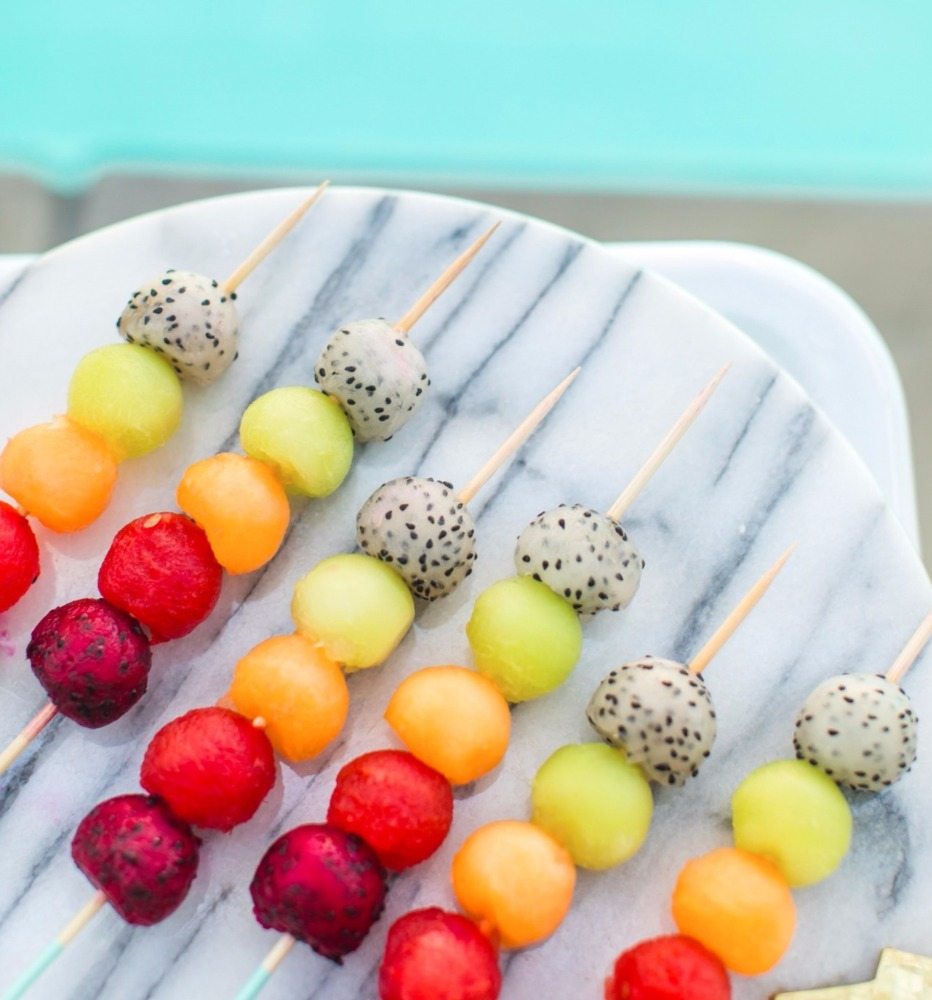 Ingredients
1 watermelon
1 cantaloupe
1 honeydew
2 dragonfruit (1 black & white; 1 magenta)
1 melon baller
Bamboo skewers
Directions
Cut all fruit in half.
Sink melon baller into fruit and scoop out round balls.
Repeat steps 1 & 2 for all fruit.
Place five fruit balls (one of each type of fruit) onto each bamboo skewer.
Enjoy!
Pull it all together in just a few easy steps.
Timeline
2 Weeks Prior
Purchase brunch decor and favor online
1 Day Prior
Prepare the fruit balls ahead of time and place on skewers the morning of
Pick up your florals the day before if possible, keep them indoors and well-watered
Blow up your pool floats
Don't forget to throw your One Hope champagne in the fridge!
Day Of
Set your table
Inflate the poolside balloons (with helium) and decorate by attaching the honeycombs to the balloon strings
Assemble fruit skewers and place in the refrigerator just before guests arrive
Pick up or have treats delivered just before guests arrive to ensure the pastries are at their most fresh. Plate your treats on a mix of fun platters and cake stands
Put your One Hope champagne on ice and get ready to party!
Estimated Budget
8 People

Decor: $700

Food: $200 – $300

Beverage: $50 – $100

TOTAL: $950 – $1,100
But First, Party! and Bonjour Fete share their top tips for pulling off this event.

Tip 1
Don't be afraid of color and mixing loud prints.

Tip 2
Look for ways to bring cohesiveness to your design details. We loved the spotted print featured on the tableware and incorporated it into one of the donut designs, the place cards, and the fruit skewers with the dragon fruit balls. We also referenced the key colors in the tableware — pink and yellow — with the florals, balloons and the inflatable tube for the pool.

Tip 3
Have fun with your brunch food selections. We were really excited about the floral pop tarts, which were actually savory on the inside!

Tip 4
Have plenty of OHEHOPE glitter champagne on hand!

Tip 5
Maybe don't host your party in Palm Springs in July — it was 117 °F — eeekkk!