Champagne Tasting New Year's Eve Party
In Collaboration with La Fête du Champagne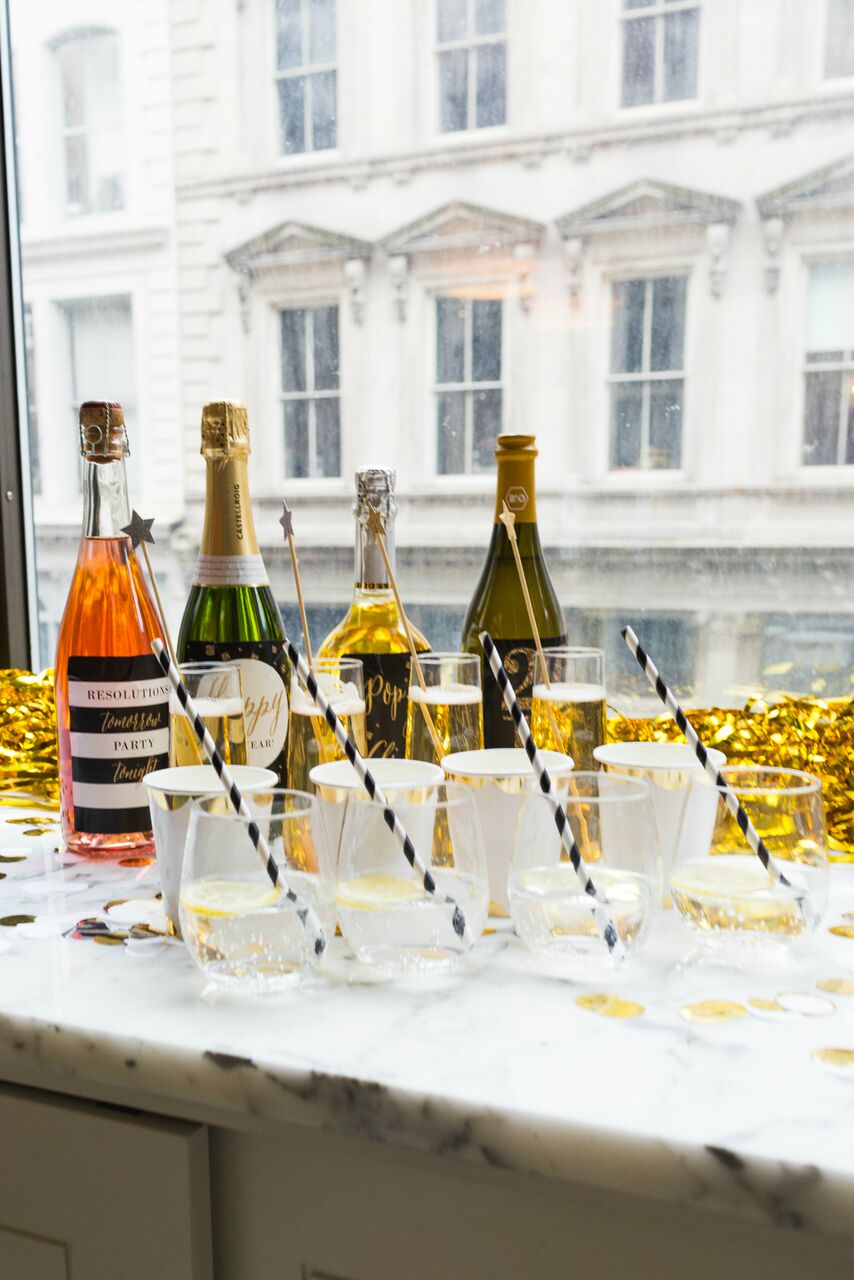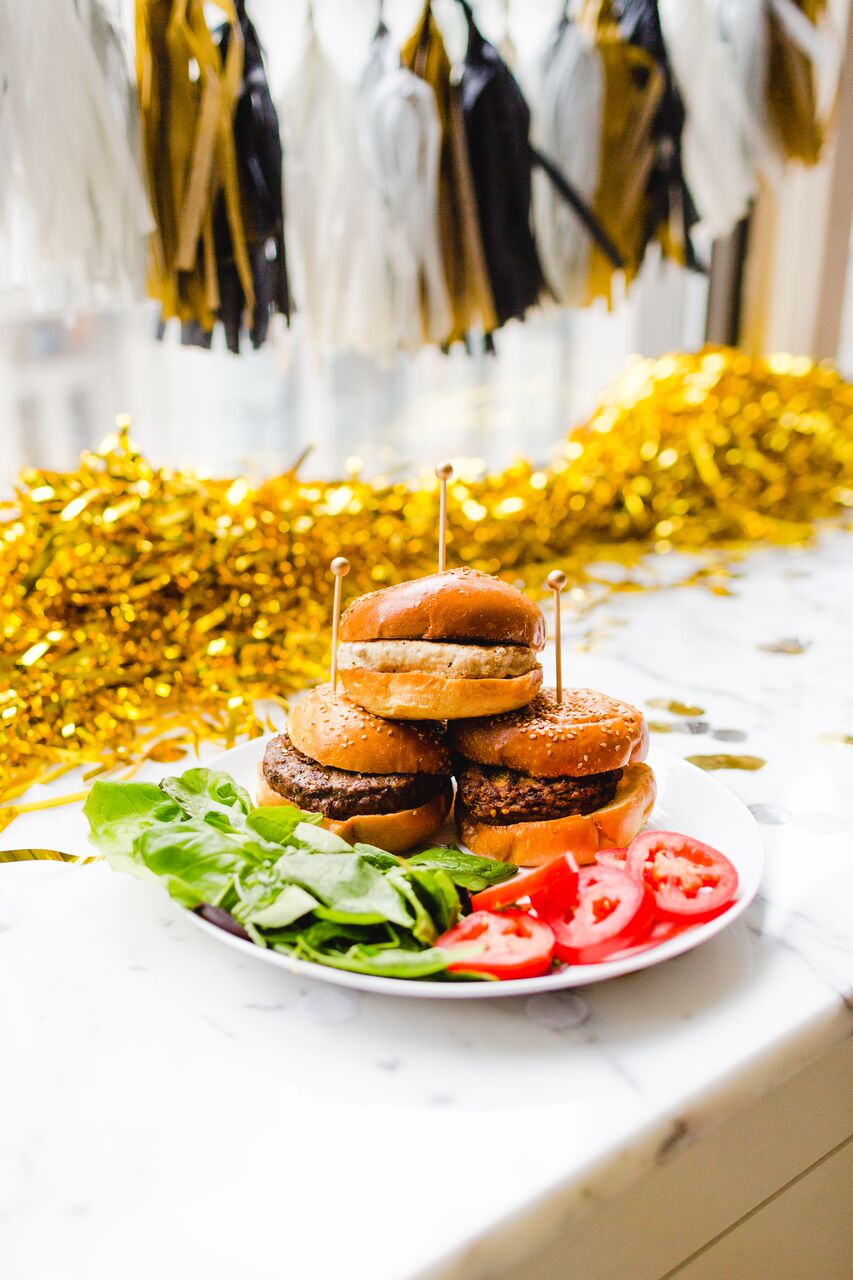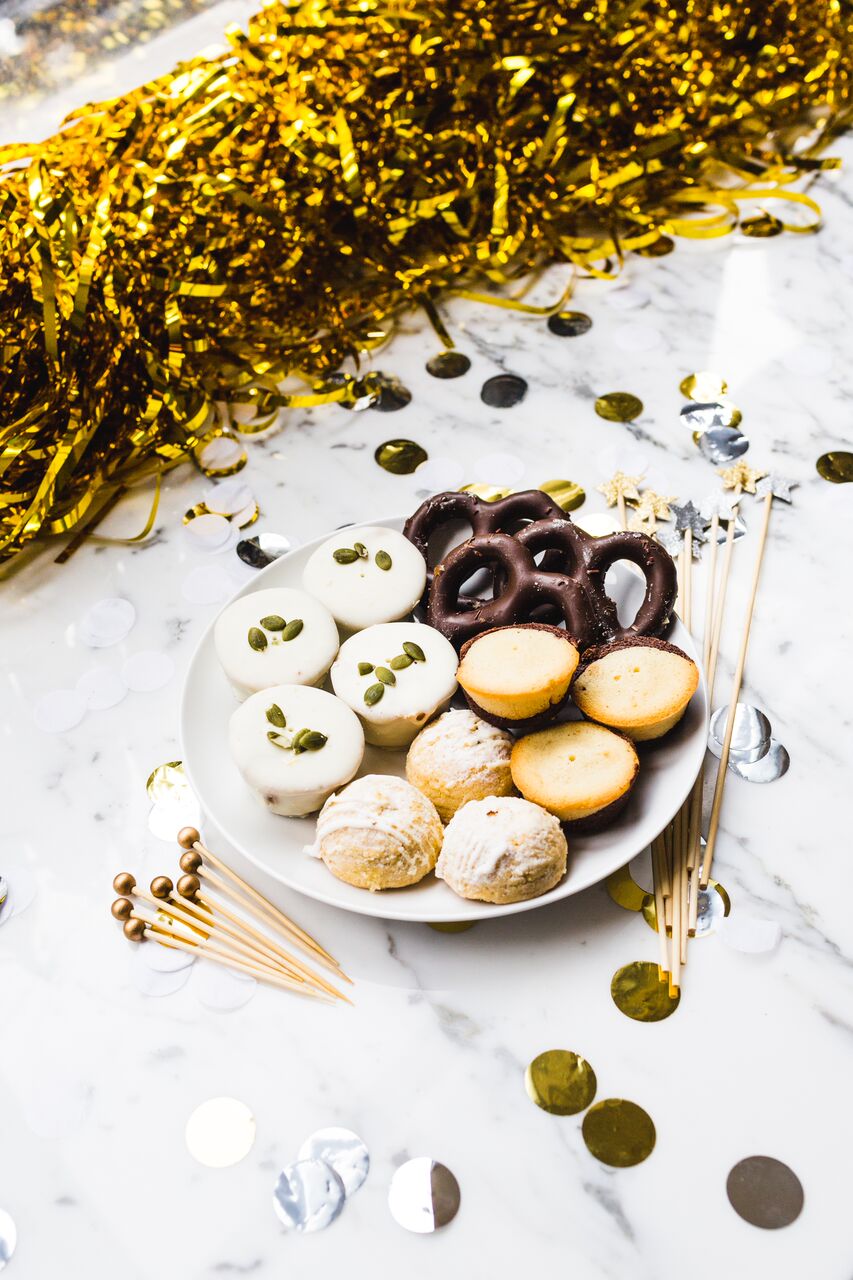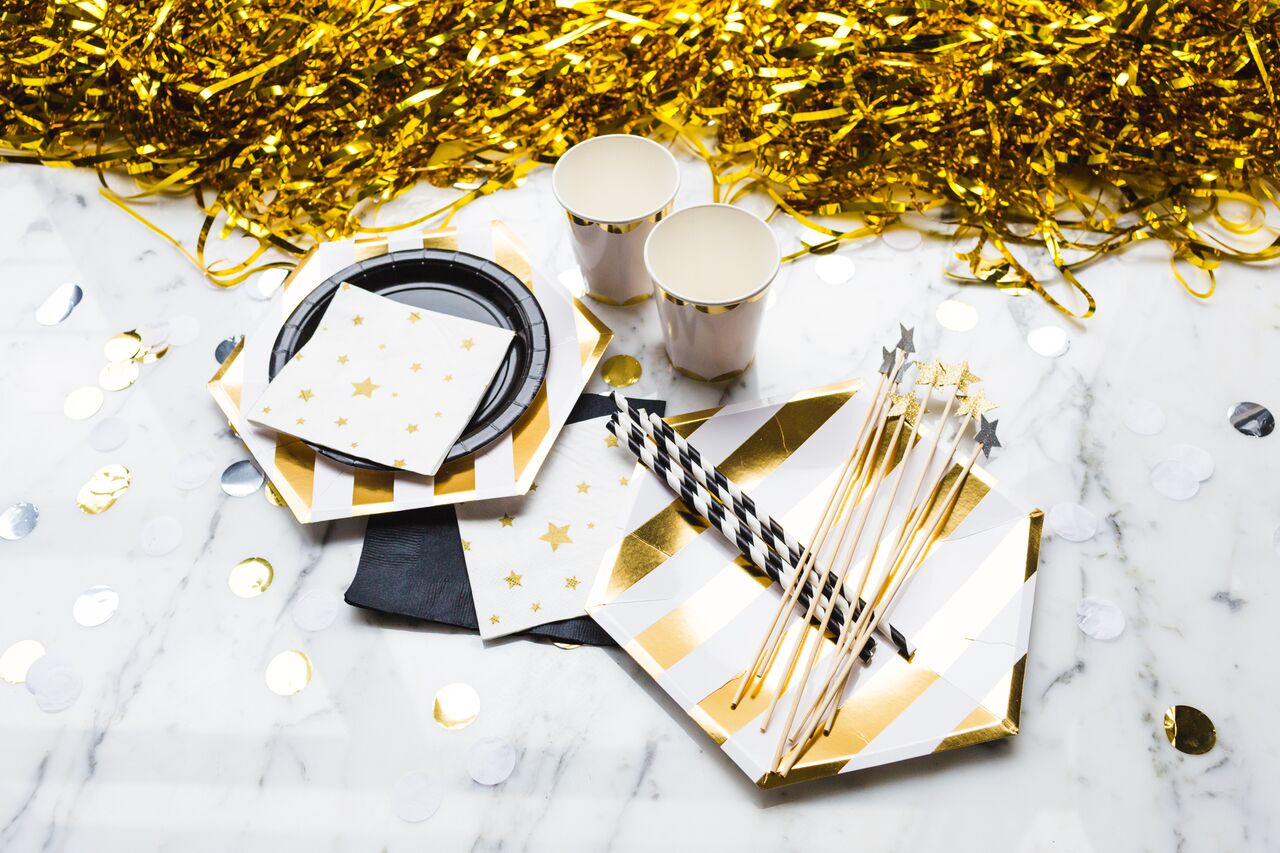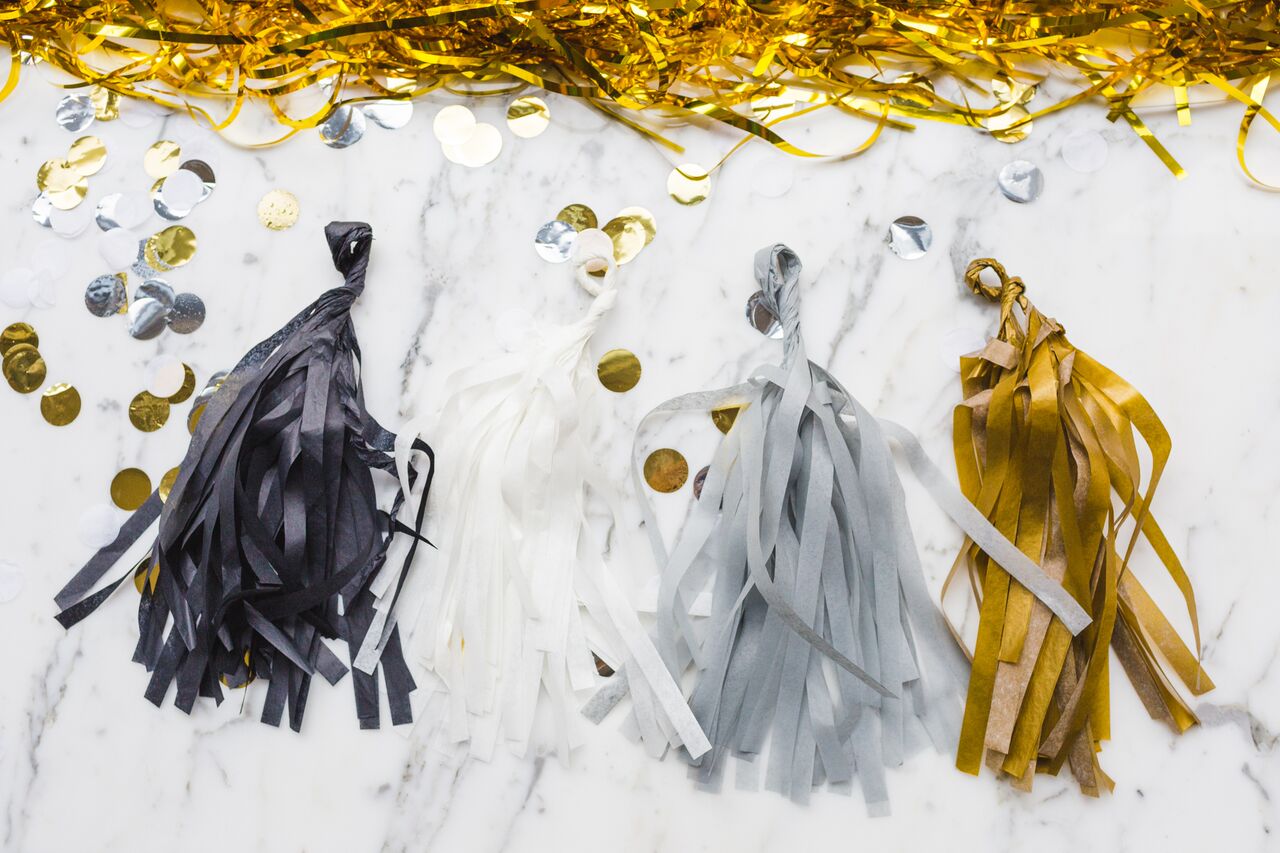 You're only 3 steps away from the perfect party.
Purchase
Review the blueprint and purchase the party items in a few easy steps.
Prep
Follow our easy ideas to wow your guests.
Assemble
Follow our timeline and party tips for seamless execution.
Champagne recommendations from  La Fête du Champagne
Additional Tip
To set up your champagne tasting bar, choose 3 to 4 of the recommended champagnes.  Place tent cards with the champagnes, and place champagne flutes next to tasting note cards.  Arrange swizzle sticks and cocktail napkins next to the flutes.
Additional Tip
For ease and affordability, we recommend serving your guests pre-made finger foods such as a cheese plate and assorted cookies and mini desserts.  We arranged the food on platters with festive cocktail picks for guests to enjoy.  Check out our instructions below for a DIY slider bar.
Additional Tip
Hang gold fringe curtain on a wall or in a doorway for photo booth backdrop.  Arrange props on a table with signage and download the photo app before guests arrive.
Prepare the perfect party food.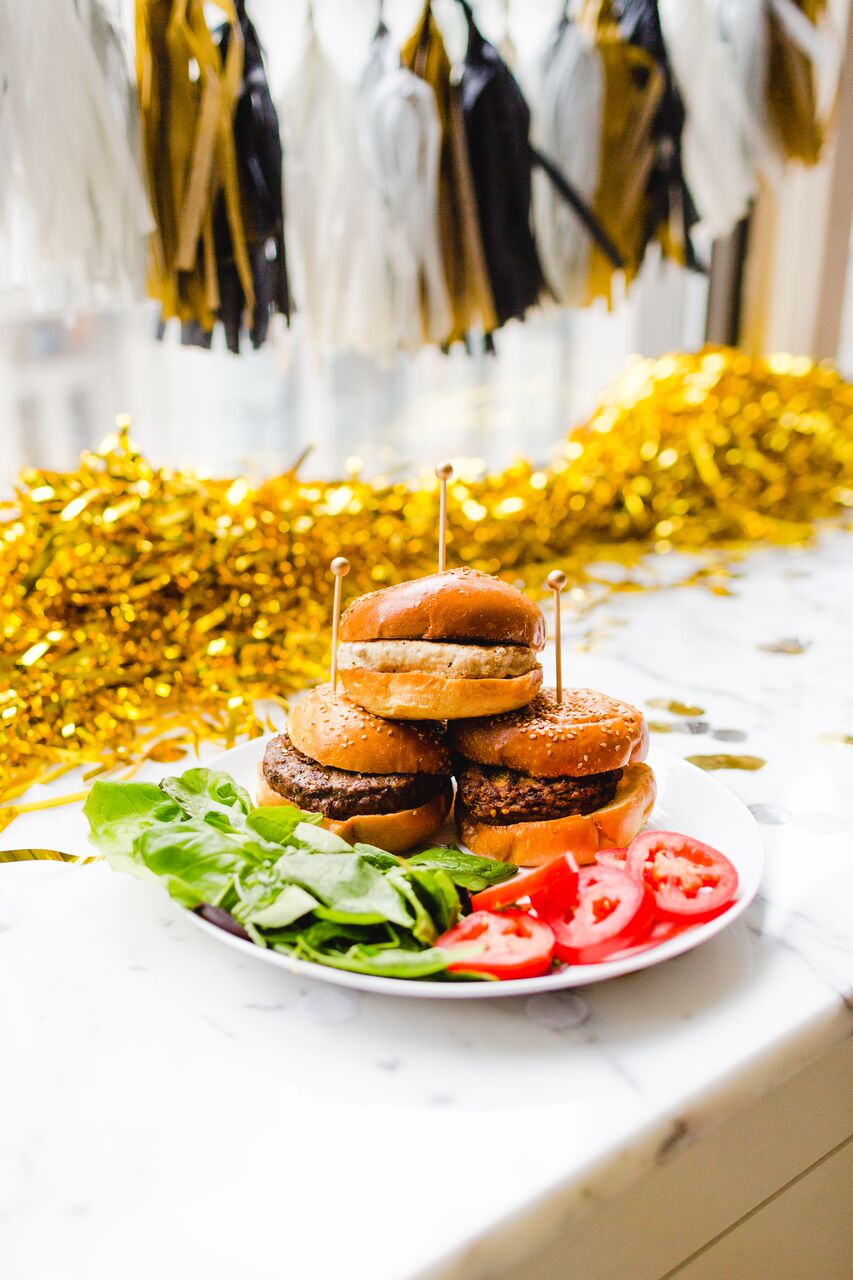 Ingredients
Burger Buns
Hamburger Patties (or other patties, such as vegetarian patties)
Lettuce
Tomato
Cheese
Condiments
Directions
Satiate your guests' midnight munchies with a do-it-yourself burger bar, which is easy to prep with items from the grocery store (cook the patties in advance) or cater from your favorite burger place. If catering, just ask the restaurant to separate the buns, burgers, and accompaniments.
If purchasing from the grocery store and patties do not have directions on the package, cook the patties in an oven preheated to 350 degrees for 20 minutes, turning once.
Plate buns, patties, and accompaniments on large white platters and allow your guests to serve themselves.
Pull it all together in just a few easy steps.
Timeline
3 Weeks Prior
Order the party decor and tableware, accounting for delivery times
2 Weeks Prior
Order champagnes and wines for event
1 Day Prior
Purchase the food for the party
Hang up garland and arrange decor
Day Of
Set up the party decor
Set up the food and beverages
Set up the photo booth
Celebrate!
Estimated Budget
10 People

Decor: $250-300

Food: $150-200

Beverage: $200-1500+

TOTAL: $600 – $2,000+
Black Twine shares our top tips for pulling off this event.

Tip 1
For an easy conversation starter, set up a Champagne Tasting Bar with three to four bottles of champagne and allow guests to taste and mingle.

Tip 2
Fill in the champagne with inexpensive wine. A general rule of thumb is about a half bottle to 1 bottle per guest, assuming each guest drinks about 3 glasses.

Tip 3
Everyone loves to document their New Year's Eve celebration, so a do-it-yourself photo booth is ideal as you get ready for the midnight countdown!