Friendsgiving Tablescape
Featuring Sophistiplate
In Collaboration with Twinkle Twinkle Little Party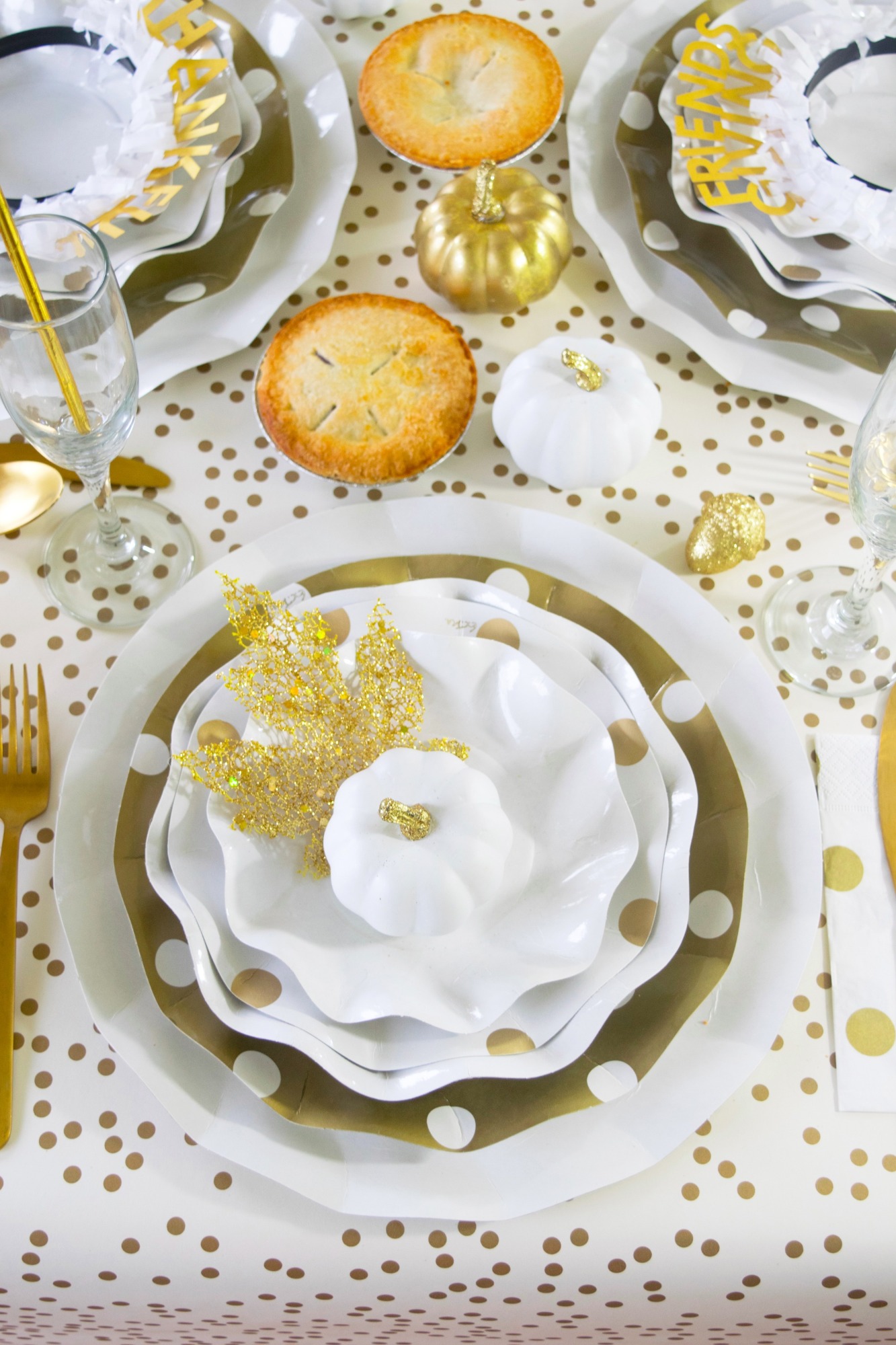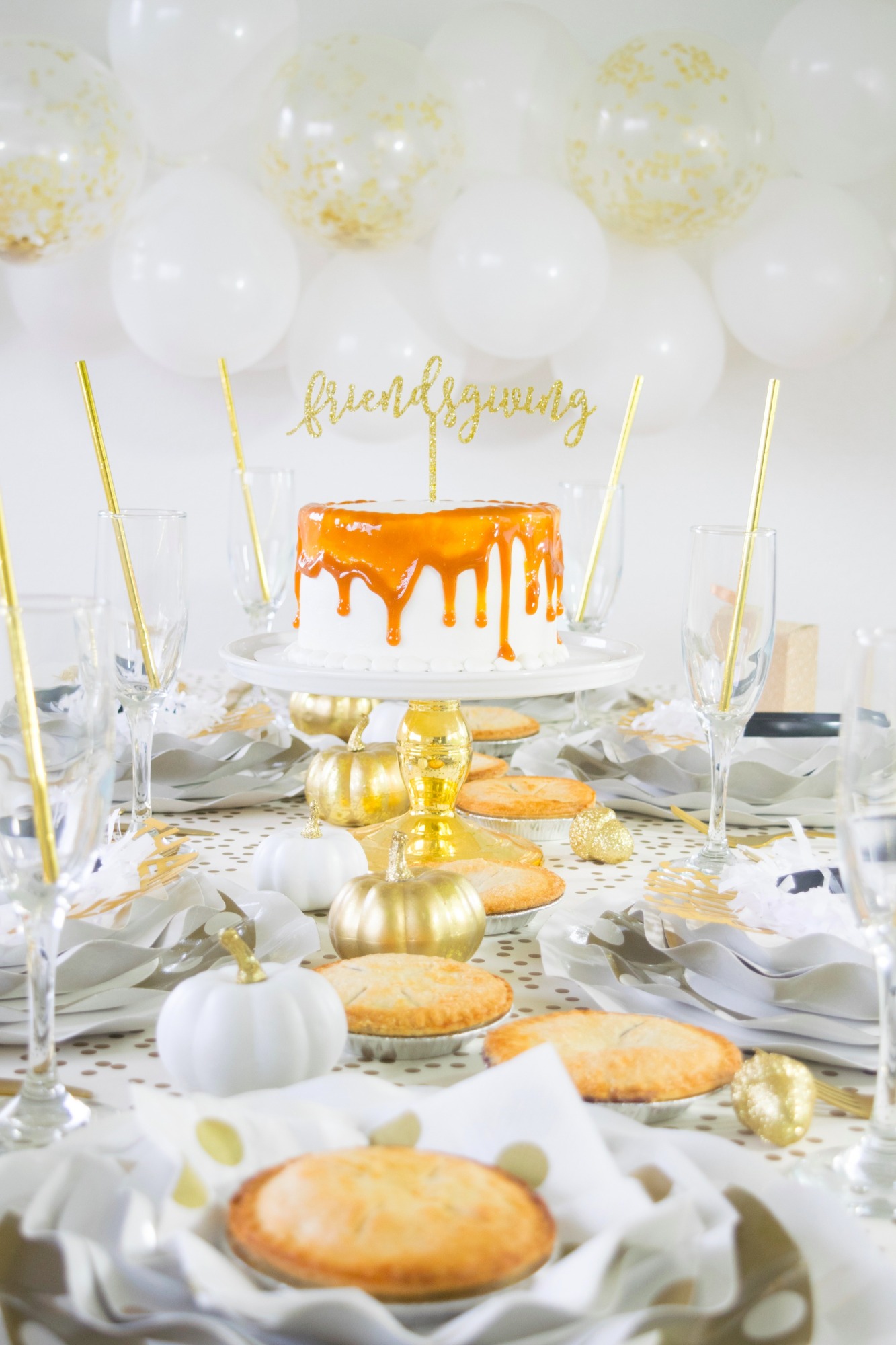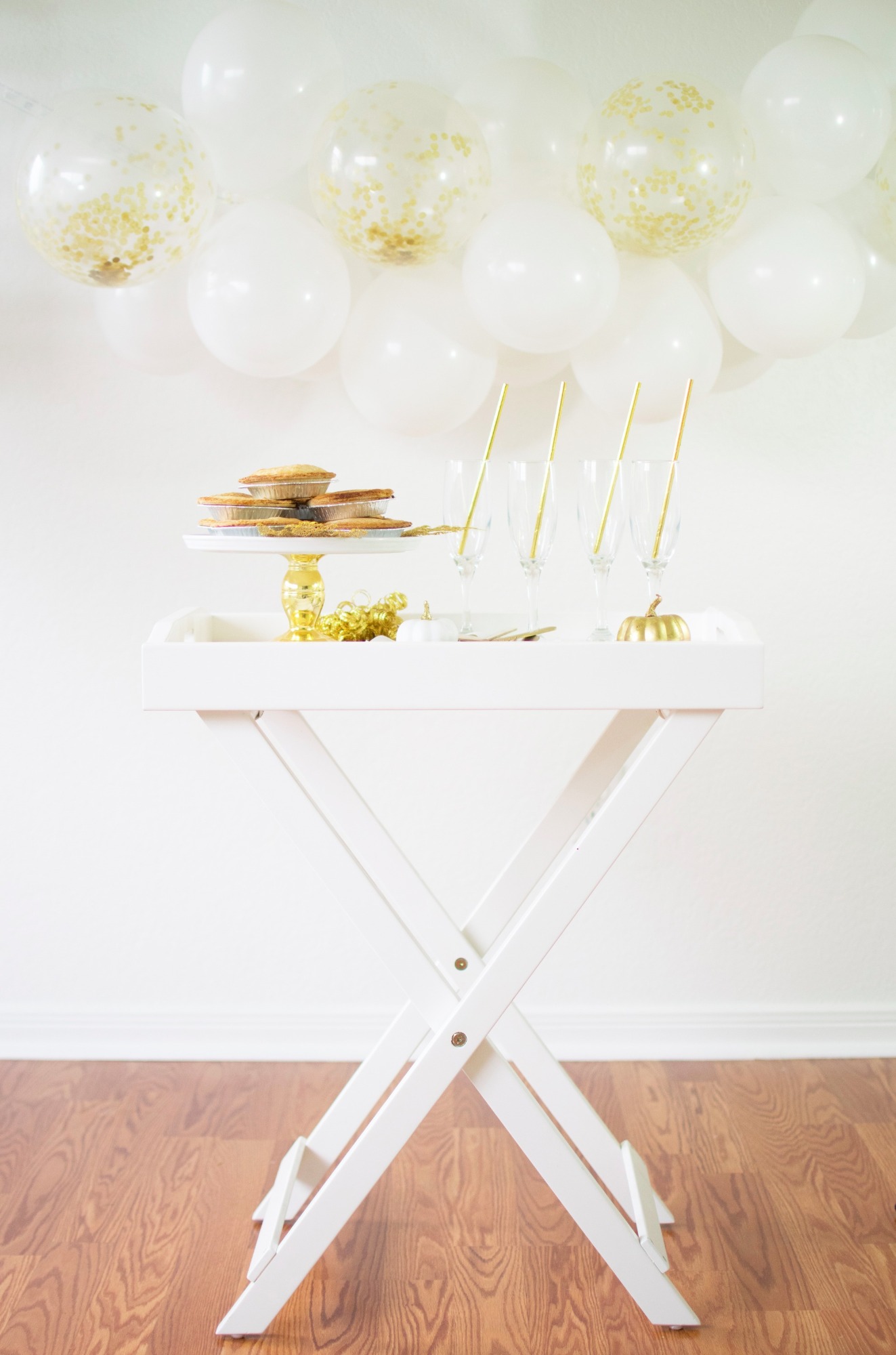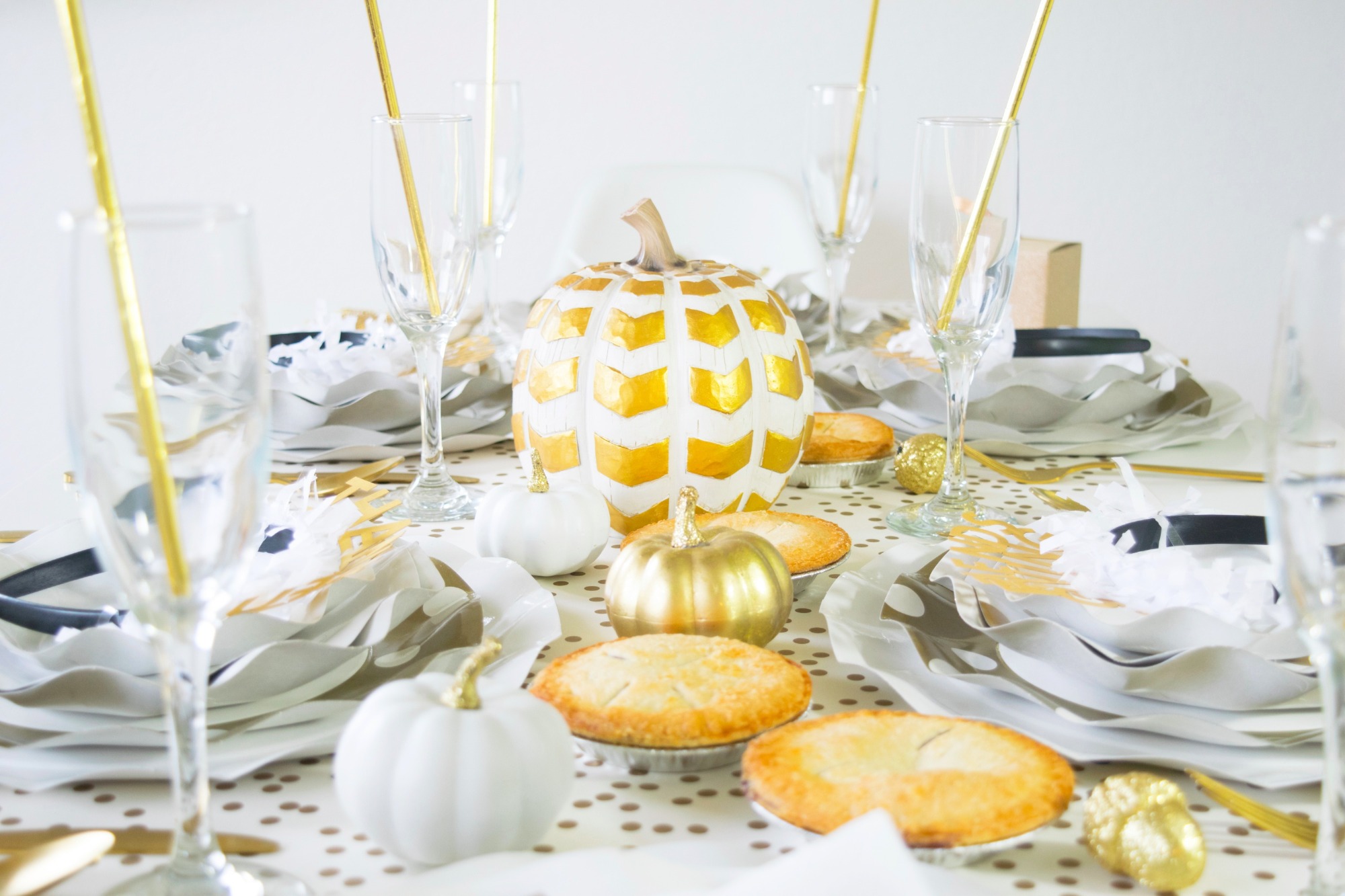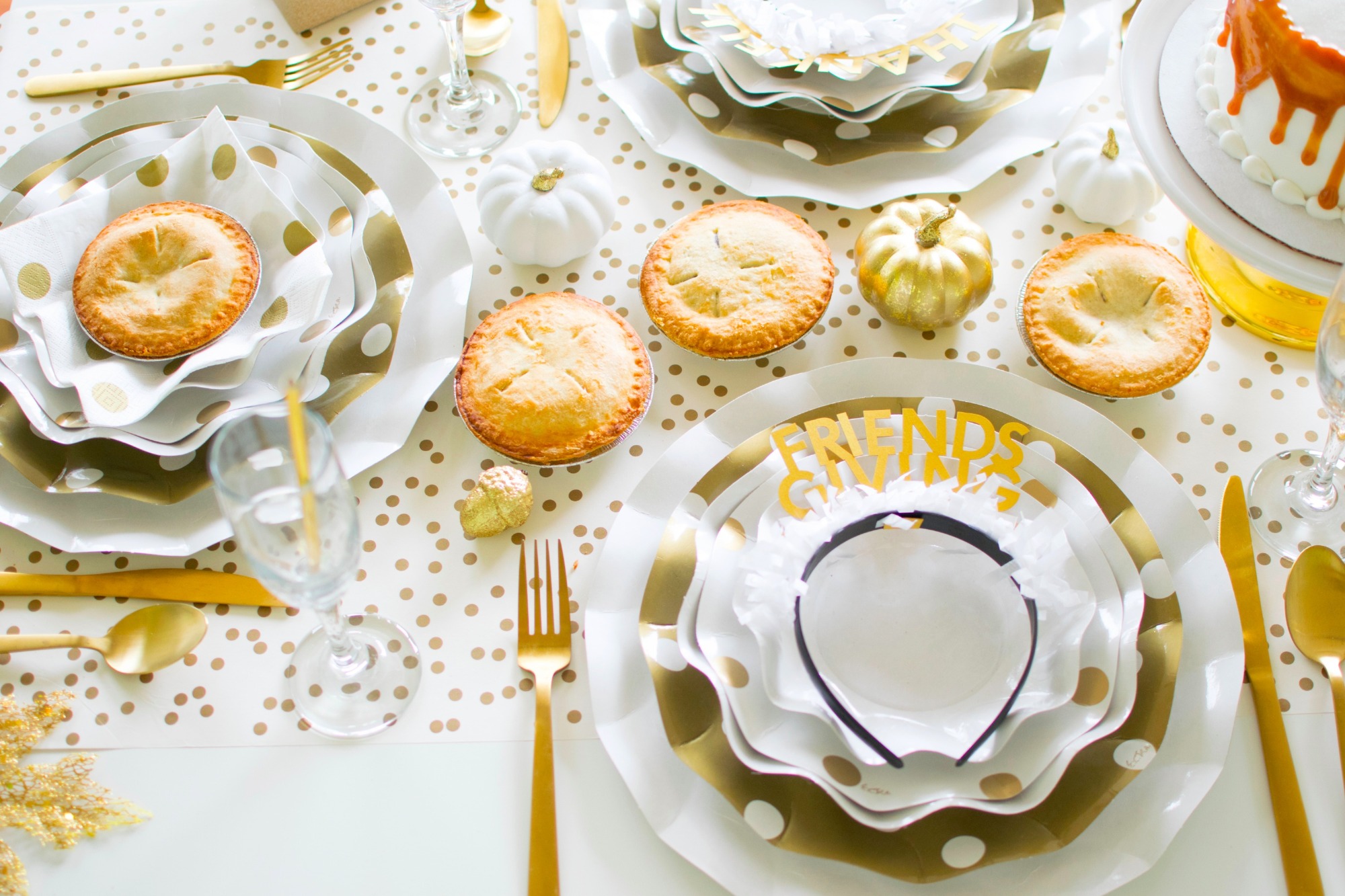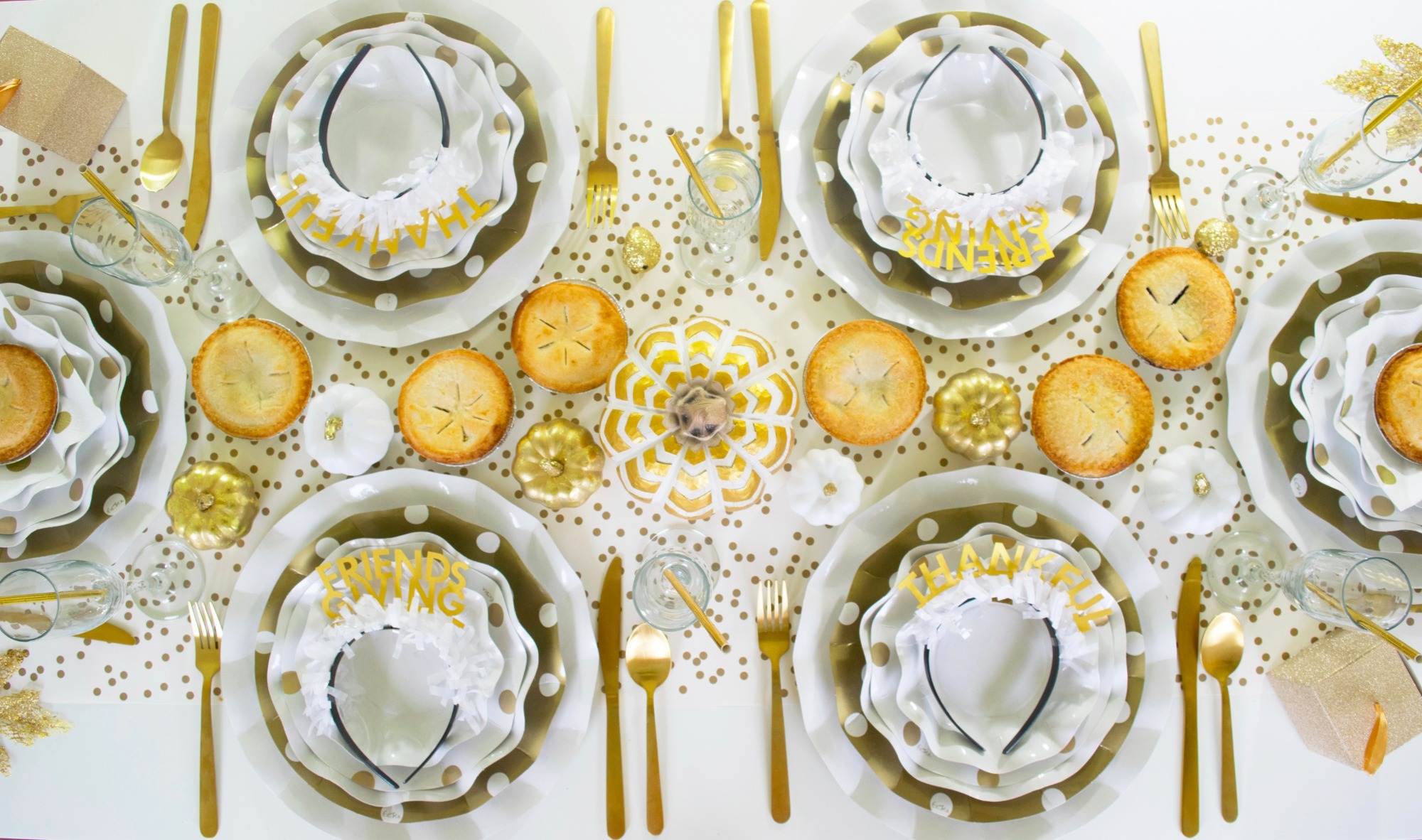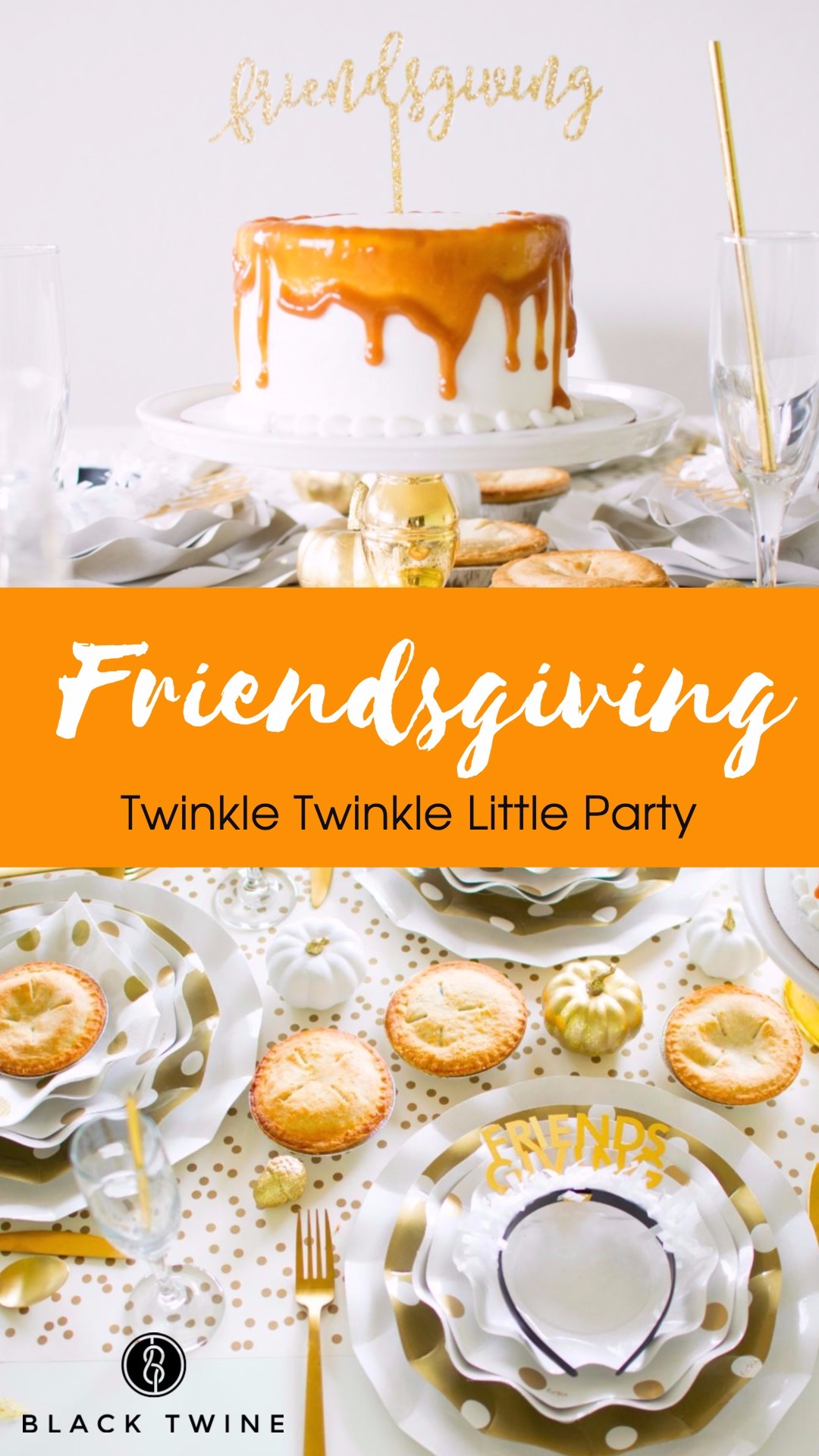 You're only 3 steps away from the perfect party.
Purchase
Review the blueprint and purchase the party items in a few easy steps.
Prep
Follow our easy ideas to wow your guests.
Assemble
Follow our timeline and party tips for seamless execution.
Buy your party items with a few simple clicks.
(prices and availability subject to change)
Additional Tip
If you have time, we recommend looking for good deals on cake stands (which can be used over & over) at stores such as HomeGoods, Pier 1 Imports, Cost Plus World Market, and Target.
For the tablescape decor, we recommend purchasing several small (white) pumpkins to spray paint gold and 1 medium (orange) pumpkin to spray gold and create chevron pattern with white acrylic paint.
Prepare perfect party decor + party food.
EASY DIY BALLOON GARLAND BACKDROP
Materials
Gold confetti 12″ latex balloons
White 9″ latex balloons
Balloon pump
Balloon decorating strip
Scissors
Clear strong tape
Directions
Measure the height and width of the area where the balloon garland will be displayed then, cut the decorating strip and attach to the area using clear strong tape.
Inflate the balloons and knot.
Grab the knot that you tied and insert into an open hole on the balloon strip. Pull the knot completely through the hole. Note: Make sure you insert balloons on both sides of the tape by shifting the colors to create a balloon cluster. The strip has two hole sizes.  The smaller hole will accommodate 5″ to 9″ latex balloons. The larger holes are for 11″ to 18″ latex balloons.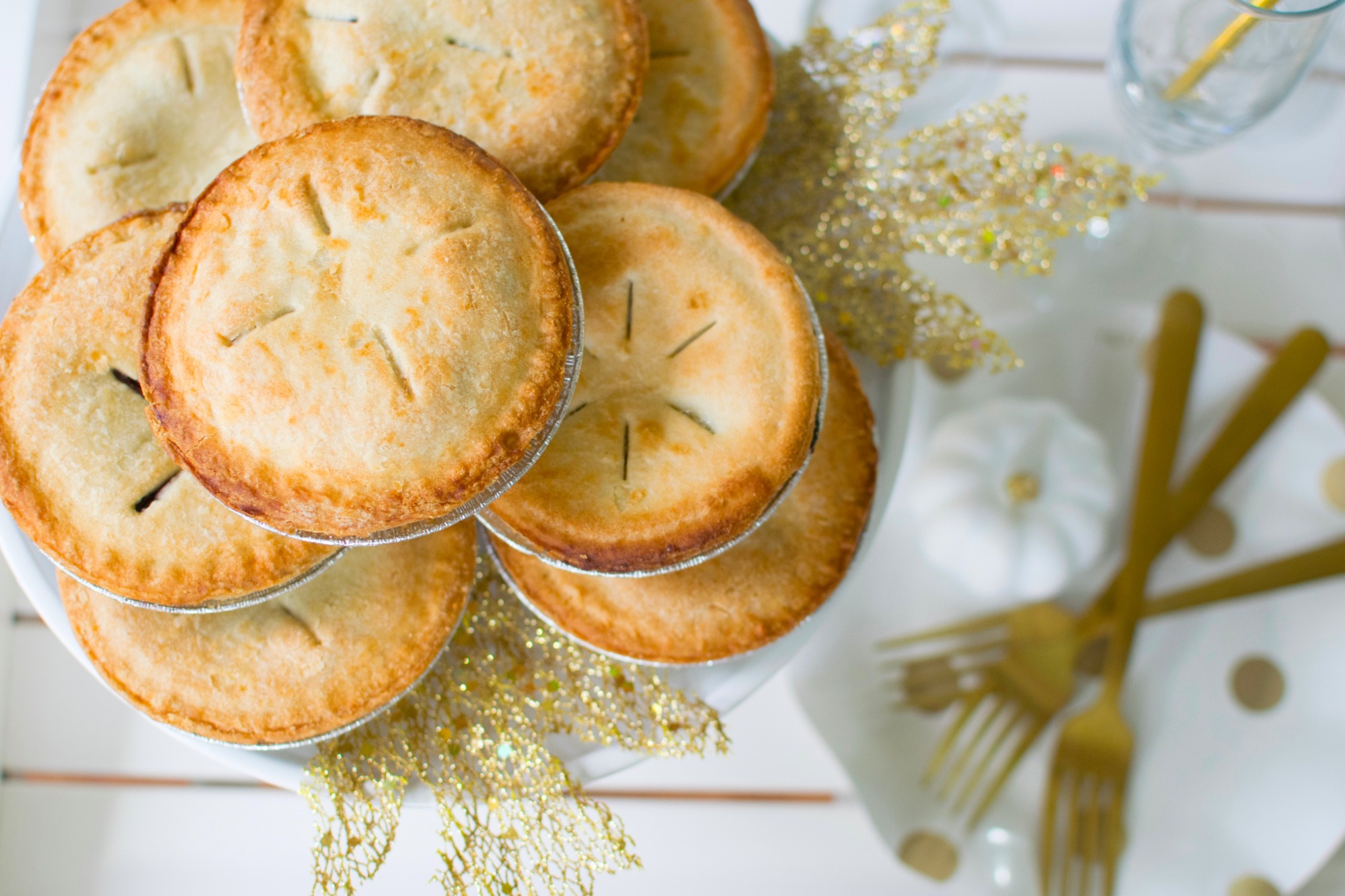 Ingredients
Yields 10 Mini Pies
3 Apples
3/4 cup Dark Brown Sugar
1 teaspoon Vanilla
1 tablespoon Lemon Juice
1 tablespoon Flour
1 pinch of Salt
2 tablespoons, plus 1 tablespoon Melted Butter (separated)
1/2 teaspoon Cinnamon
2 rolls of Pie Crust, at room temperature
Instructions
Start by heating your oven to 375 degrees. Then prepare the pie crusts. Use a biscuit cutter to cut out 8 circles from each roll of pie crust. Knead and roll out the remaining dough, cutting 4 more circles. Then roll out 10 of the dough circles increasing their size by 1/3. Place these circles of dough in the ramekins, lightly pressing the dough up the sides of the ramekins. Set the remaining dough circles aside, you will use these for the tops of the pies.
Peel the apples and chop them into thin slices. Place the apple slices in a medium bowl. Add the brown sugar, vanilla, lemon juice, flour, salt, 2 tablespoons of melted butter, and the cinnamon. Stir to mix.
Divide the apple filling between the 10 pie crusts. Then place the remaining circles of dough on top of the pies, and use a fork to seal the pie crust in place.
Bake the pies for 20 minutes. Then remove from the oven and brush with 1 tablespoon of melted butter. Return the pies to the oven for 10 minutes letting them become golden brown. You can serve the pies warm or a room temperature. Add ice cream on top if you like.
Pull it all together in just a few easy steps.
Timeline
1 Month Prior
Order plateware from Sophistiplate
Order table runner from Hester & Cook
1 Week Prior 
Order cake and mini pies
Purchase fall-inspired drinks, such as apple cider
1 Day Prior
Make balloon garland
Pick up cake and mini pies
Day Of
Start working on your tablescape at least 3 hours before the event (if it's a small event) or 5 hours (if it's a larger event)
Add food to the table 30-45 minutes before guests arrive
Estimated Budget
8 People

Decor: $250

Food: $200

Beverage: $50

TOTAL: $500
Twinkle Twinkle Little Party shares its top tips for pulling off this event.

Tip 1
Decide on the number of guests in order to plan your tablescape.

Tip 2
Incorporate pumpkins, acorns and other fall inspired décor items into your tablescape set up.
Tip 3
Scatter mini pies throughout the table. They can make a wonderful centerpiece as well.

Tip 4
Gift your girlfriends fun party headbands. They make fabulous photo ops.

Tip 5
Adorn your homemade drip cake with a acrylic cake topper. It's a beautiful, easy and affordable way to jazz up a simple cake.