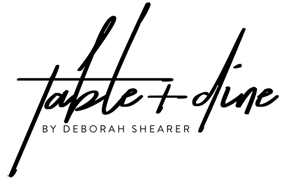 Red + White Summer BBQ Tablescape
Styled by Table + Dine
Featuring Sophistiplate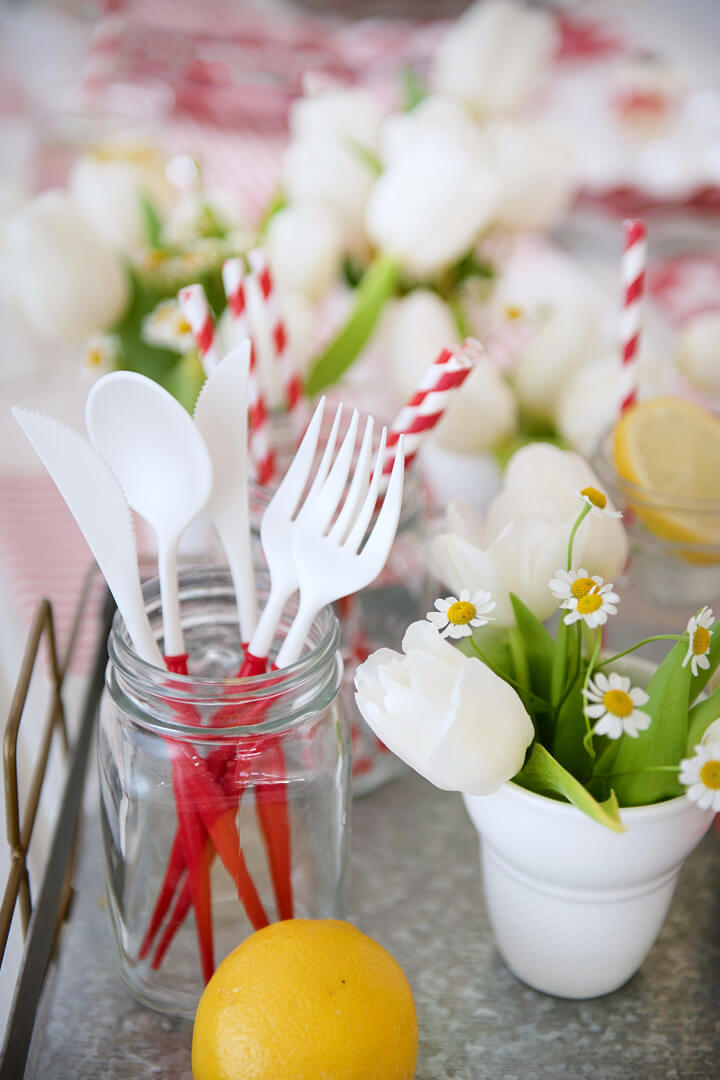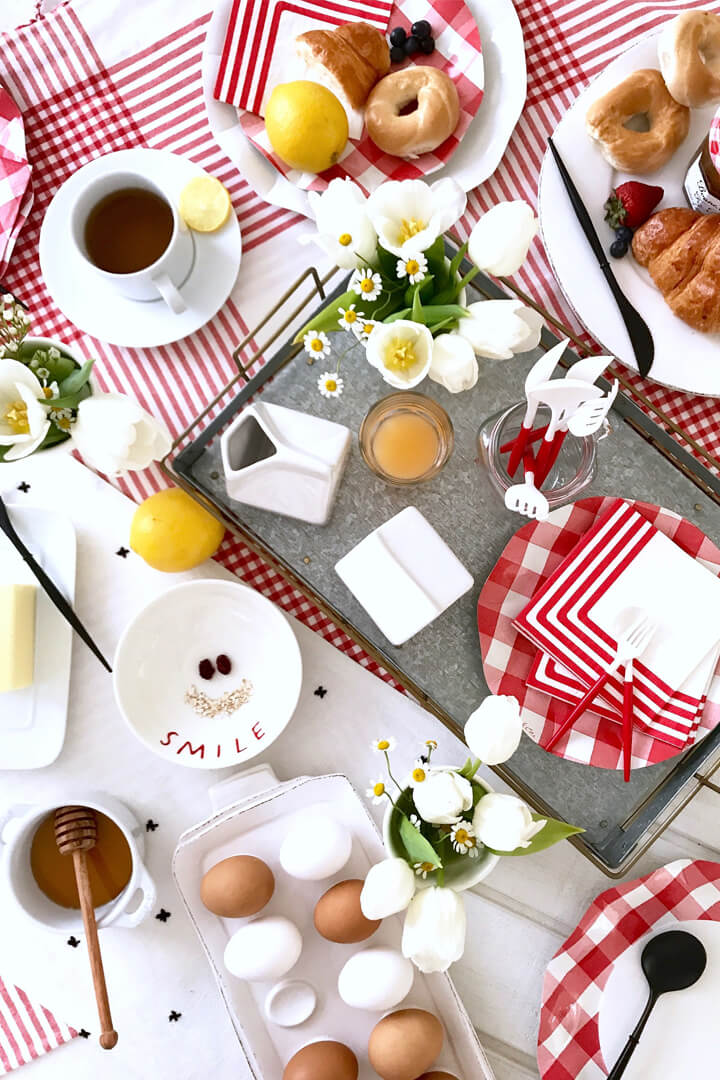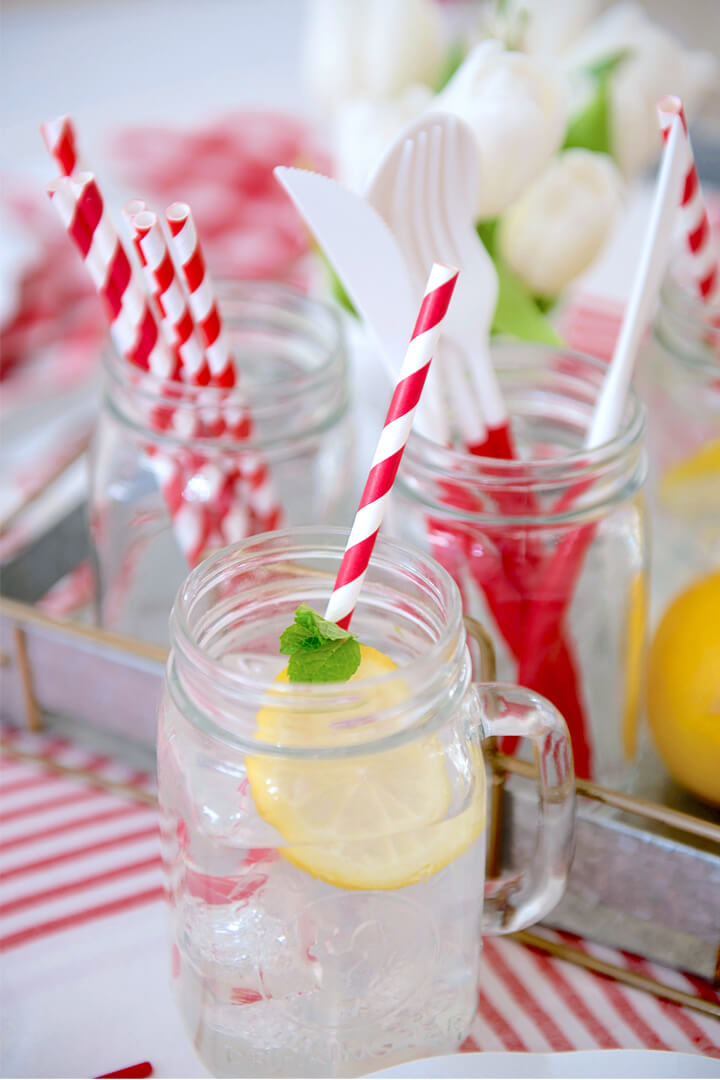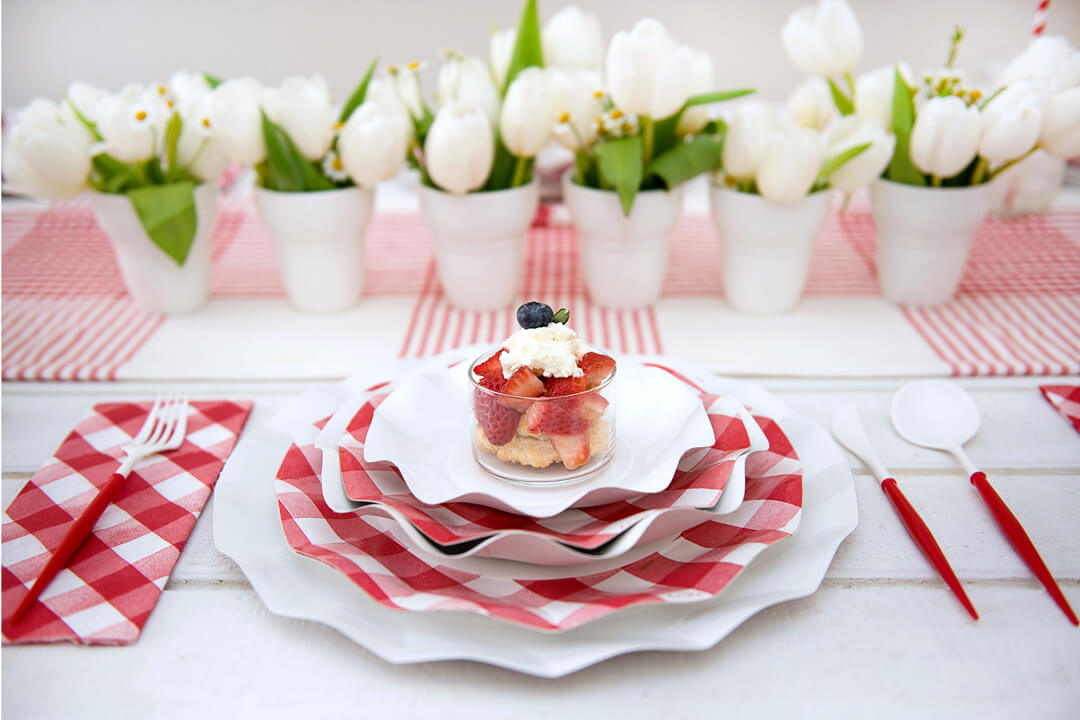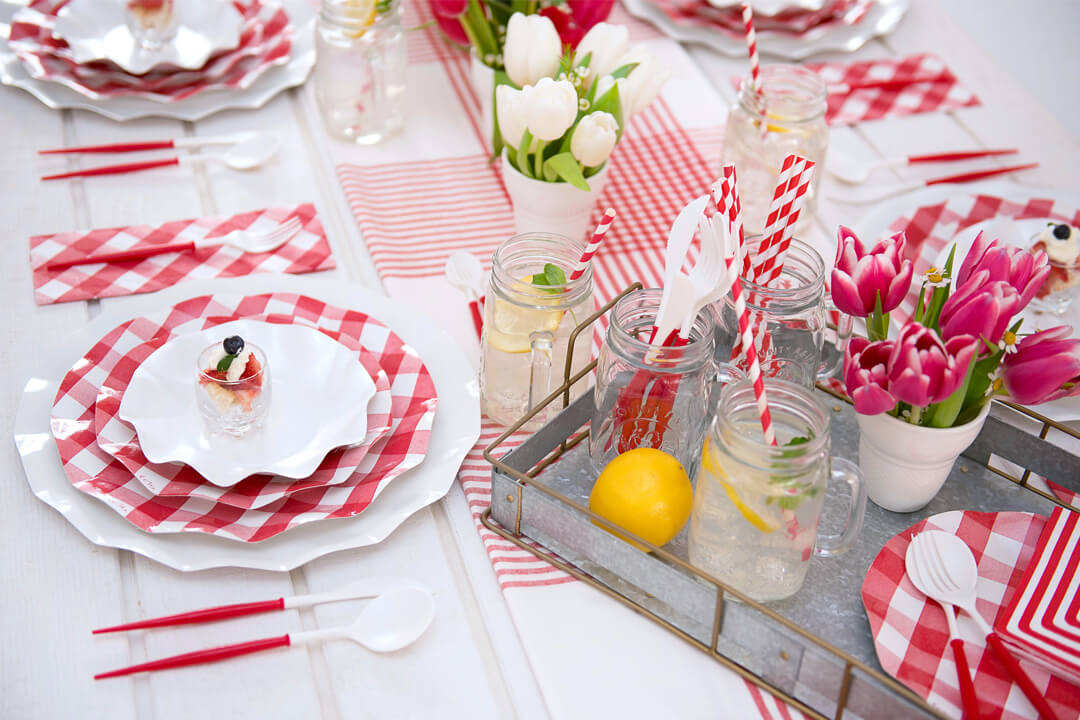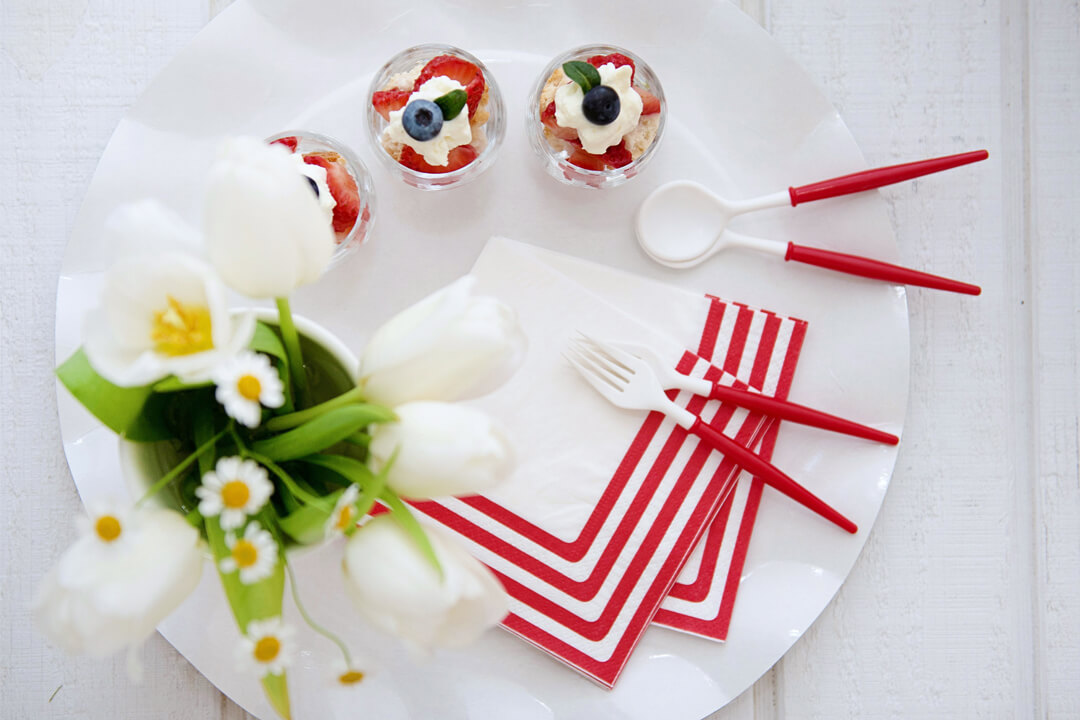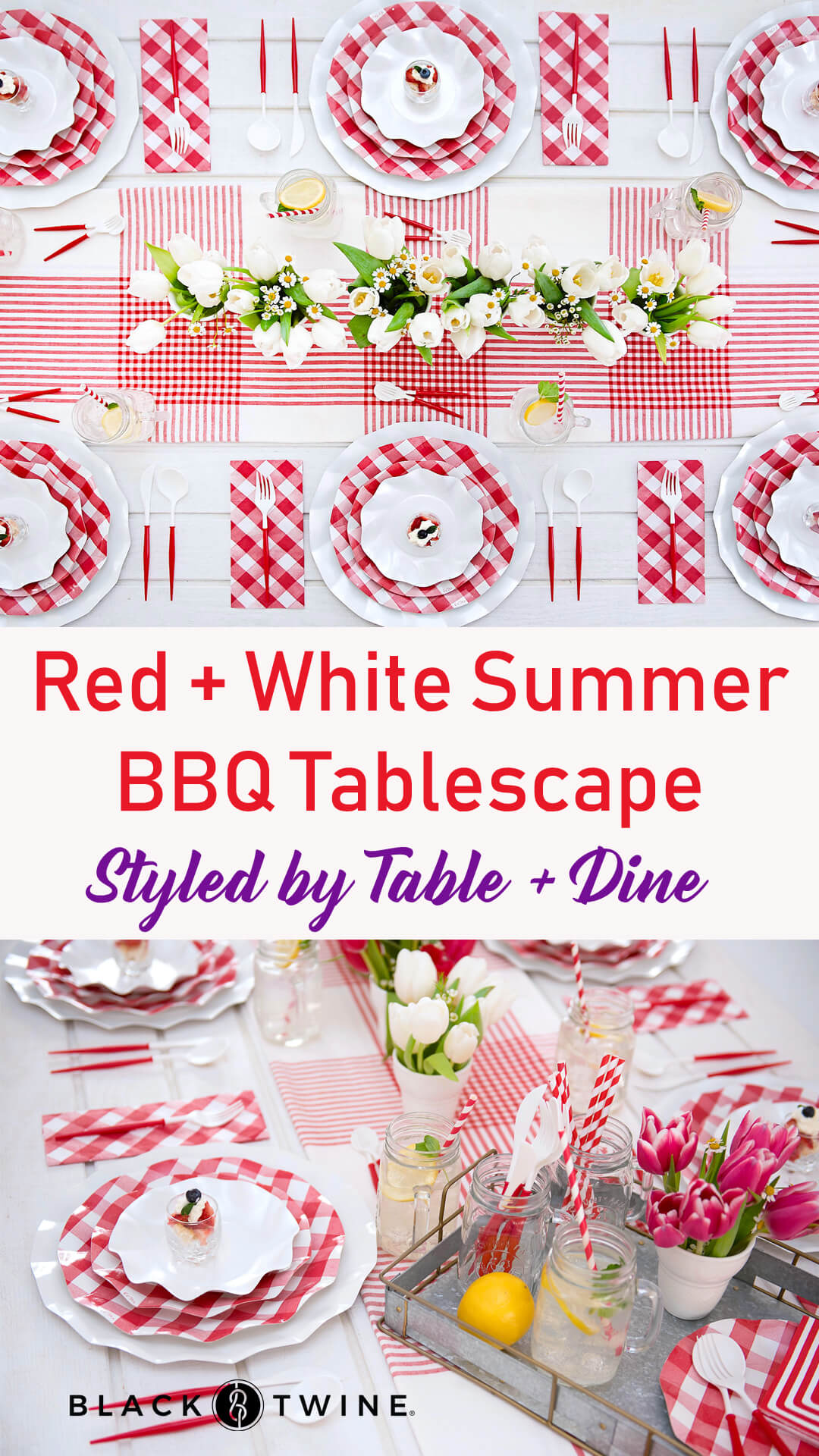 You're only 3 steps away from the perfect party.
Purchase
Review the blueprint and purchase the party items in a few easy steps.
Prep
Follow our easy ideas to wow your guests.
Assemble
Follow our timeline and party tips for seamless execution.
Buy your party items with a few simple clicks.
(prices and availability subject to change)
Additional Tip
Throwing an impromptu Sunday BBQ? Call or text friends and family for a "come as you are" kind of get together. Ask everyone to bring a side dish and a bottle of wine. Grill up chicken and ribs or burgers, mix up a batch of your favorite summer boozy cocktails and get the party started!
Suggested Menu:
Mini BLT Appetizers
Feta, Cucumber, and Watermelon Bites with Mint Vinaigrette
Caprese Salad
Mini Smashed Potatoes with Aioli Sauce
Italian Green Bean Salad
Grilled Beer Can Chicken
Calabrian Grilled Pork Ribs
Dessert: Fresh Strawberry Shortcake is a sure summer hit.
Prepare perfect party decor + party food.
Pull it all together in just a few easy steps.
Timeline
4 Weeks Prior
Send invitations to guests
Order tableware from Sophistiplate and other party decor
3 Weeks Prior
Plan your menu (contact caterer if you are not preparing the food yourself)
2 Weeks Prior
Order flowers (optional)
1 Week Prior
Confirm the menu and number of guests with the caterer
2 Days Prior
Purchase food, wine & alcohol, mixers and fruit you need for the party
1 Day Prior
Set the tablescape and arrange placecards
Prep the bar and purchase ice
Prepare any food you can the day before the party
Day Of
Chill the wine
Prep bar fruit + garnishes
Set out food & beverages about 30 minutes before guests arrive
Pour yourself a cocktail and celebrate!
Estimated Budget
15 People

Decor: $300 – $400

Food: $300 – $400

Beverage: $100 – $150

TOTAL: $700 – $950
Table + Dine shares its top tips for pulling off this event.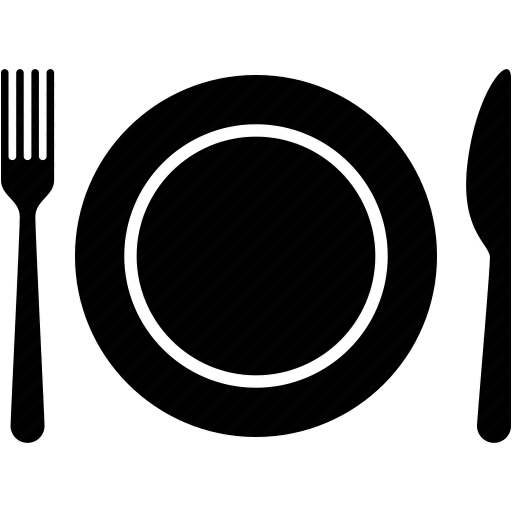 Tip 1
Love to entertain without all the fuss? Enters: Sophistiplate pretty paper plating from Italy. It's the alternative to easy entertaining.

Tip 2
Plan a signature cocktail and always have bubbly on ice to greet your guests. It's gives them a big warm welcome and allows you to mix 'n mingle.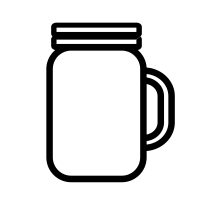 Tip 3
Use interesting vessels to hold flowers. I love using coffee mugs, or in this case, porcelain ice cream cups.
Tip 4
Set your table the day or night before. It allows you to do last minute items the day of your party and gives you a chance to fill in anything you might have forgotten.
Tip 5
You did it, now enjoy! Your guests feed off your energy. If you're having fun, they will too.