Classic Camping Party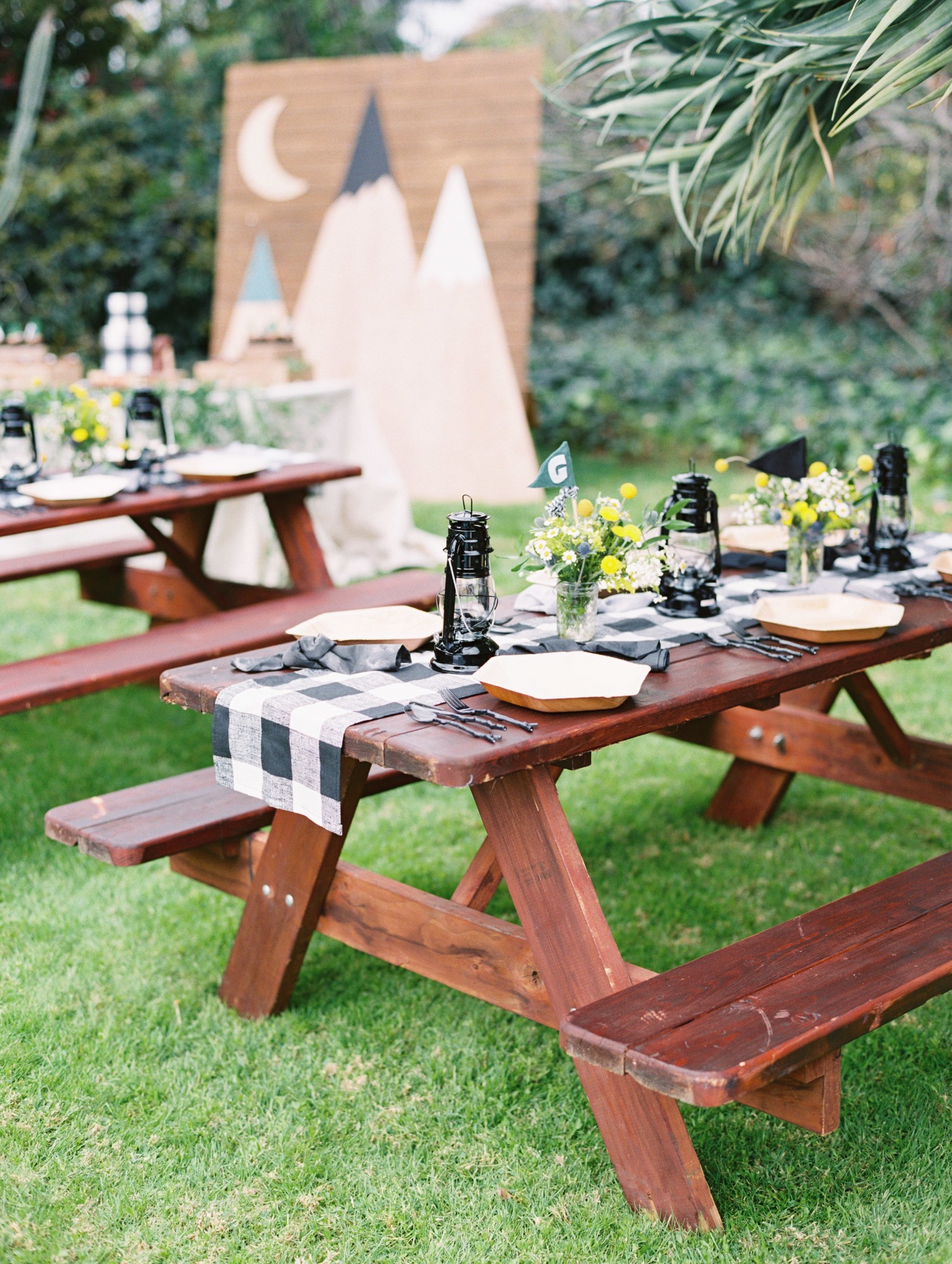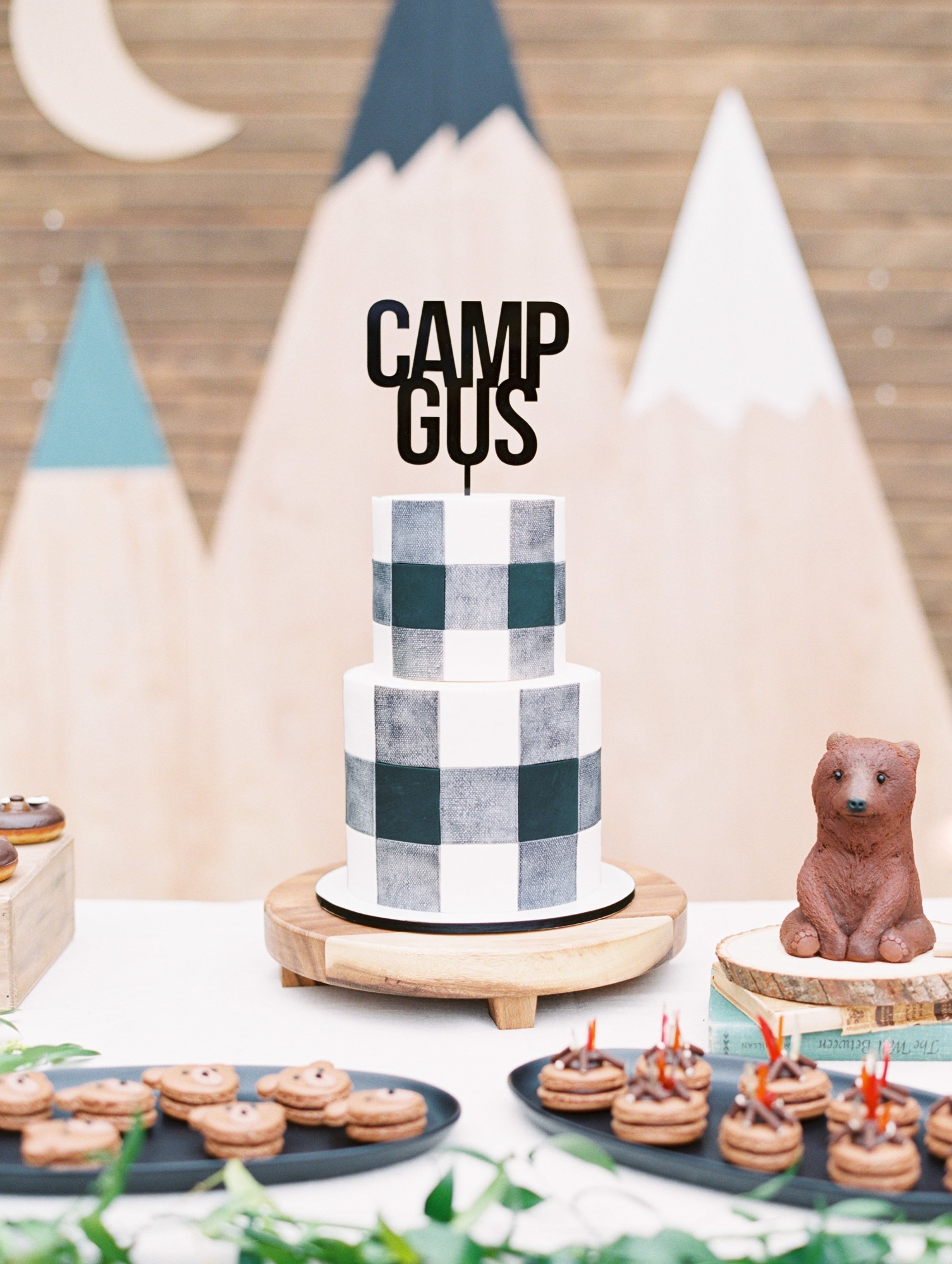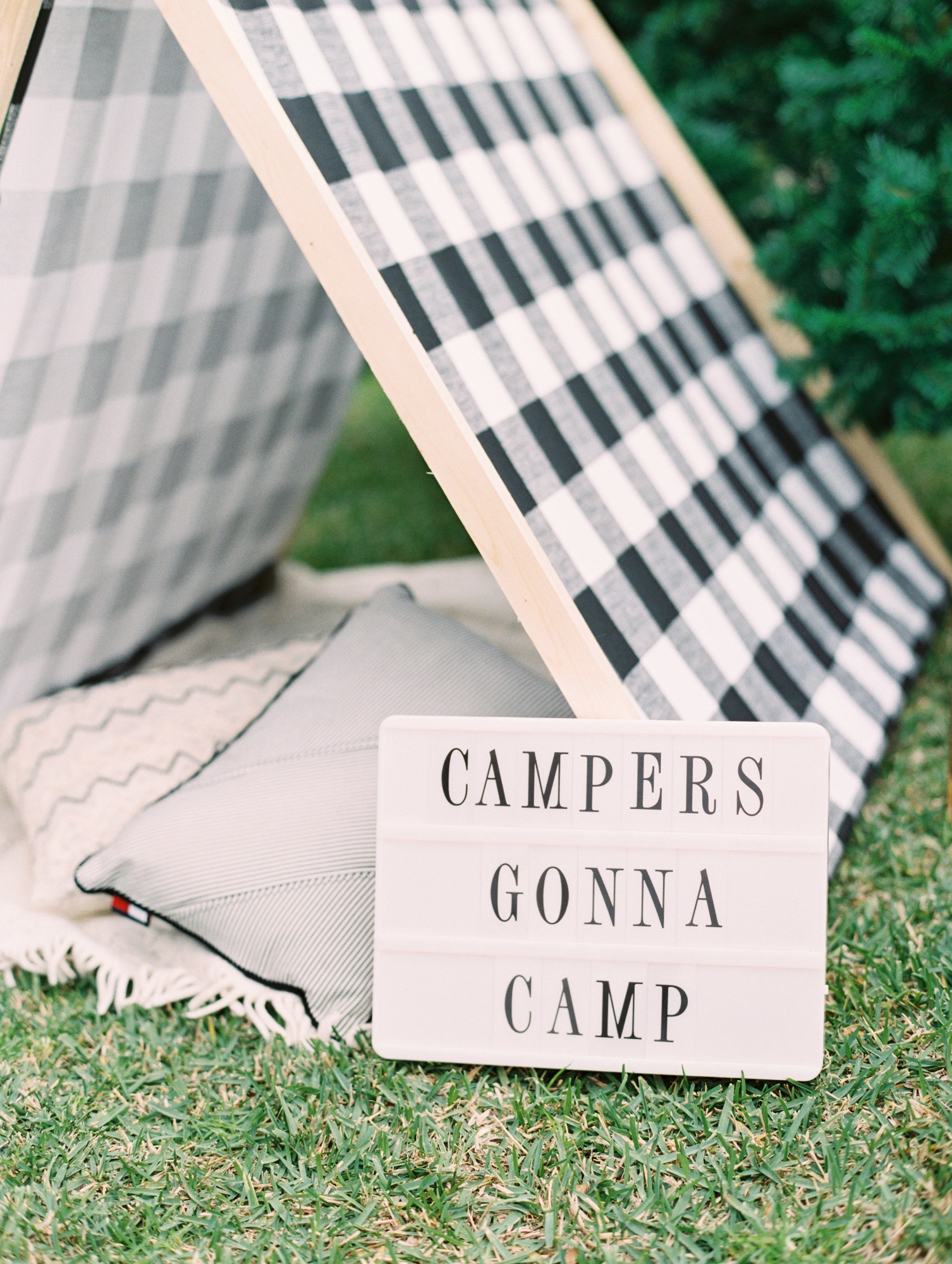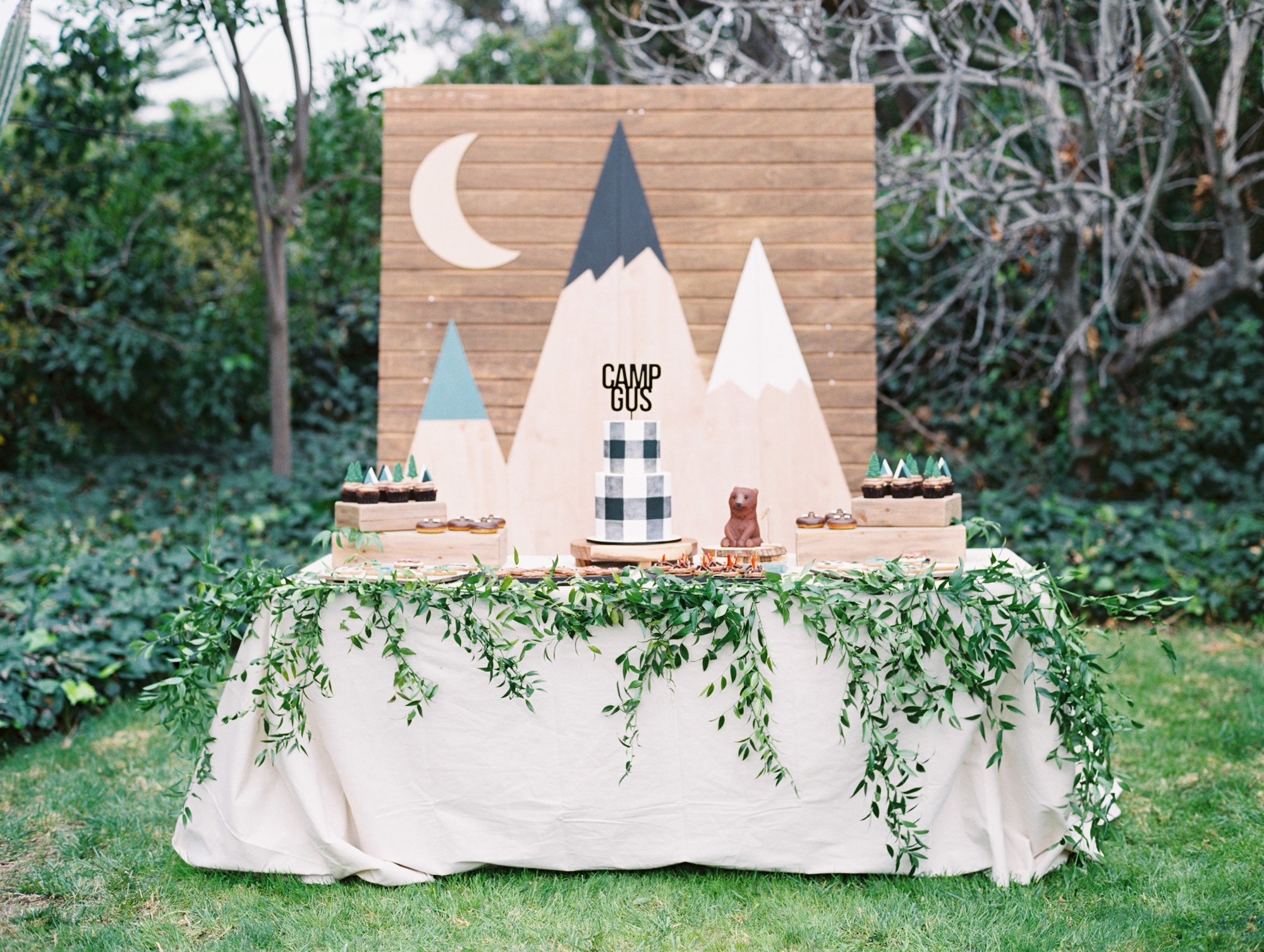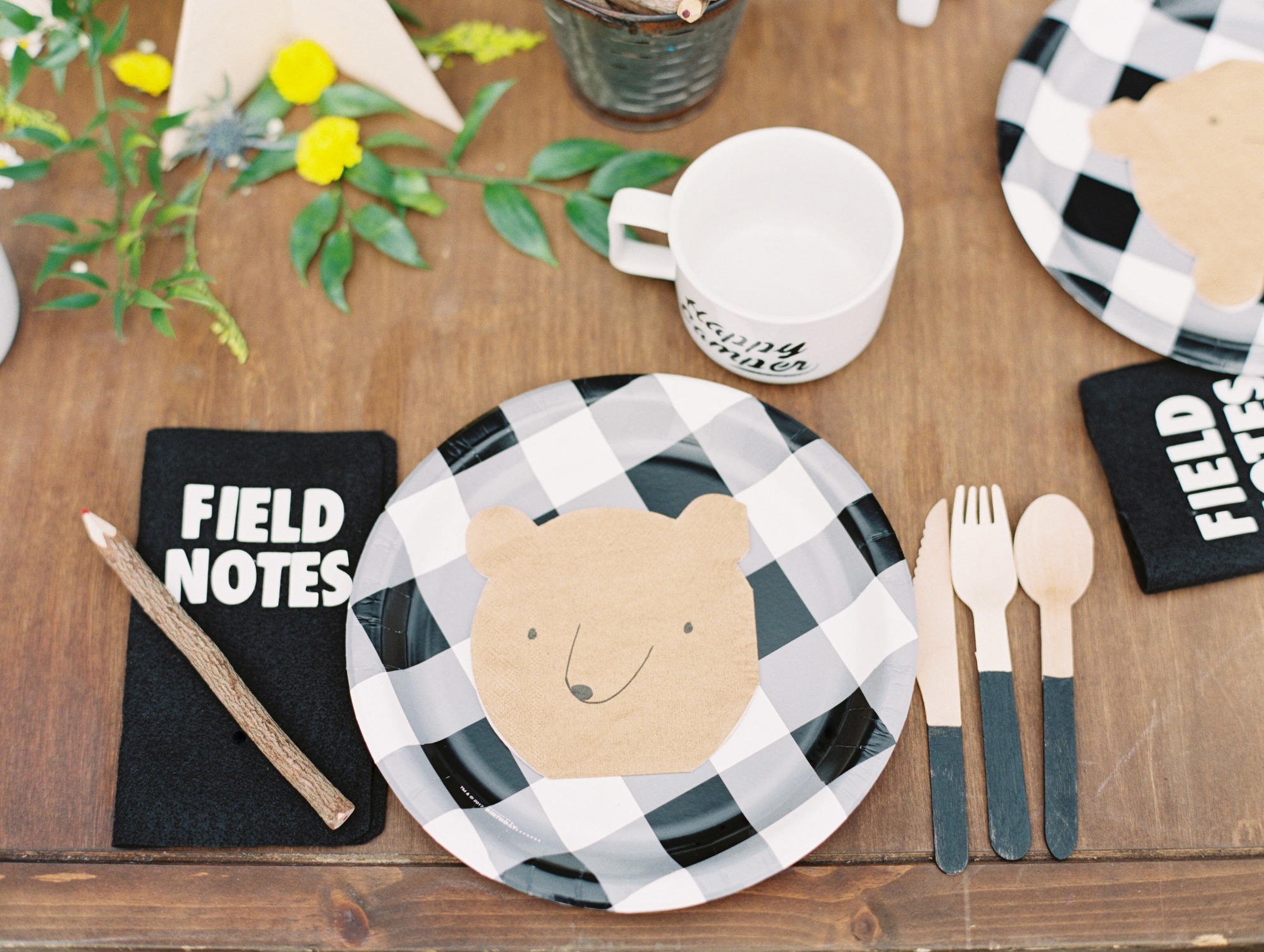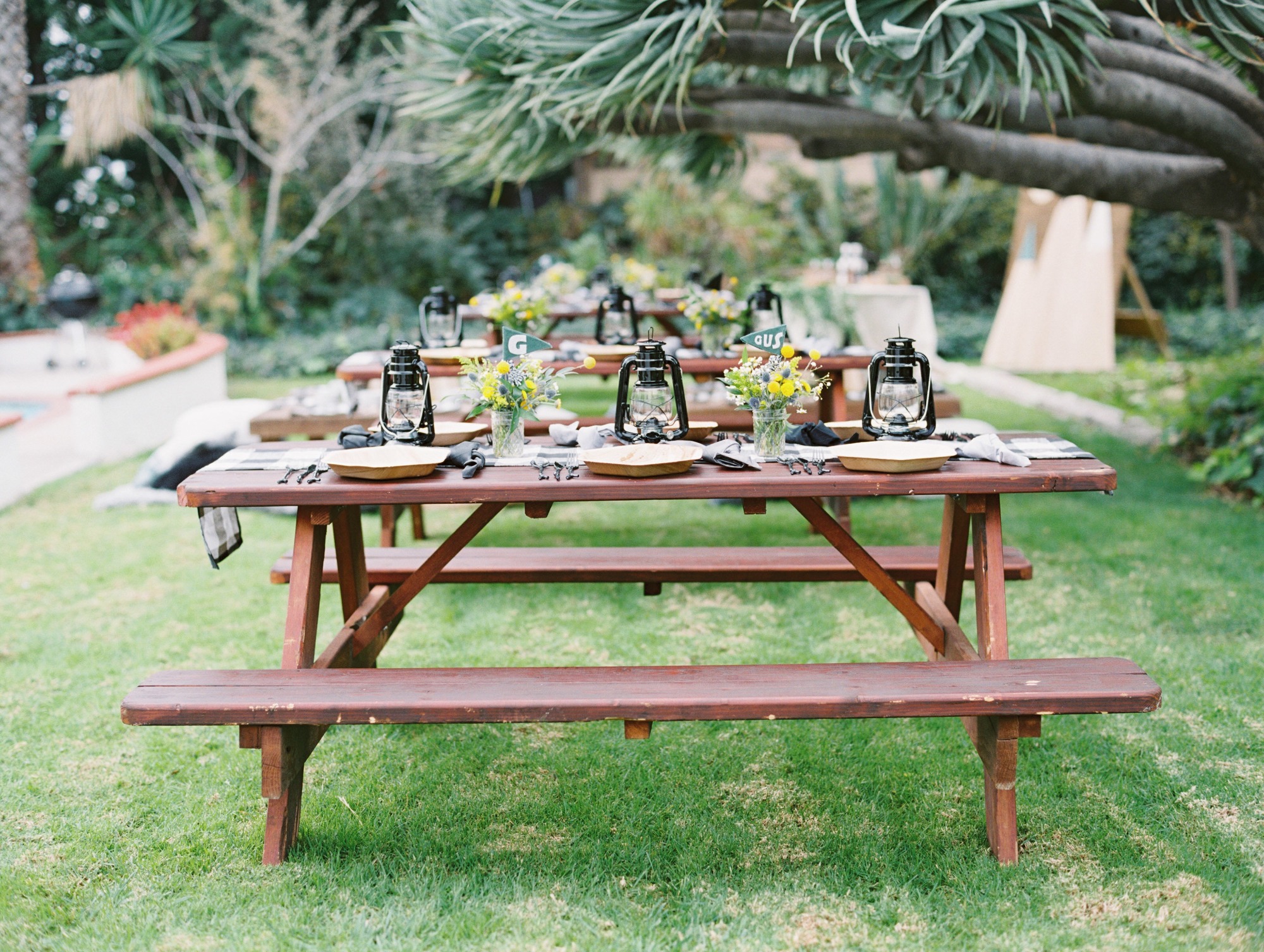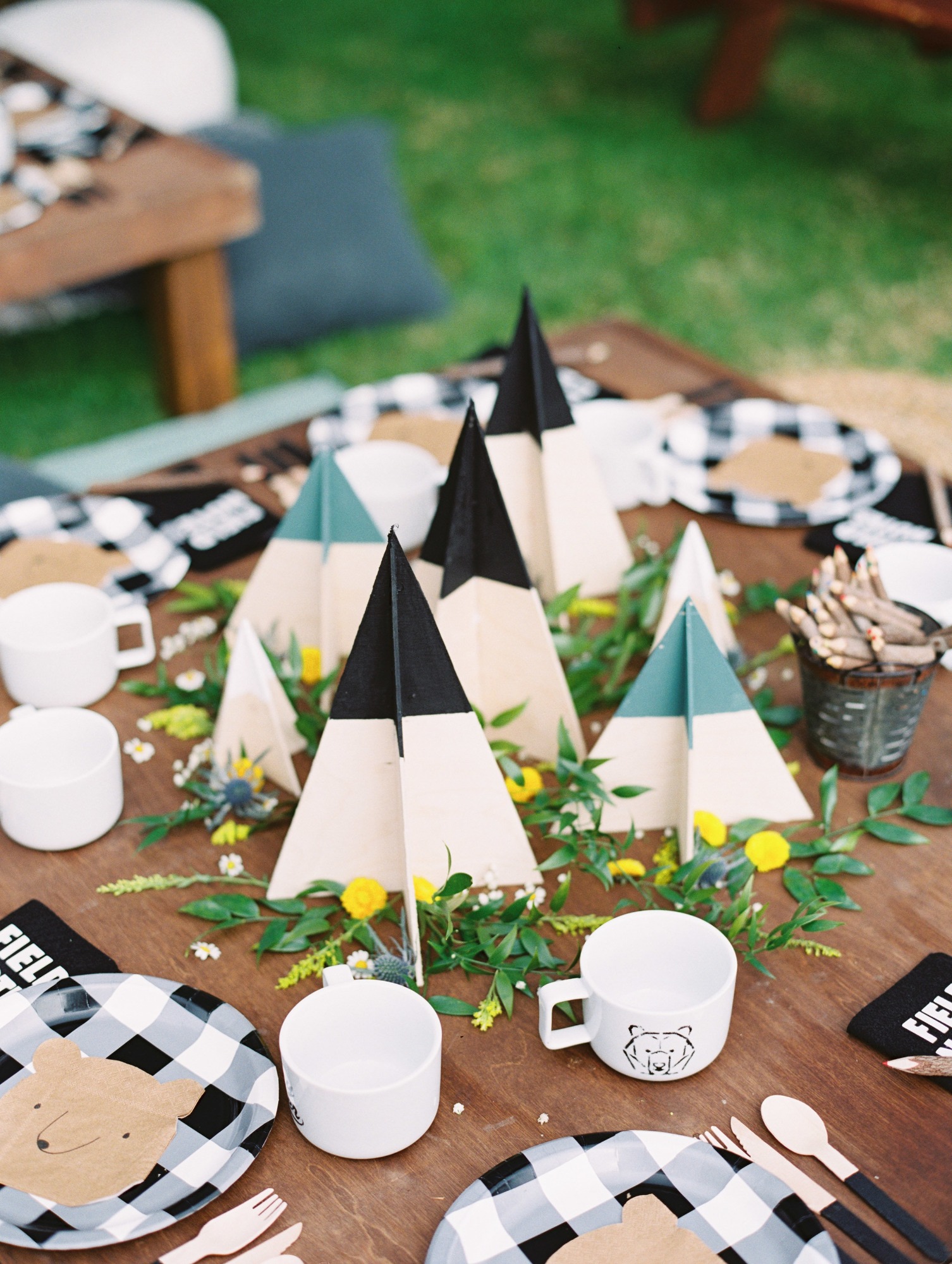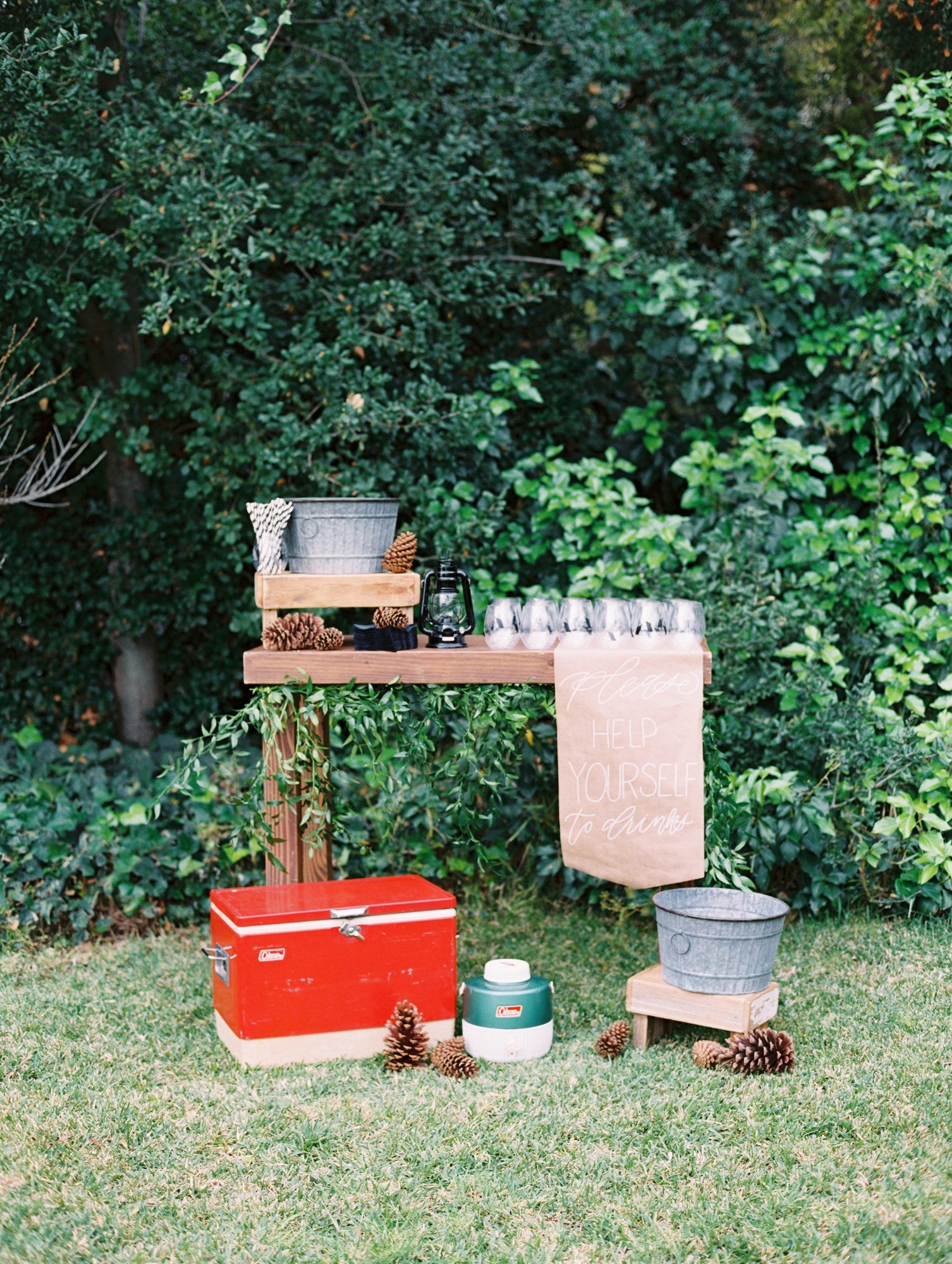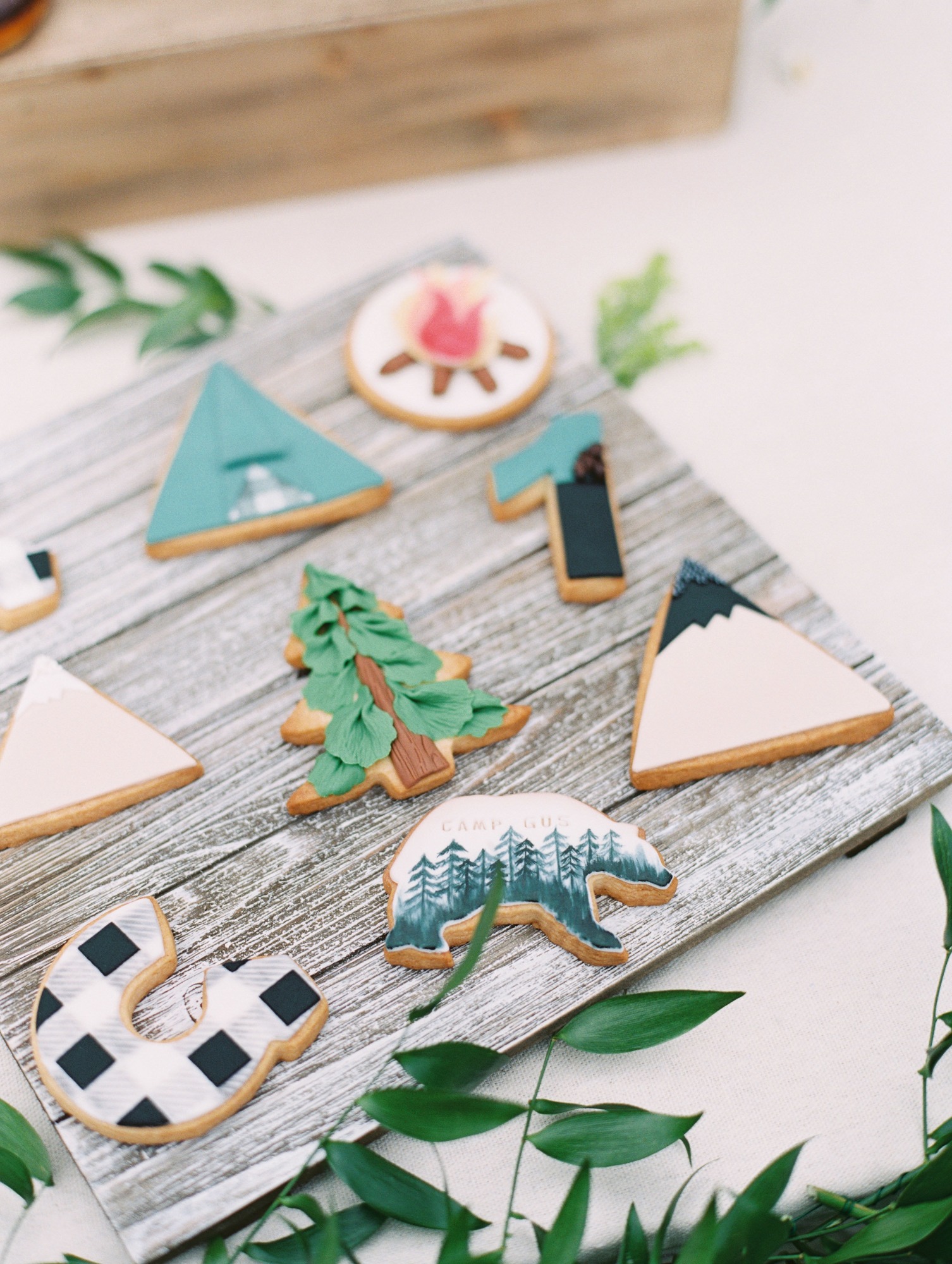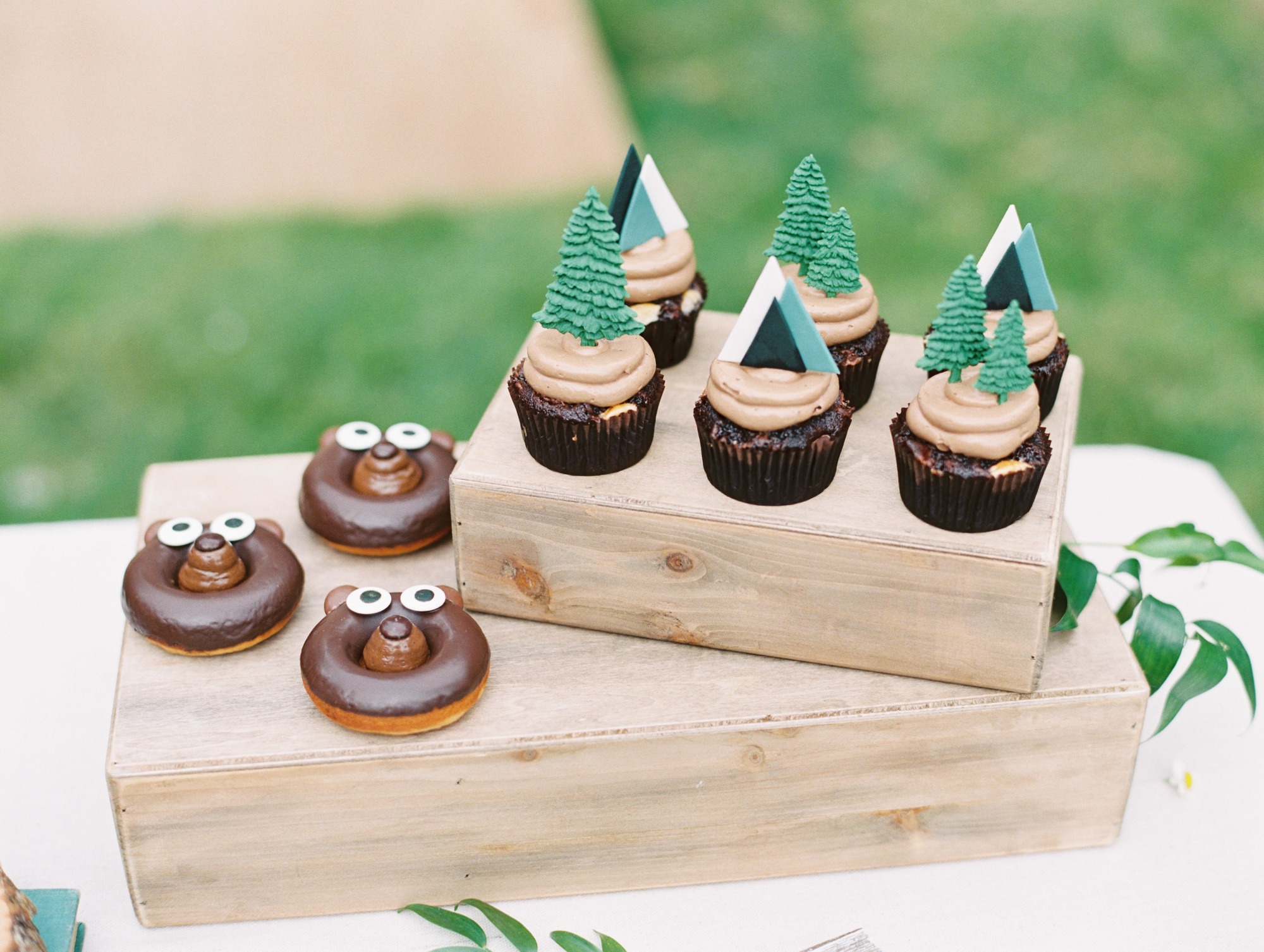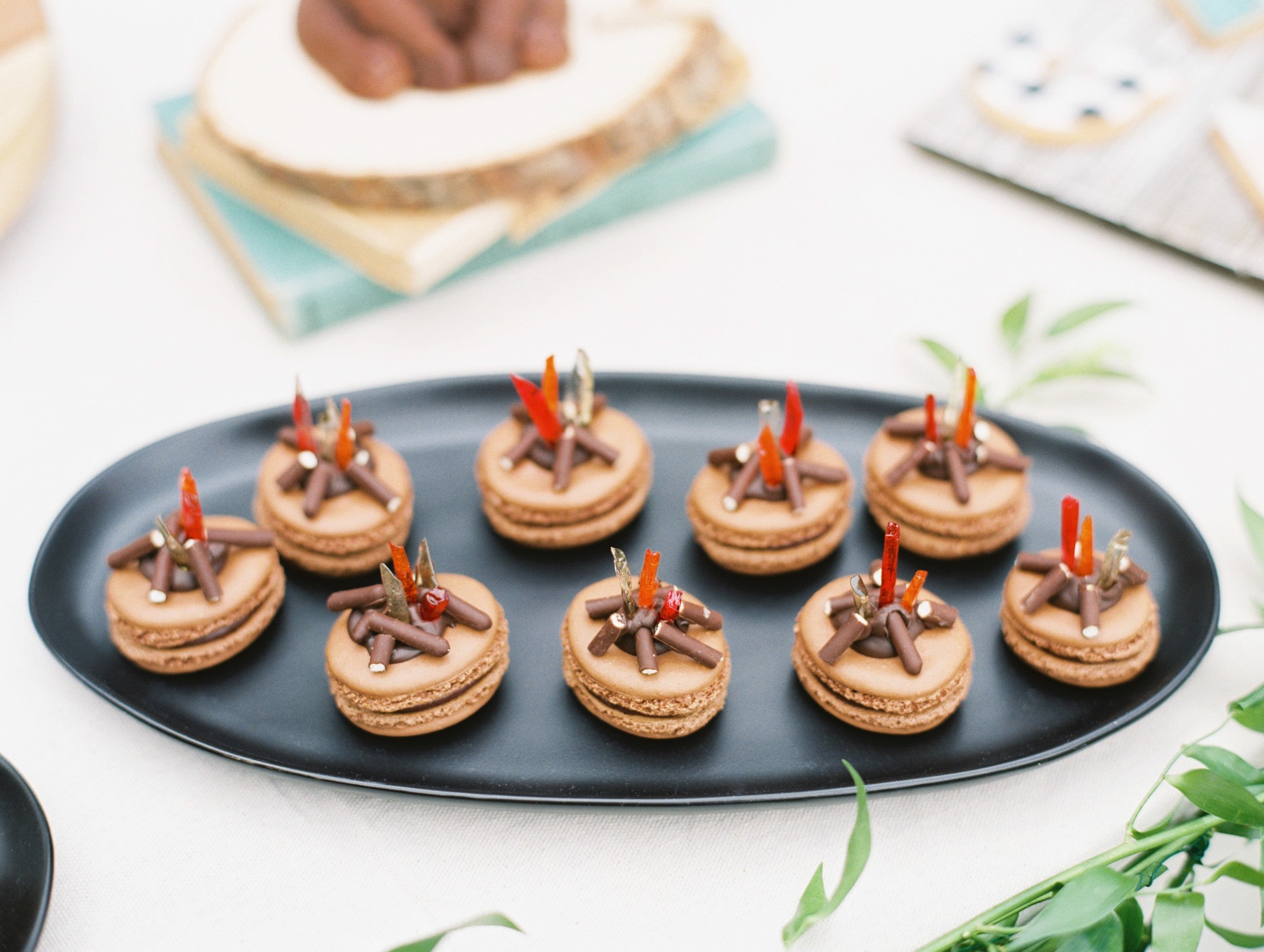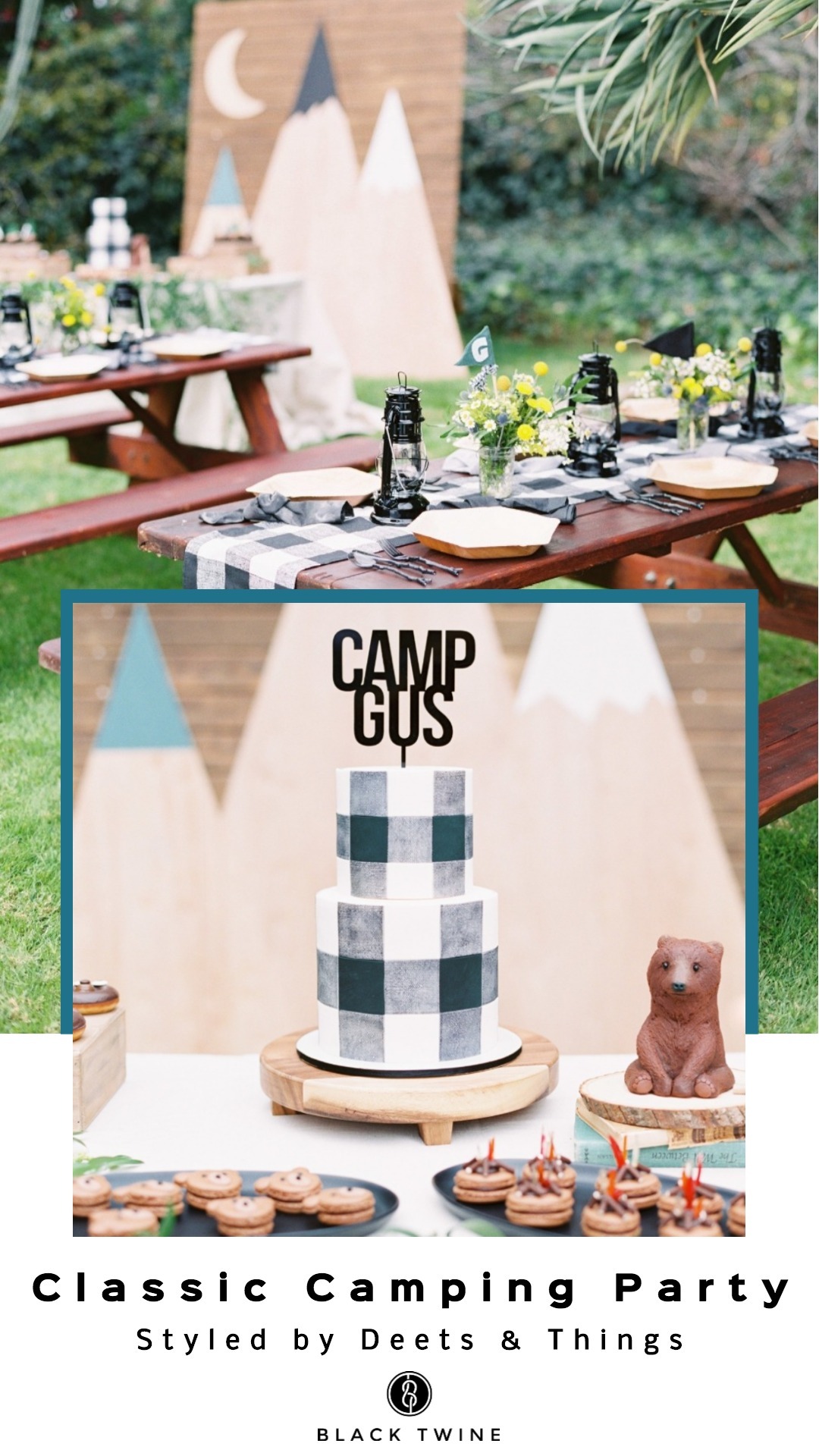 You're only 3 steps away from the perfect party.
Purchase
Review the blueprint and purchase the party items in a few easy steps.
Prep
Follow our easy ideas to wow your guests.
Assemble
Follow our timeline and party tips for seamless execution.
Buy your party items with a few simple clicks.
(prices and availability subject to change)
Additional Tip
For the dessert table, we served desserts that were camping themed such as the campfire macarons, pine tree cupcakes, and bear donuts.
Prepare perfect party decor.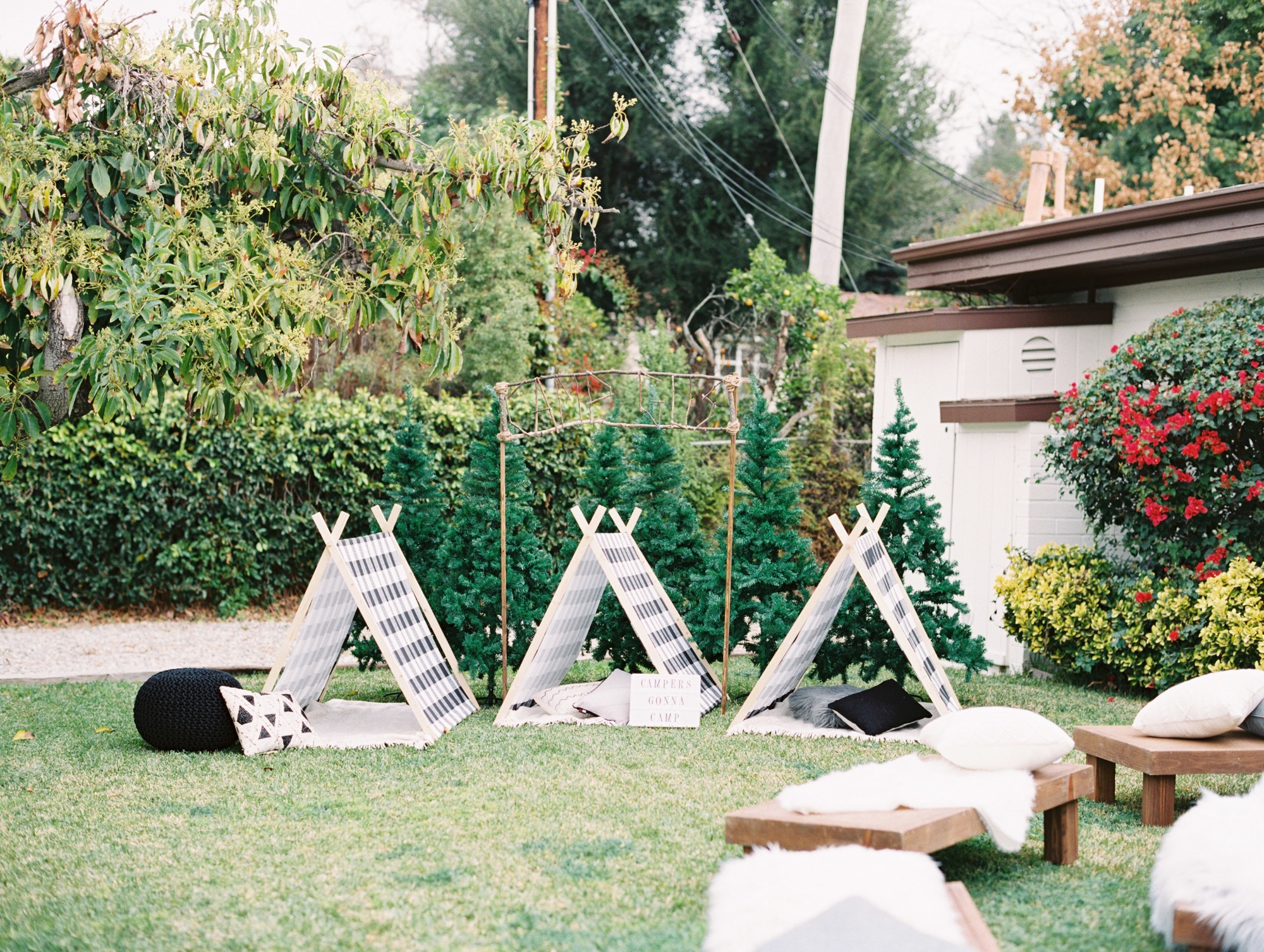 Materials
Scissors
Measuring tape
1 roll of Stitch Witchery or a glue gun with an extension cord
Drill with 3/4″ bit
4 1″x1.5″x48″ pieces of wood boards
3 3/4″ width 48″ length wooden dowels
Directions
Frame Prep Instructions:
On each of the boards, measure 6 inches down and mark in the center.
Drill a 3/4″ hole at this mark on all four boards.
Flip the boards over to the other end and measure 1.5 inches up from the bottom.
Drill a 3/4″ hole at this mark on all four boards.
Frame Assembly Instructions:
Place the dowels through the drilled holes on the the boards to create "A" shape.
Make sure the board side with the holes 1/2″ from the bottom face the bottom of the frame.
If you have trouble squeezing the dowel through the holes, take a piece of sandpaper and smooth out the inside of the holes.
Once the fabric cover is complete, place bottom dowels through both pockets. Fabric should be draped over top dowel.
Fabric Prep Instructions:
Trim your fabric to be 44″ in width.
Using Stitch Witchery and your Iron, "hem" the rough edge of the fabric
Make the first pocket for the dowel by folding the top of the fabric width-wise over to create a pocket 3 inches in width. Use your Stitch Witchery and iron to enclose the pocket.
Slide the pocket through the appropriate bottom dowel on your frame. Pull the fabric tightly over the top dowel down to the other bottom dowel. Measure where the next pocket will need to be adhered together to create a 3″ pocket.
Take off the fabric cover and Stitch Witchery the next 2nd pocket.
Note: The total assembly time takes about 2.5 hours. Taking the tent apart and putting it together is simple and makes for easy storage.
Pull it all together in just a few easy steps.
Timeline
1 Month Prior
Order custom party invitations, signage, and materials for DIY projects
Purchase any necessary decor, props, and serving ware
Order cake and any other treats for the party
2 Weeks Prior
Order floral arrangements from your local florist (optional)
Build or purchase backdrop
1 Week Prior
Make your no sew tents (see Prep Section above for detailed instructions)
Assemble favor bags for guests
1 Day Prior
Purchase additional food & beverage for the party
Prep and make any food you can prepare ahead of time
Day of
Pick up cake
Set up tables and party decor
Set out cake, food, and flowers about 30 minutes before the party starts
Estimated Budget
15 People

Decor: $850 – $1,000

Food: $200 – $300

Beverage: $50 – $100

TOTAL: $1,100 – $1,400
Deets & Things shares its top tips for pulling off this event.

Tip 1
We recommend doing your DIY projects a few a days before the party so that you have less to do closer to the party.

Tip 2
Find vintage books and vintage coolers related to the camping theme from eBay or Etsy to give your party a finished look.

Tip 3
Custom party decor like cake toppers and cocktail napkins are always a fun idea!

Tip 4
Display fun sayings on light boxes or letter boards like "Campers Gonna Camp" and "There's No Place Like Camp".

Tip 5
Use natural elements such as pinecones, branches, and leaves to decorate on a budget.