Fall Cocktail Party
Special Collaboration with Jonathan Adler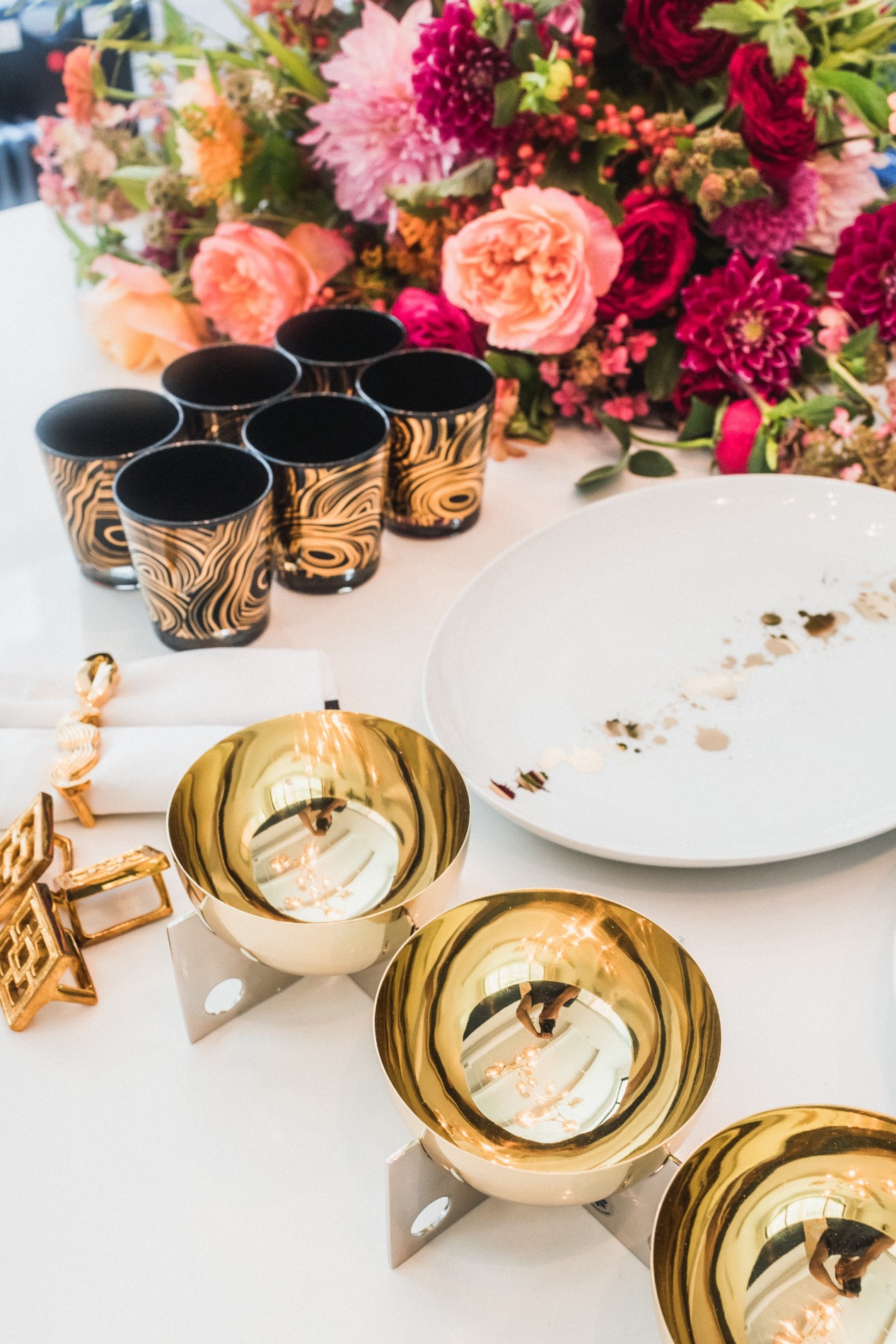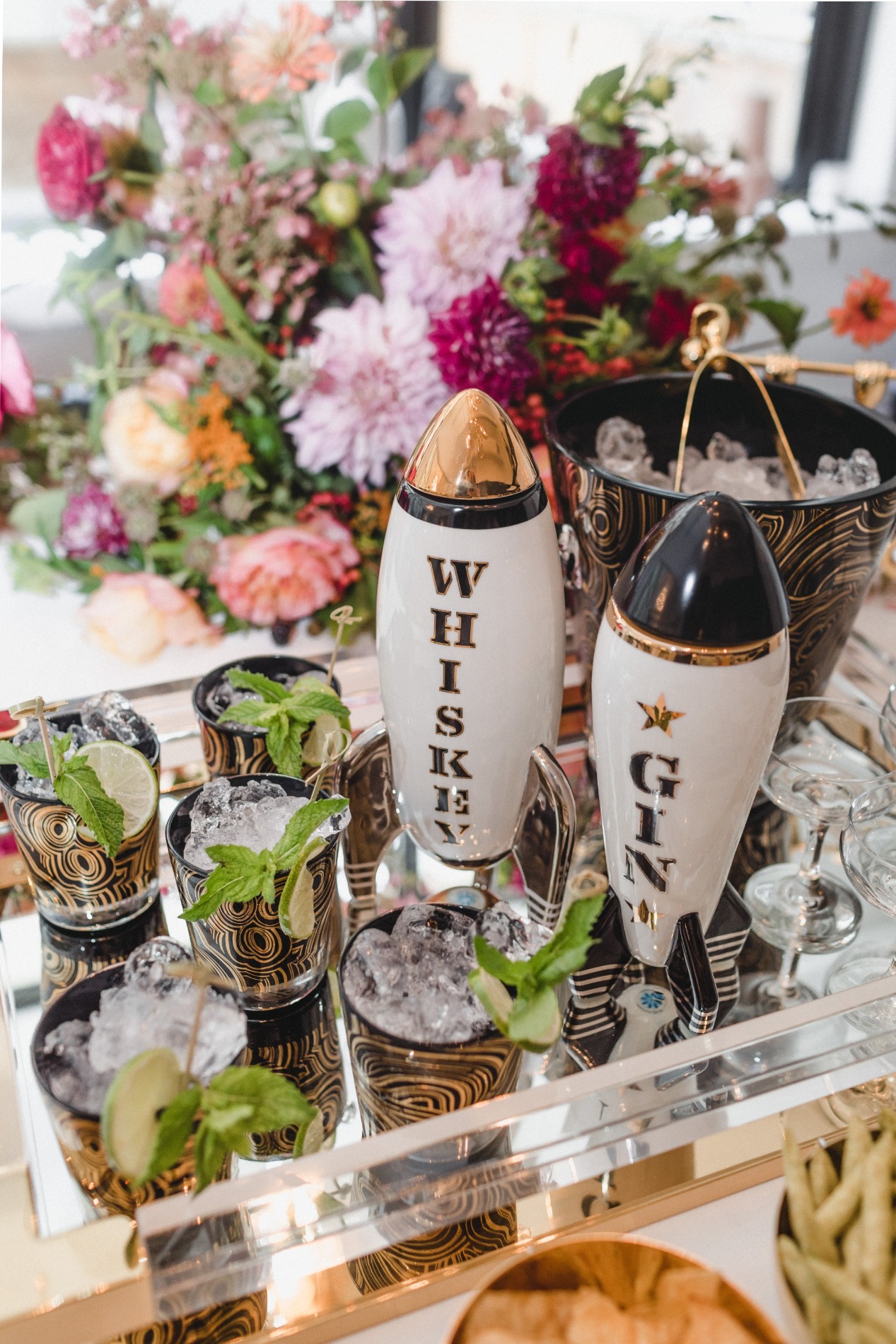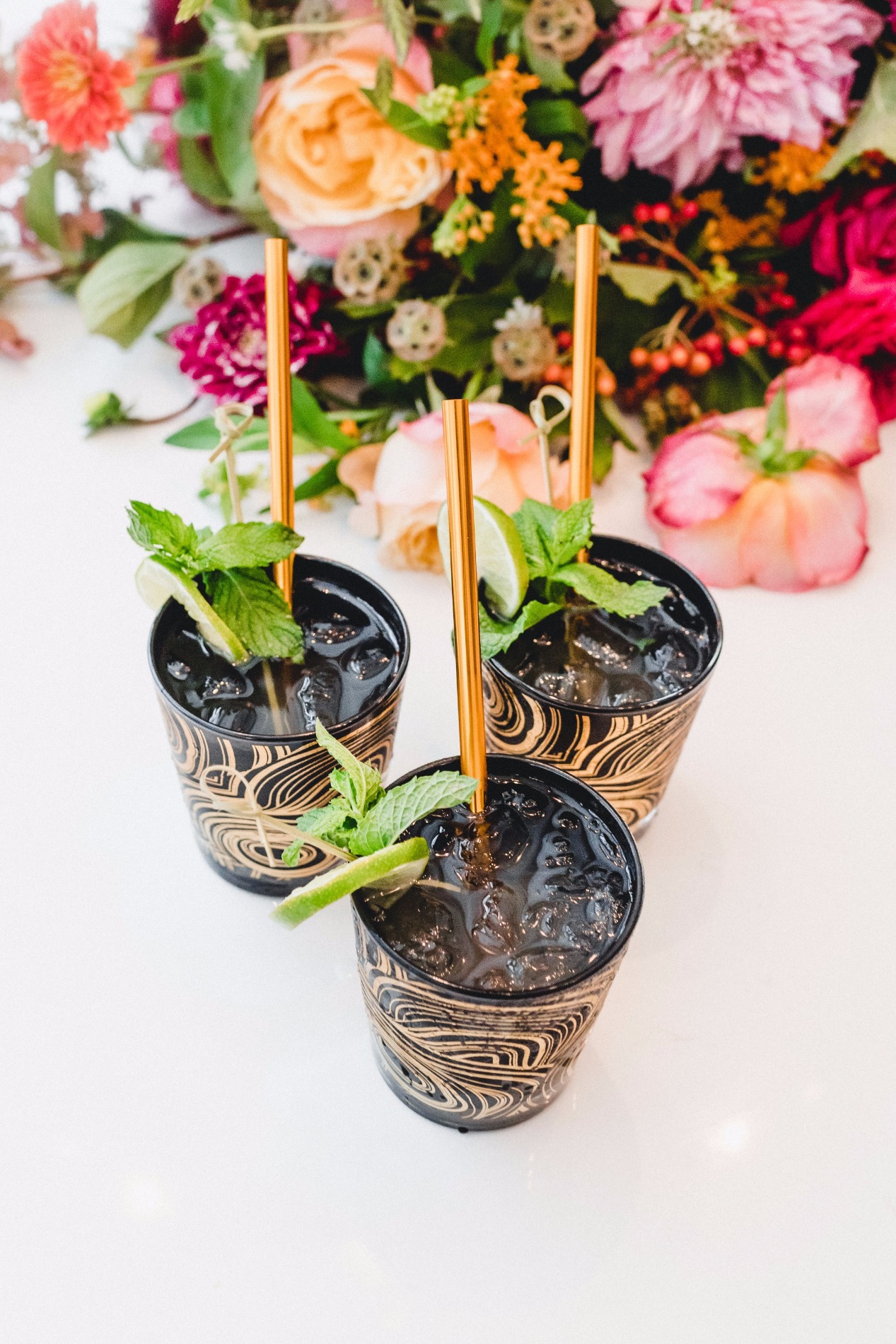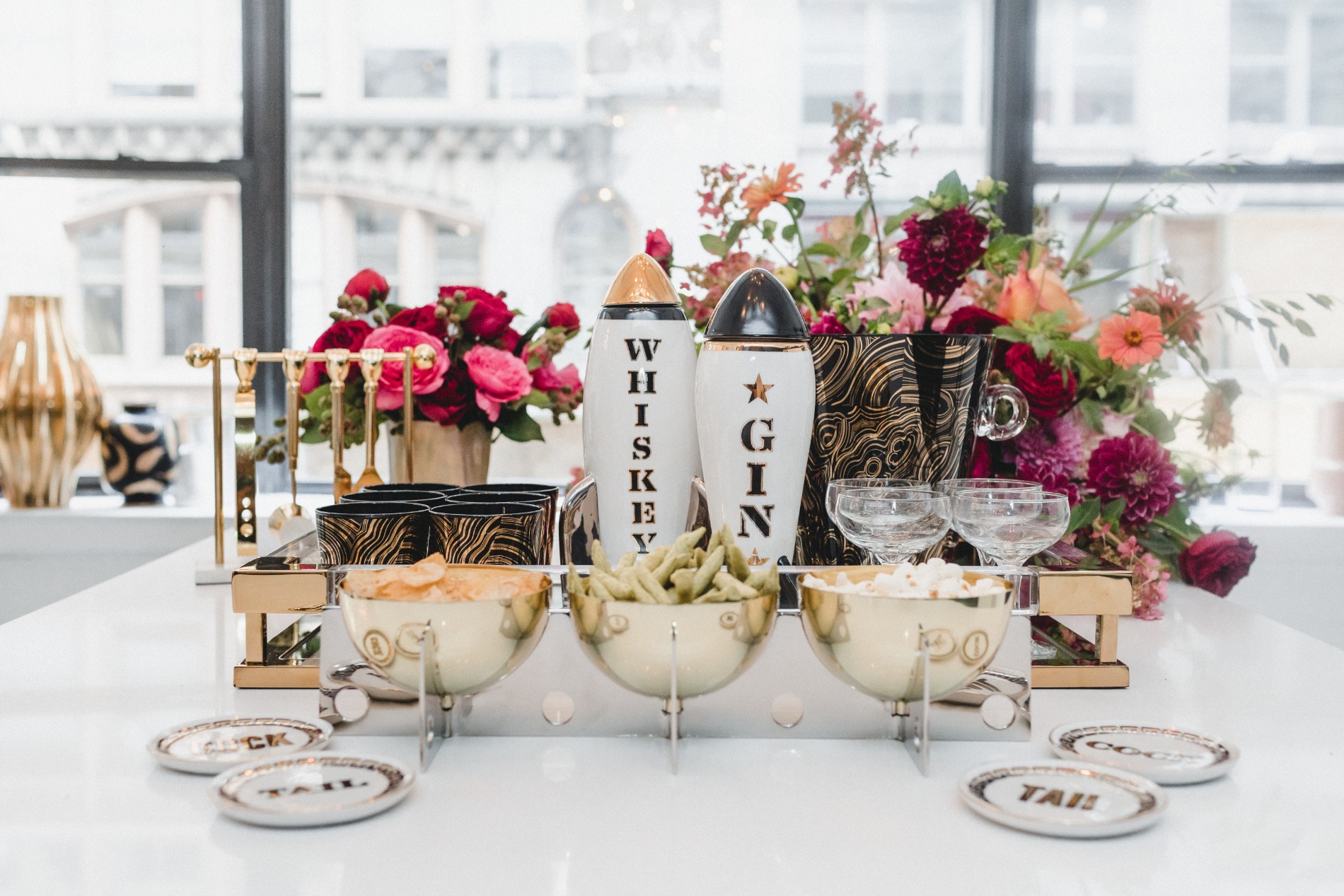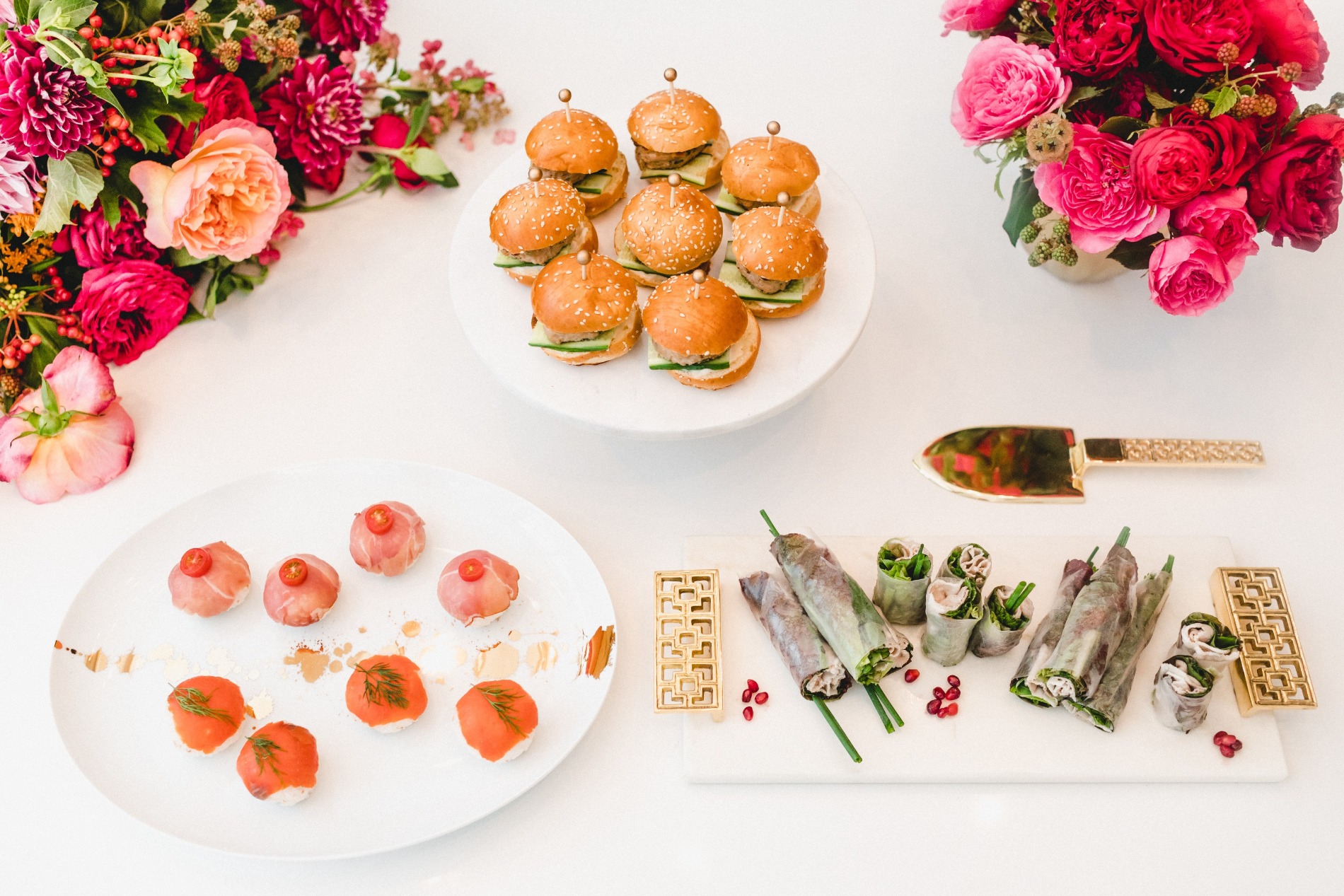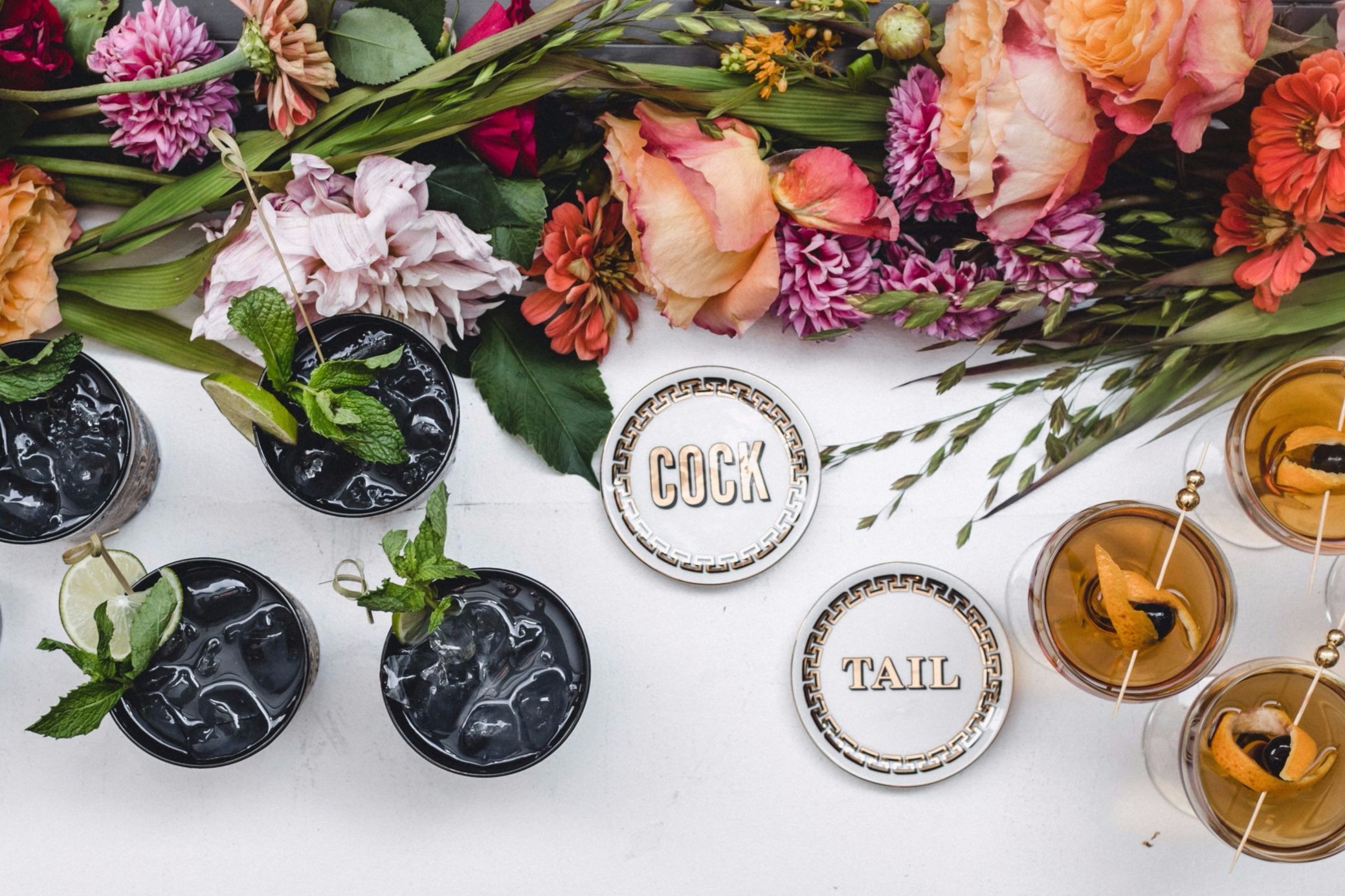 You're only 3 steps away from the perfect party.
Purchase
Review the blueprint and purchase the party items in a few easy steps.
Prep
Follow our easy ideas to wow your guests.
Assemble
Follow our timeline and party tips for seamless execution.
Buy your party items with a few simple clicks.
(prices and availability subject to change)
Cocktail Mixes and Bitters
Prepare perfect party food and cocktails.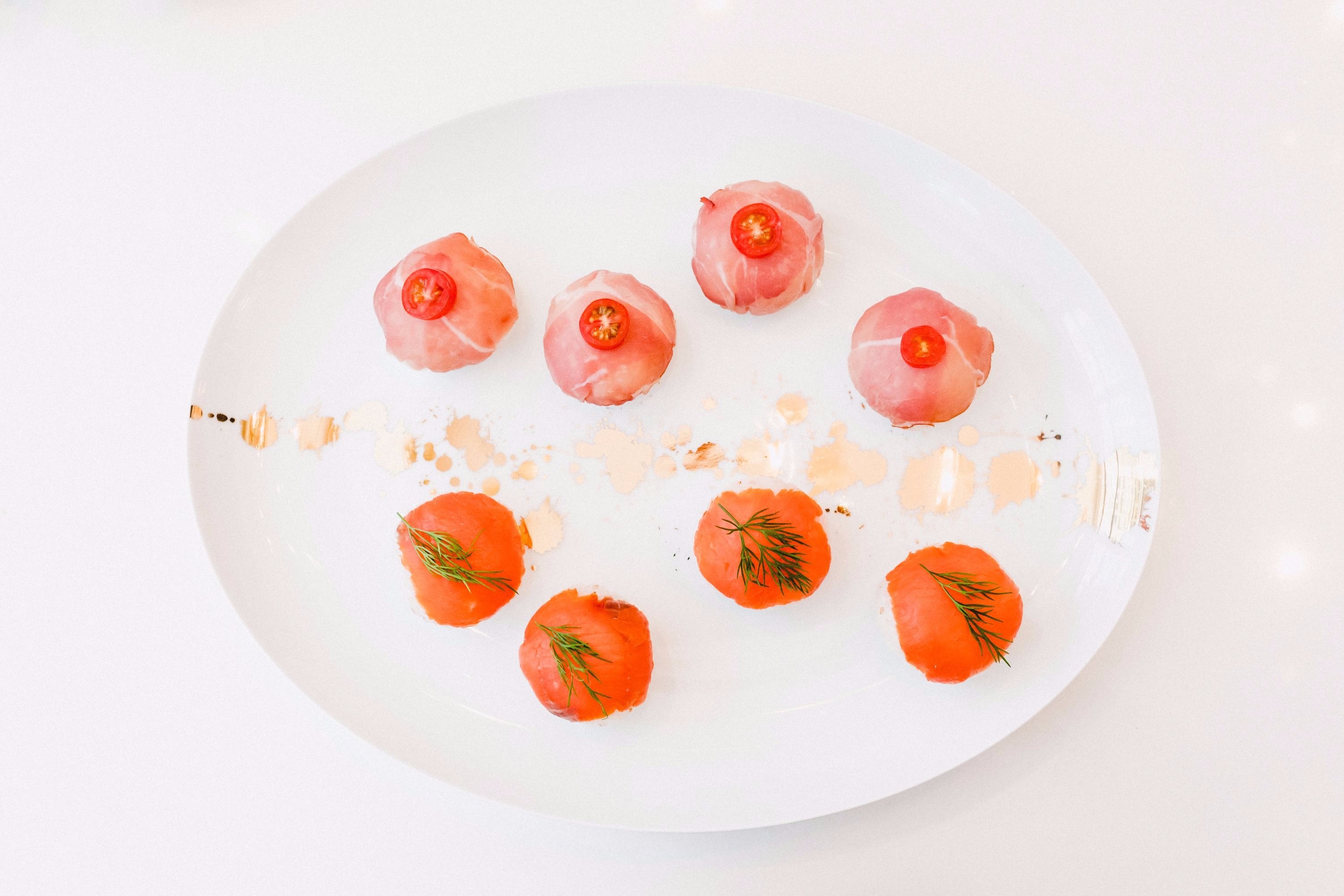 Ingredients
Serves 4 people, 2 balls each
2 cups of cooked white rice
Sushi vinegar (for amount, follow bottle instructions as it varies)
4 slices smoked salmon
4 slices prosciutto
Cherry tomato and fennel (for garnish)
Directions
Drizzle vinegar over hot cooked rice; gently fold to mix.
Line plastic wrap. Scoop the rice with ice-cream scoop and out on the wrap and put salmon on top. Gather the plastic wrap straight up from the sides and shape rice ball.
Unwrap the ball and put on the plate. Sprinkle with fennel for garnish.
Repeat with prosciutto instead of salmon. Serve with a sliced cherry tomato for garnish.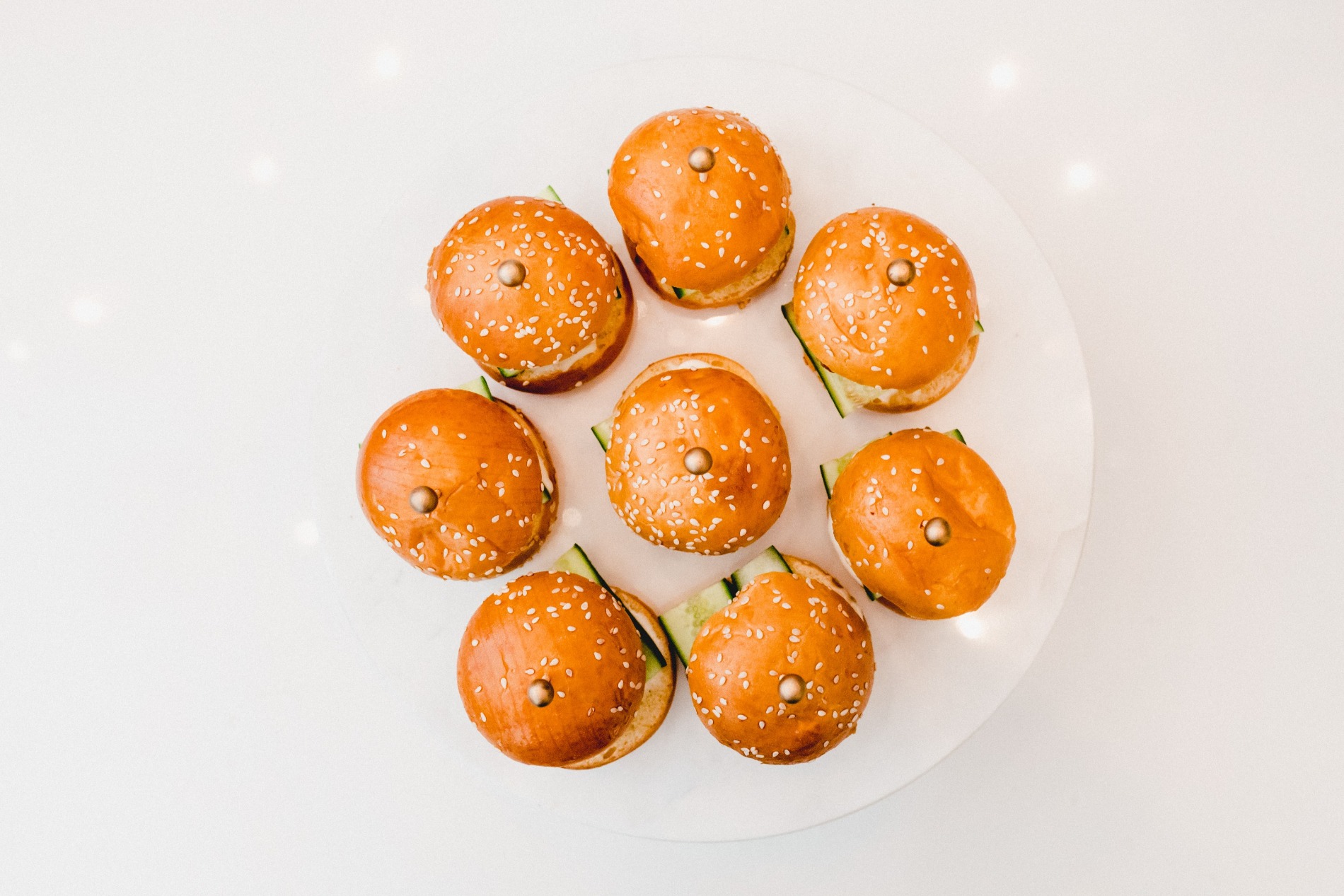 Ingredients
Serves 4 people
1/2 pounds ground chicken
1/4 cup panko bread crumbs
2 pinches of finely chopped scallions
1/2 egg, lightly beaten
1 tsp finely minced fresh garlic
1 tsp finely grated fresh ginger
1/2 teaspoon sesame oil
1 pinch of salt and pepper
4 slider buns
1 cucumber sliced
Teriyaki sauce
Mayo
Directions
Using hands, mix together chicken, bread crumbs, scallions, egg, ginger, garlic, sesame oil, salt, and white pepper until thoroughly combined.
Form mixture into putty and cook 5 min per side until well done.
Tuck the putty and sliced cucumber into the bun and serve with mayo and teriyaki sauce.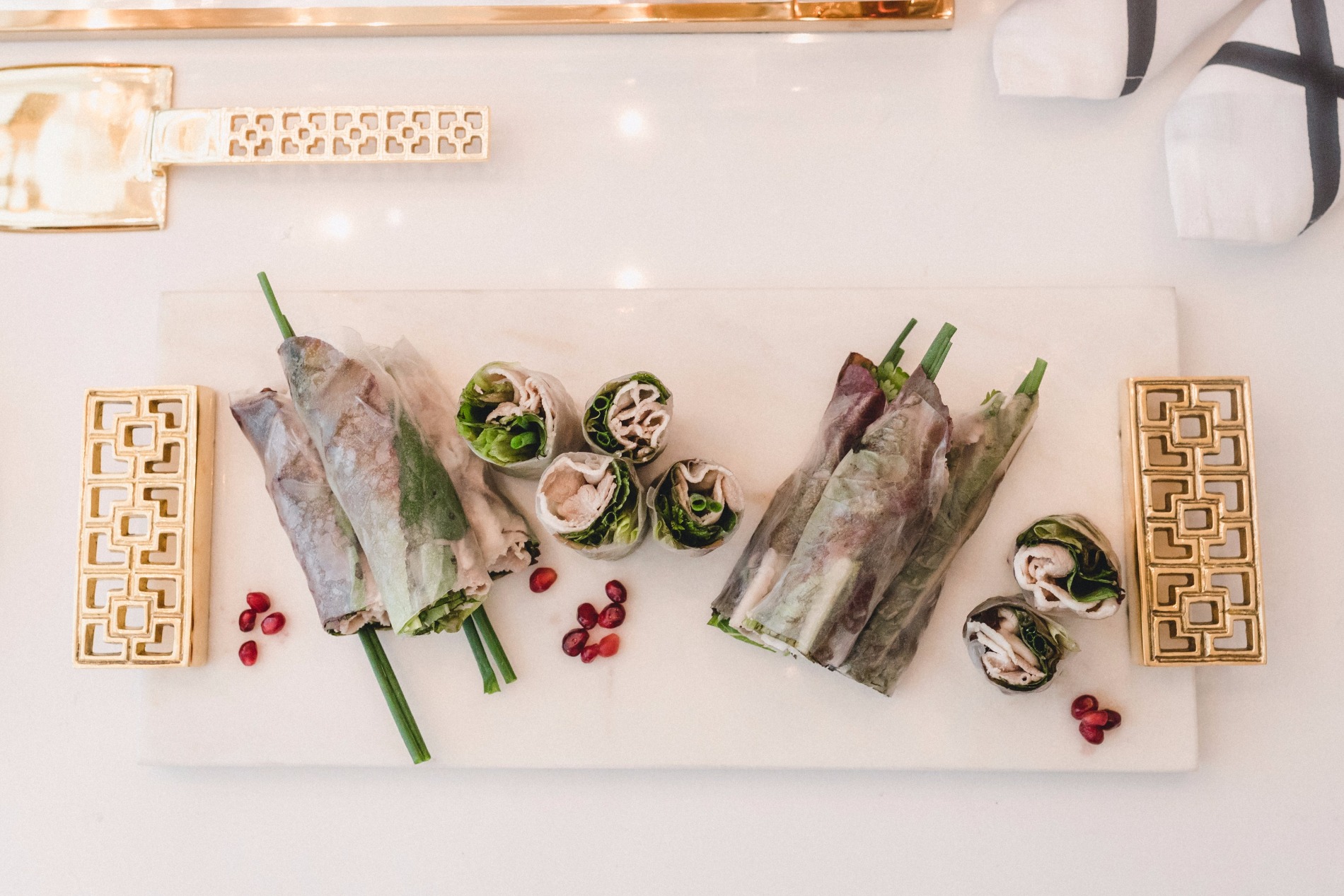 Ingredients
Serves 4 people, 2 rolls each
8 6-inch rounds rice paper
8 leaves lettuce
Mint, basil, cilantro and your favorite herbs as much as you want
24 slices cooked pork
Sweet chili sauce (for dipping sauce)
Directions
Dip a sheet of rice paper a third of the way into a bowl of hot water for about 2 seconds. Turn it and dip remaining section, then lay on a damp towel.
Working on bottom third of rice paper, spread a bit of lettuce,  herbs and pork. Fold up bottom edge to cover, then fold in the sides. Roll tightly. Continue with remaining ingredients.
Serve rolls right away, or refrigerate, lightly covered, up to 2 hours. Serve with dipping sauce.
Moscow Mule and Martinez Cocktails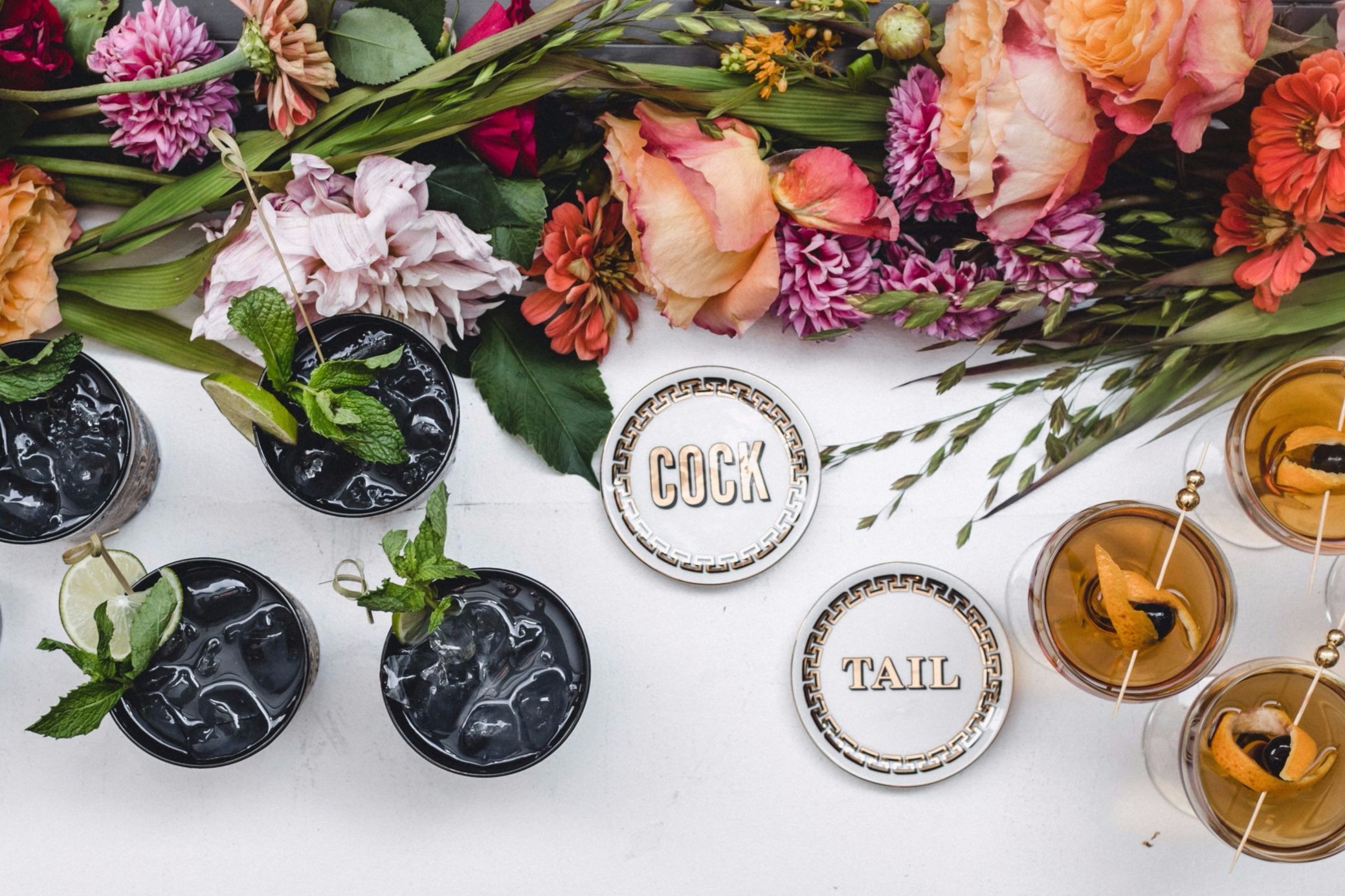 Moscow Mule
Serves 13 people 
Directions
Add vodka, Hella Moscow Mule Mix, Hella Ginger Bitters to pitcher and gently stir.
Add ice and club soda to each individual serving.
Garnish with a lime wedge and mint.
Pull it all together in just a few easy steps.
Timeline
1 Month Prior
Purchase bar items, servingware and cocktail mixes
Place floral order with local florist
2 Days Prior
Purchase cocktail garnishes and groceries for small bites
1 Day Prior
Set up bar and lay out glassware and servingware
Day Of
Prepare small bites (refrigerate and reheat closer to party)
Prepare cocktails (refrigerate until party)
Assemble and plate small bites 1 hour prior to the start of the party
Estimated Budget
16 People

Decor: $1,000 – $2,500

Food: $200 – $300

Beverage: $200

TOTAL: $1,400 – $3,000
Jonathan Adler shares his best entertaining tips.
What is your favorite type of event to host at home?
A marathon of MSNBC's "Lock Up" with two guests – my hubby Simon and our rescue pup FoxyLady.

Can you share any tips or hacks for simplifying the party planning process?
Calm down.  Don't work yourself into a tizzy: People aren't coming to your house to judge you on your décor or your food – they're coming to see you.

When you are hosting a cocktail party, what is your go-to piece (from your collection)?
Anything from our 1948 dinnerware collection. It's named for the temperature at which gold melts; it's splattered with real gold. Formal enough for a holiday table but hardworking enough for every day.

What is your favorite host / hostess gift to give or receive?
I keep a stash of our Champagne Pop Candles at home. All the fun of drinking without the hangover.

What signature cocktail best represents you and why?
Iced tea with milk.  It's a little unexpected, it's delicious, and I don't drink.