I Love You to Pizzas Valentine's Party
Styled by Just Add Confetti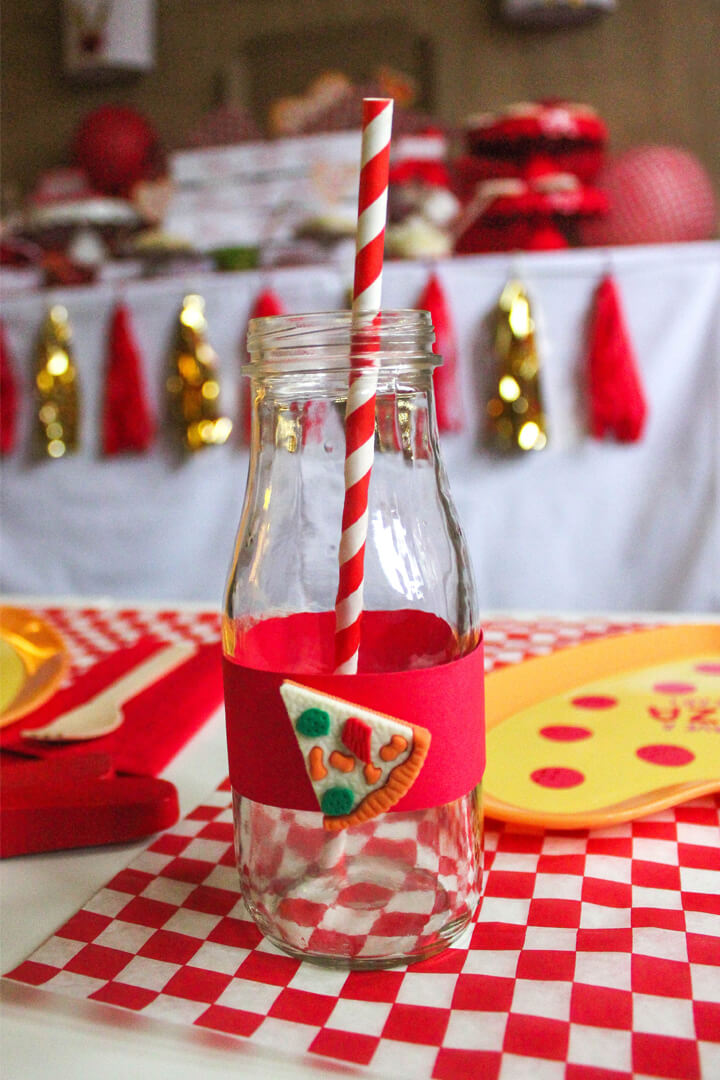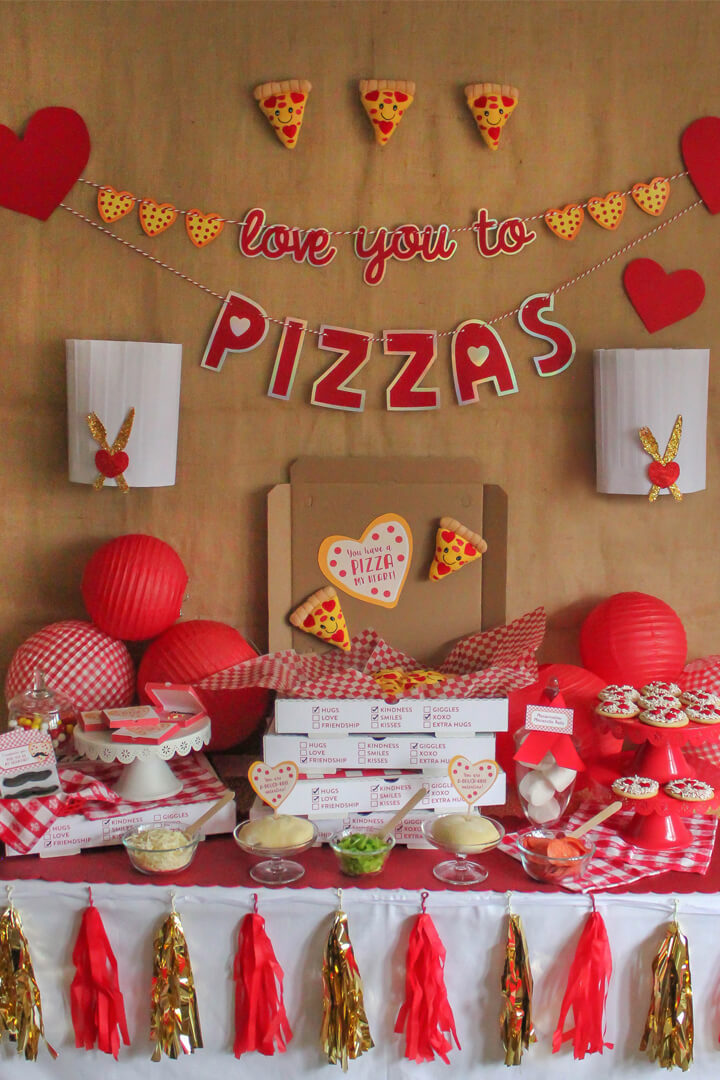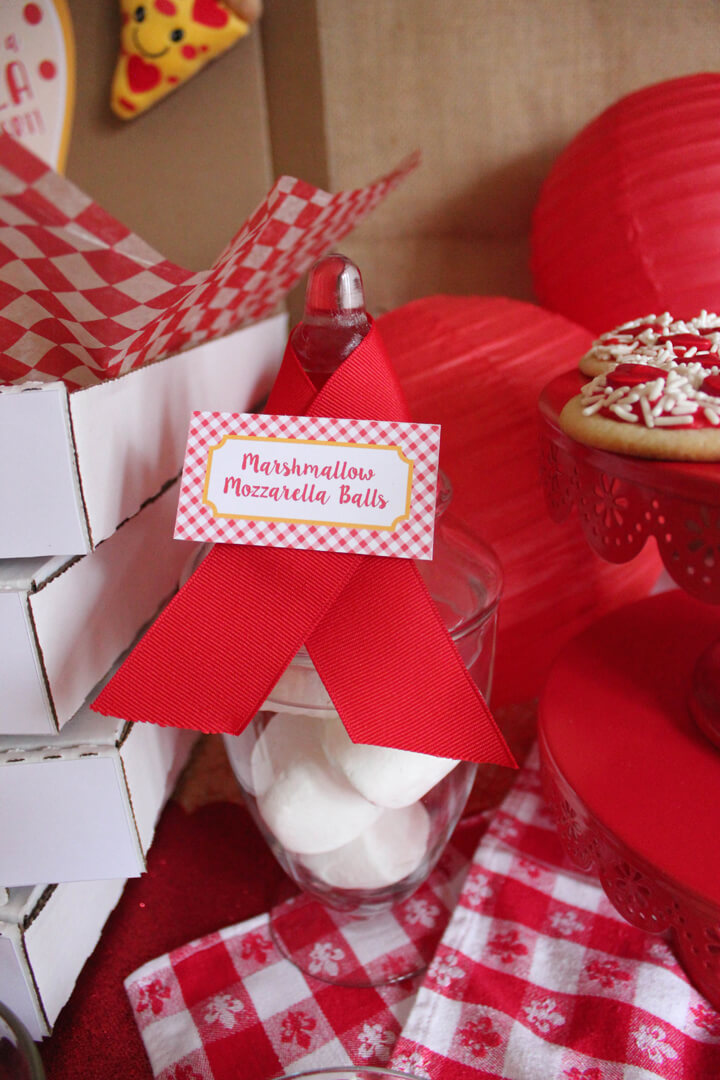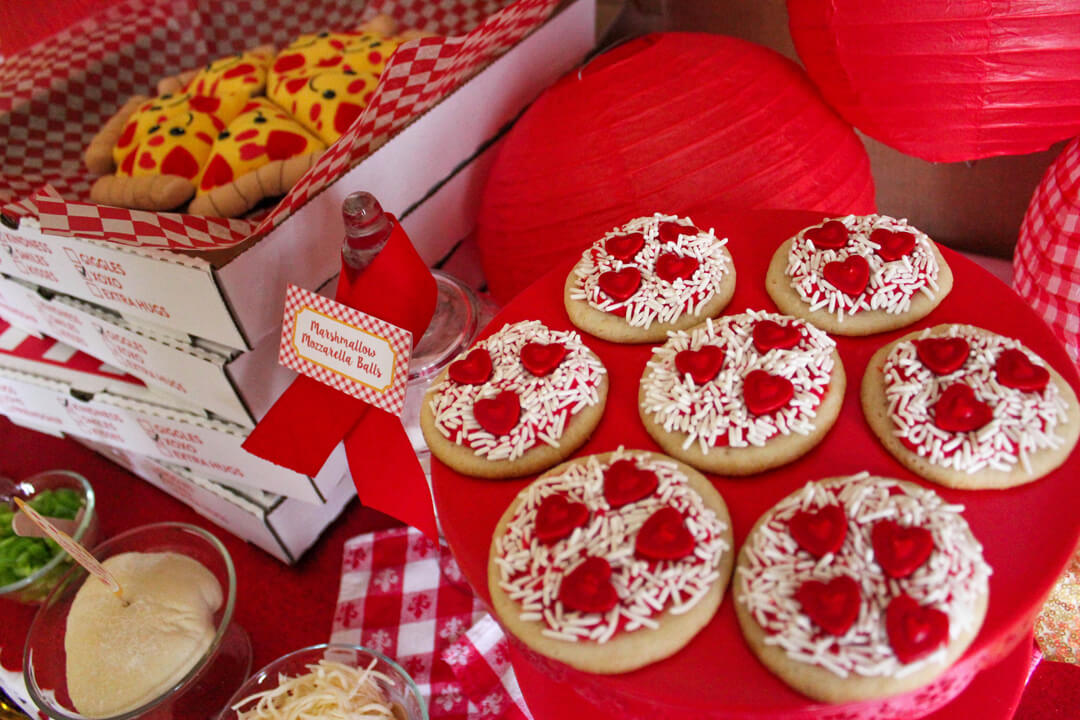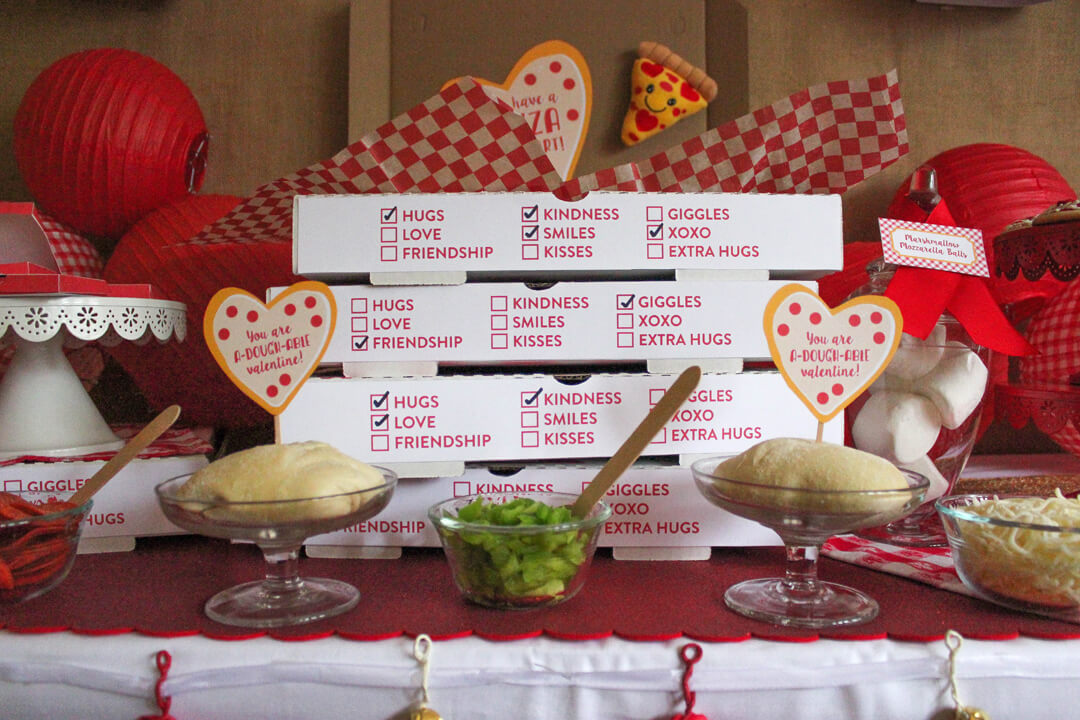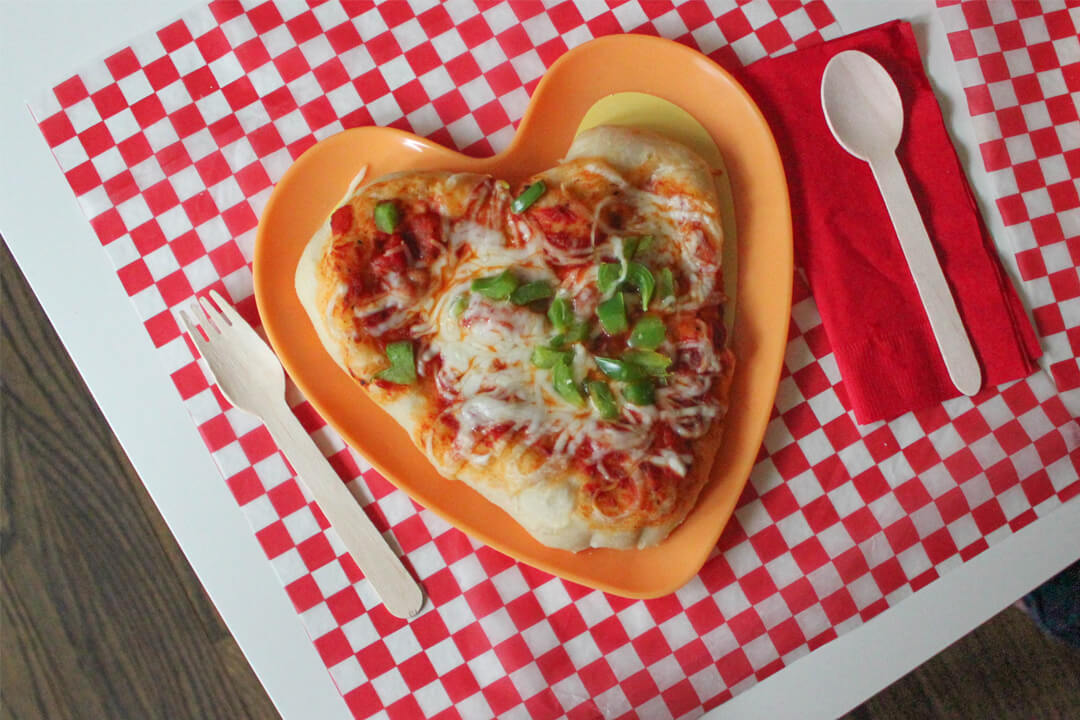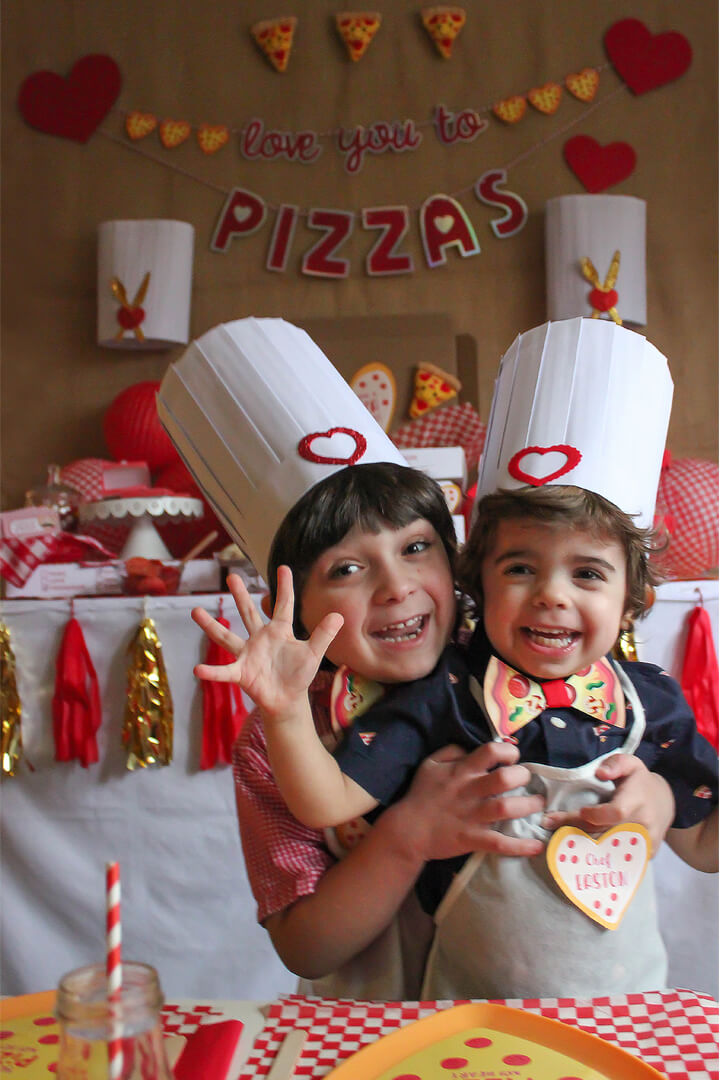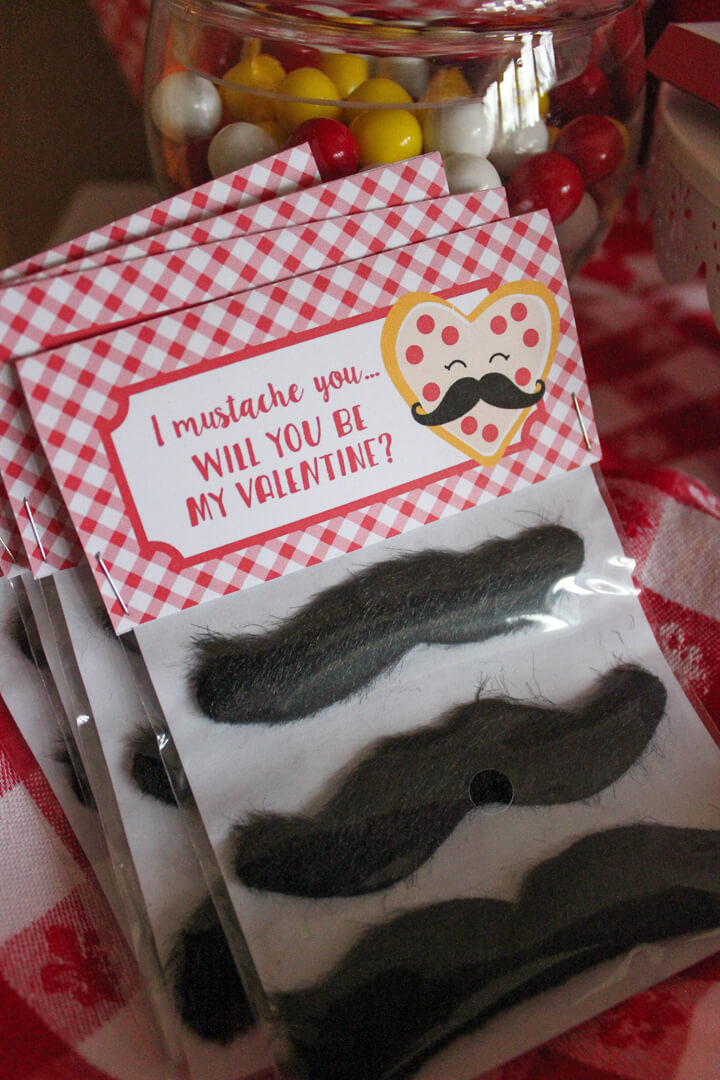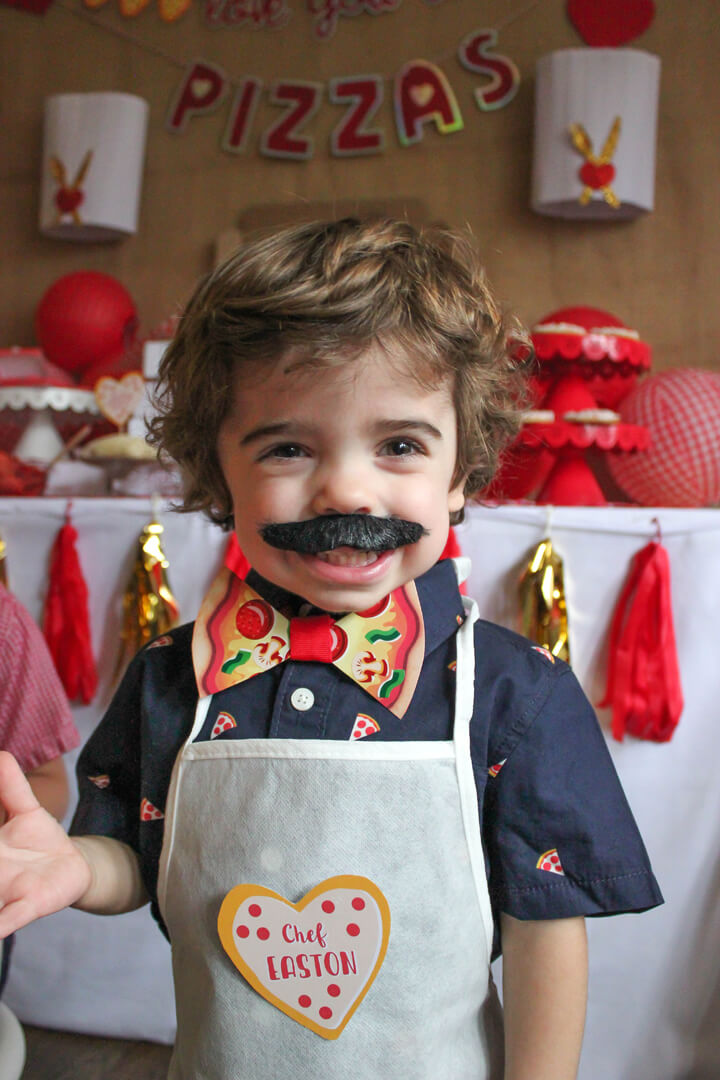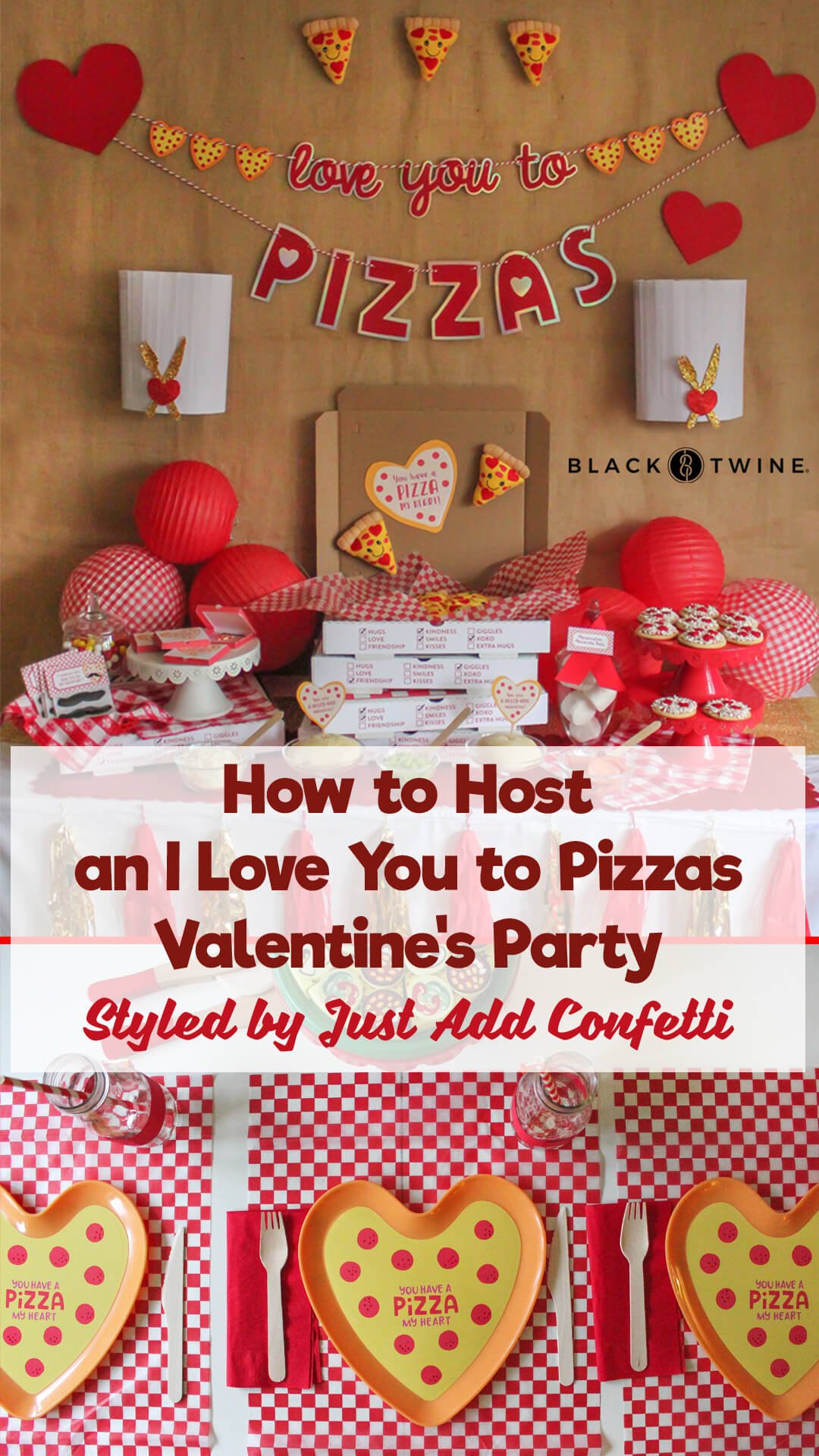 You're only 3 steps away from the perfect party.
Purchase
Review the blueprint and purchase the party items in a few easy steps.
Prep
Follow our easy ideas to wow your guests.
Assemble
Follow our timeline and party tips for seamless execution.
Buy your party items with a few simple clicks.
(prices and availability subject to change)
Prepare perfect party decor.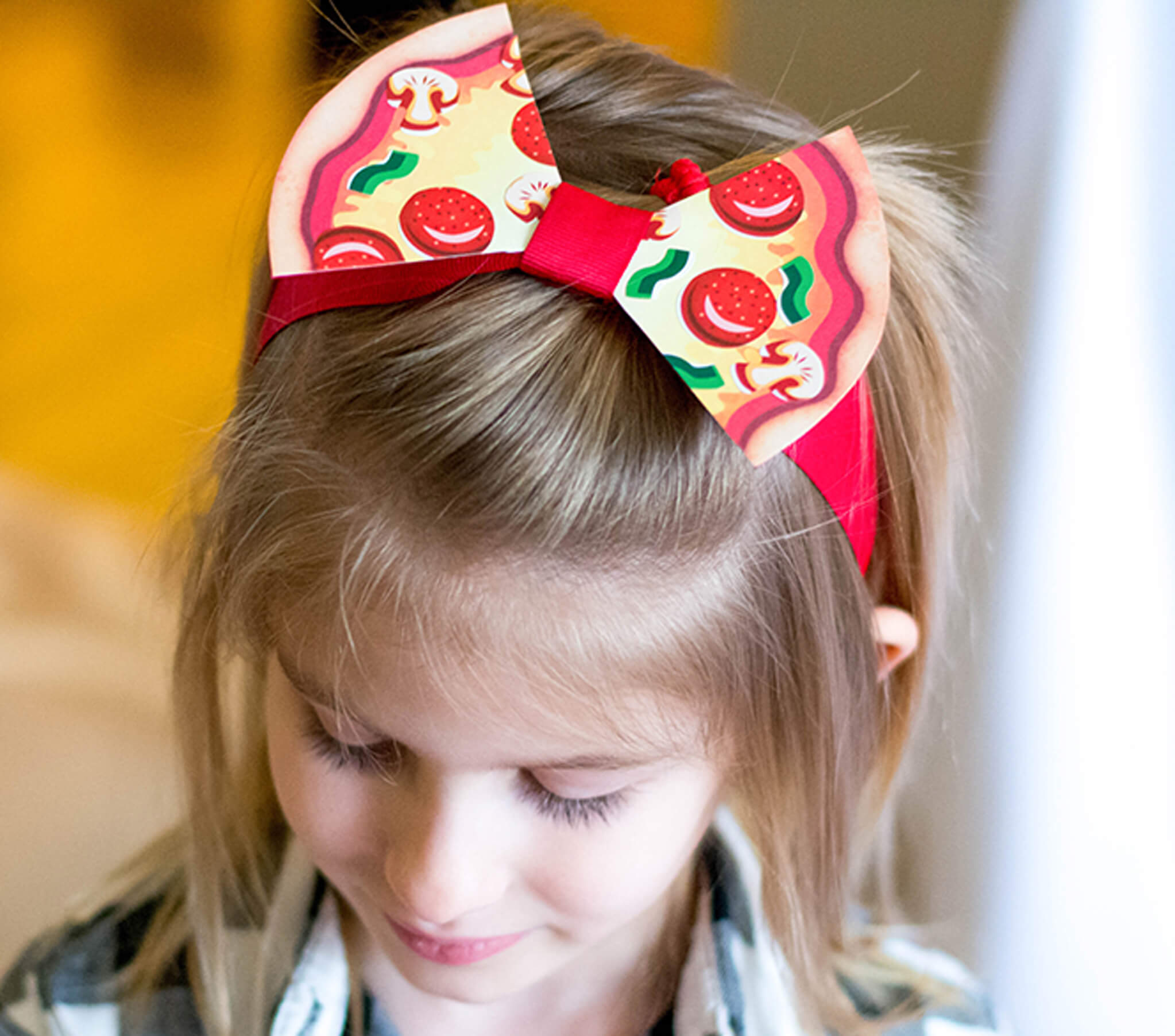 Materials
Ribbon
Scissors
Hot Glue
Red cardstock paper
Pizza Sticker Scenes
Directions
You can see the full step-by-step tutorial here.
To make the pizza bows I used these Pizza Sticker Scenes from Oriental Trading. They worked so well! First, apply stickers to create a pizza.
Next, cut out the perimeter of the pizza.
Cut the pizza into triangular slices.
Next, place two slices with points facing each other and trace the outline. At center, draw two horizontal lines connecting the triangles.
Then, cut out the bow shape.
Glue pizza slices to the red bow.
Cut a piece of ribbon and glue to center of bow.
Place ribbon behind the bow.
Lastly, to complete your pizza bow,wrap center piece around the ribbon and glue. Done! How cute?!
DIY MINI PIZZA BOX VALENTINE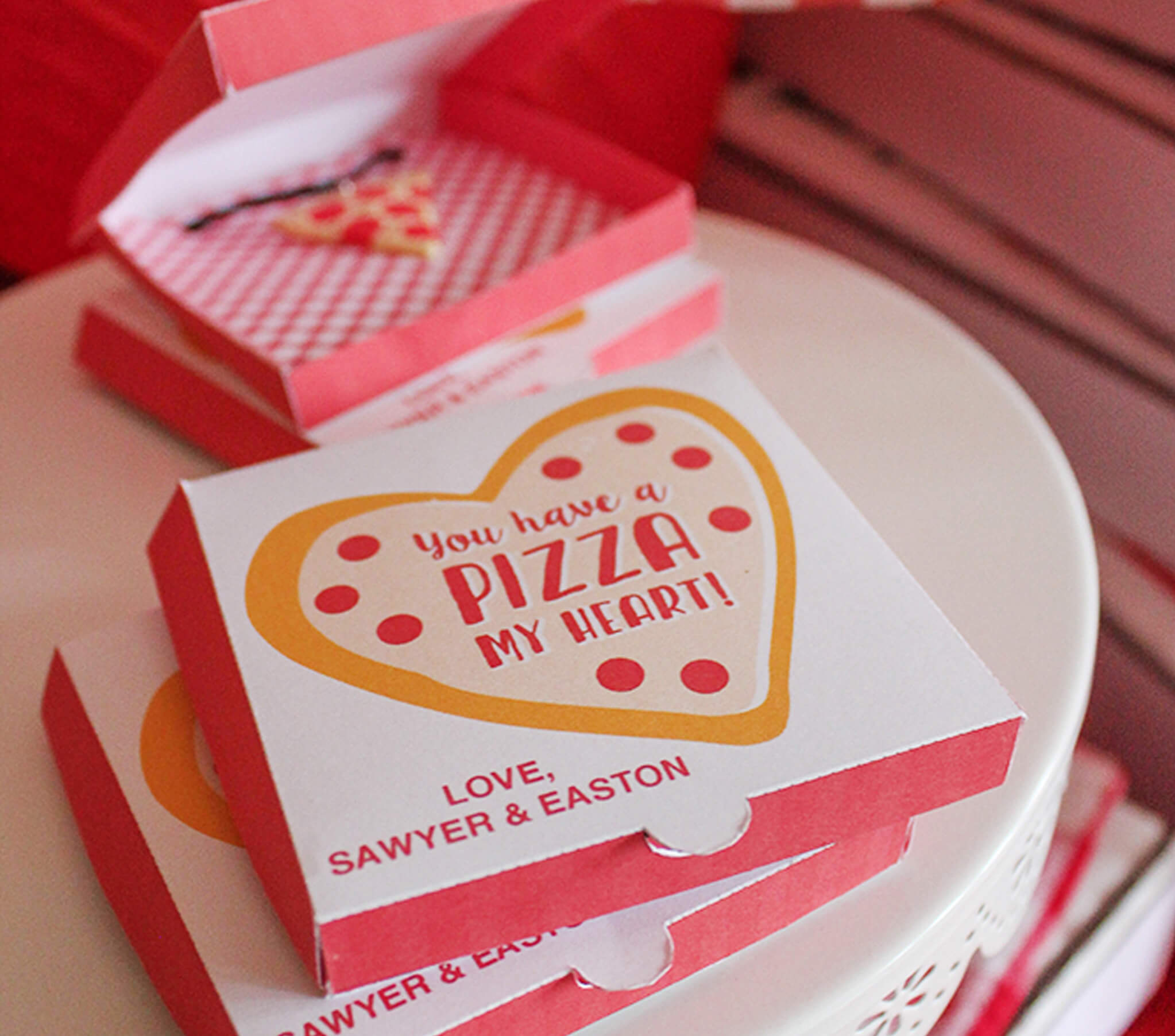 Materials
Xacto knife
Glue
Scissors
Valentine treat for inside the box
Directions
You can see the full step-by-step tutorial here.
First, download the free printable. The printable is a PDF file that contains editable fields. Just open the PDF in Adobe Reader and type your message/name. Then just save and print. After printing, trim out entire perimeter of pizza box.
Next, with an xacto blade cut out the small "U" shaped tab at the opening of the pizza box.
Then, fold on all of the dotted lines. 
*Tip: For crisp edges, it helps to lightly score the lines with an xacto blade before folding.
Next, apply glue where indicated and fold printable into a box shape.
Lastly, place the red gingham card inside the completed box and fill with your favorite pizza valentine treat! Done! How cute!
Pull it all together in just a few easy steps.
Timeline
2 Weeks Prior
Purchase all party supplies
1 Week Prior
Print all printables 
Pick-up pizza boxes from local pizza shop
Glitter utensils for chef hats (on backdrop)
3 Days Prior
Assemble pizza favor boxes
Make pizza bows
Assemble mustache printable labels
Assemble printable food signs (You are a-dough-able valentine, etc)
2 Days Prior
Plan and set up as much of your party table as possible
Hang burlap backdrop and hang banner
Purchase or bake pizza cookies
1 Day Prior
Purchase pizza dough and all toppings for pizzas, as well as any other food items
Day Of
Arrange all food on main tablescape
Set the table for the kids
Estimated Budget
10 People

Decor: $100

Food: $50 – $75

Beverage: $25

TOTAL: $175 – $200
Just Add Confetti shares its top tips for pulling off this event.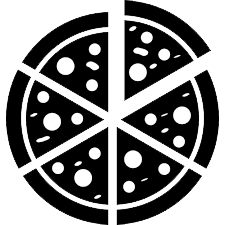 Tip 1
Place the wooden pizza toy in the center of the kids food table. They can play with it while the pizzas are baking. It also makes for a fun centerpiece!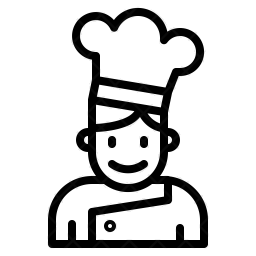 Tip 2
Dress the part! Have aprons, chef hats, mustaches and pizza bows ready for the kids when they arrive! They will have a blast pretending to be pizza chefs and making their own pizza creations for lunch or dinner!

Tip 3
Keep it simple! You don't have to have a ton of different pizza toppings for a kids pizza party. Go with the standard sauce, cheese, pepperoni and green pepper and you will be set! The fun thing about a make-your-own pizza party is that making the pizza becomes the activity. The kids will have a blast rolling the dough, shaping it into a heart, and adding toppings!

Tip 4
When you go to your local pizza shop to purchase the fresh pizza dough also ask for a few extra pizza boxes. Stack them in the center of your table for a fun themed center focal point of your tablescape. Also, customize them with the valentine's kindness themed checkbox free printable.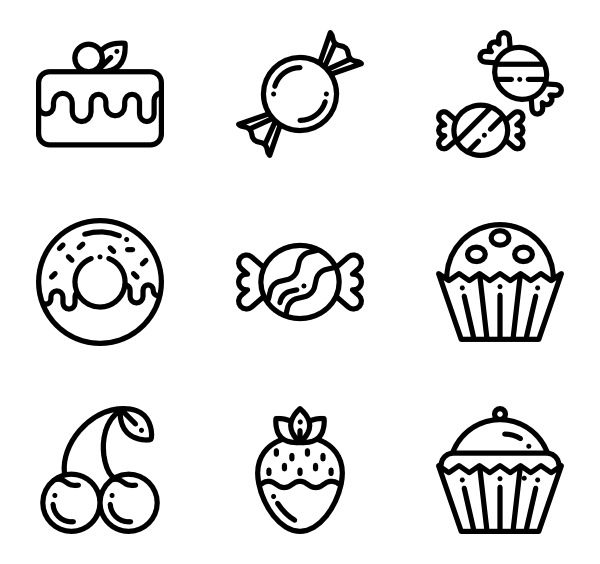 Tip 5
Get creative with a few sweets at the party. After the kids finish their pizzas, have pizza sugar cookies or marshmallow mozzarella balls (giant campfire marshmallows) available as a little treat!