Rosé Alfresco Dinner Party
Featuring Whispering Angel
In collaboration with One Stylish Party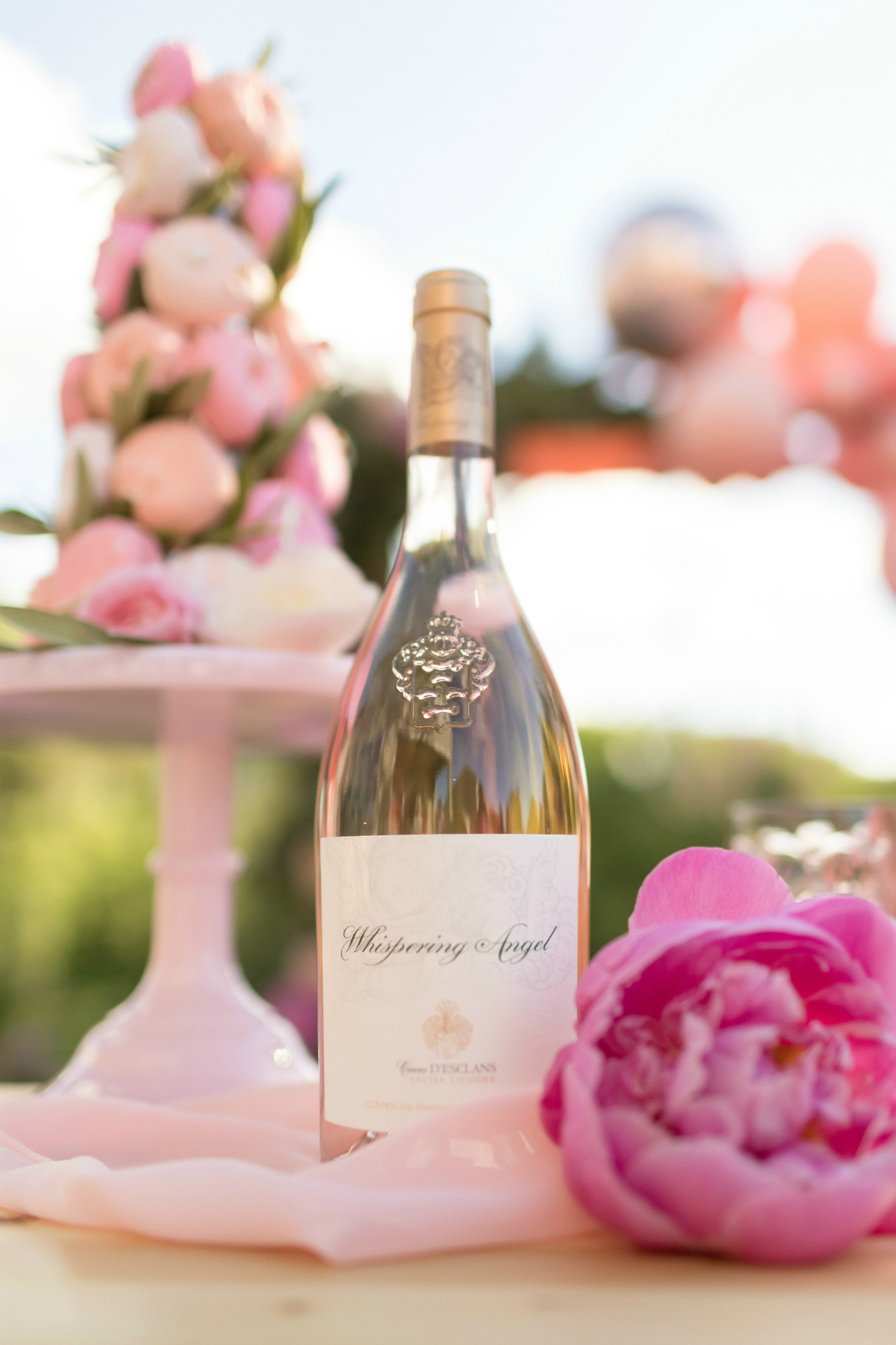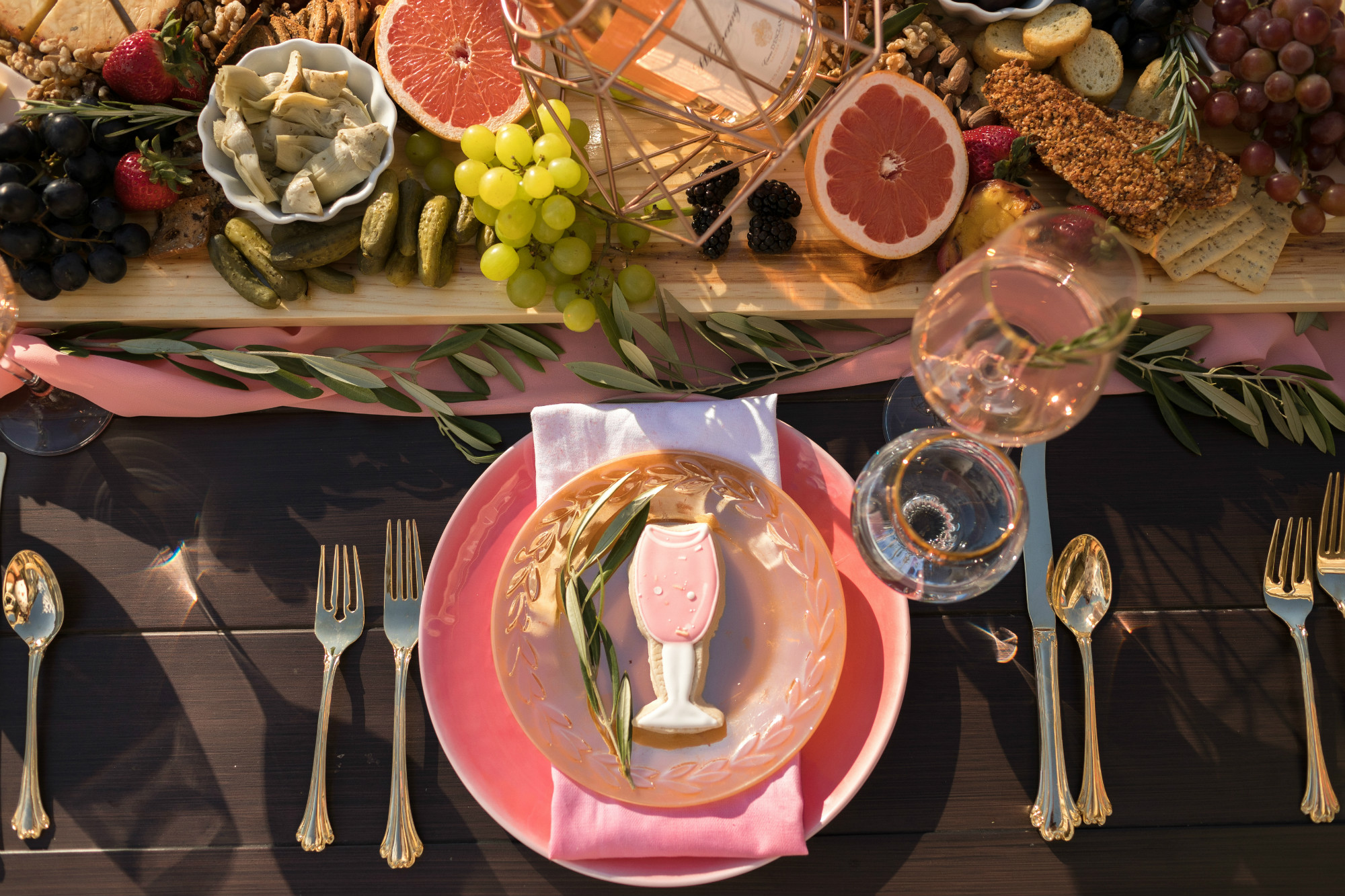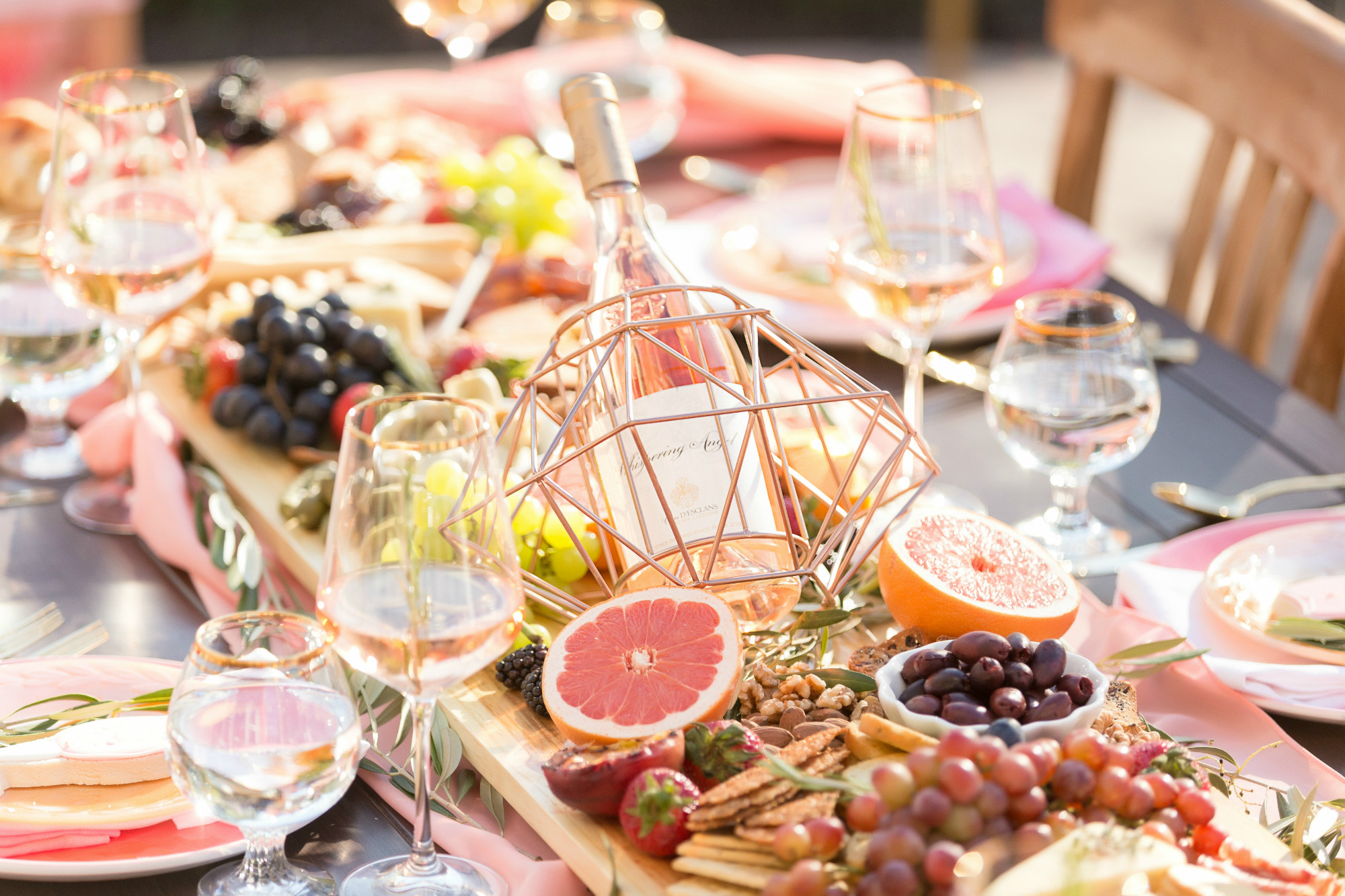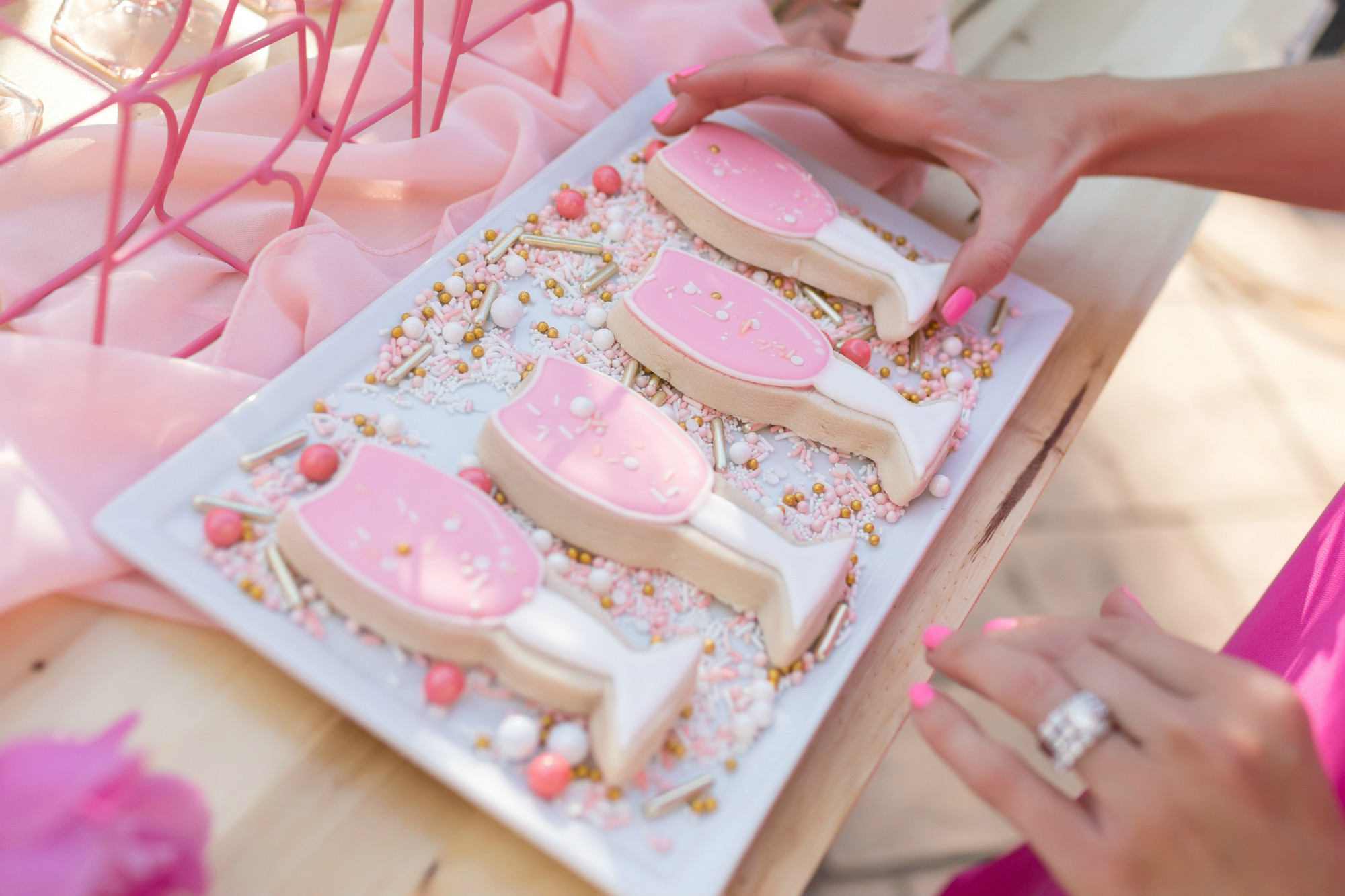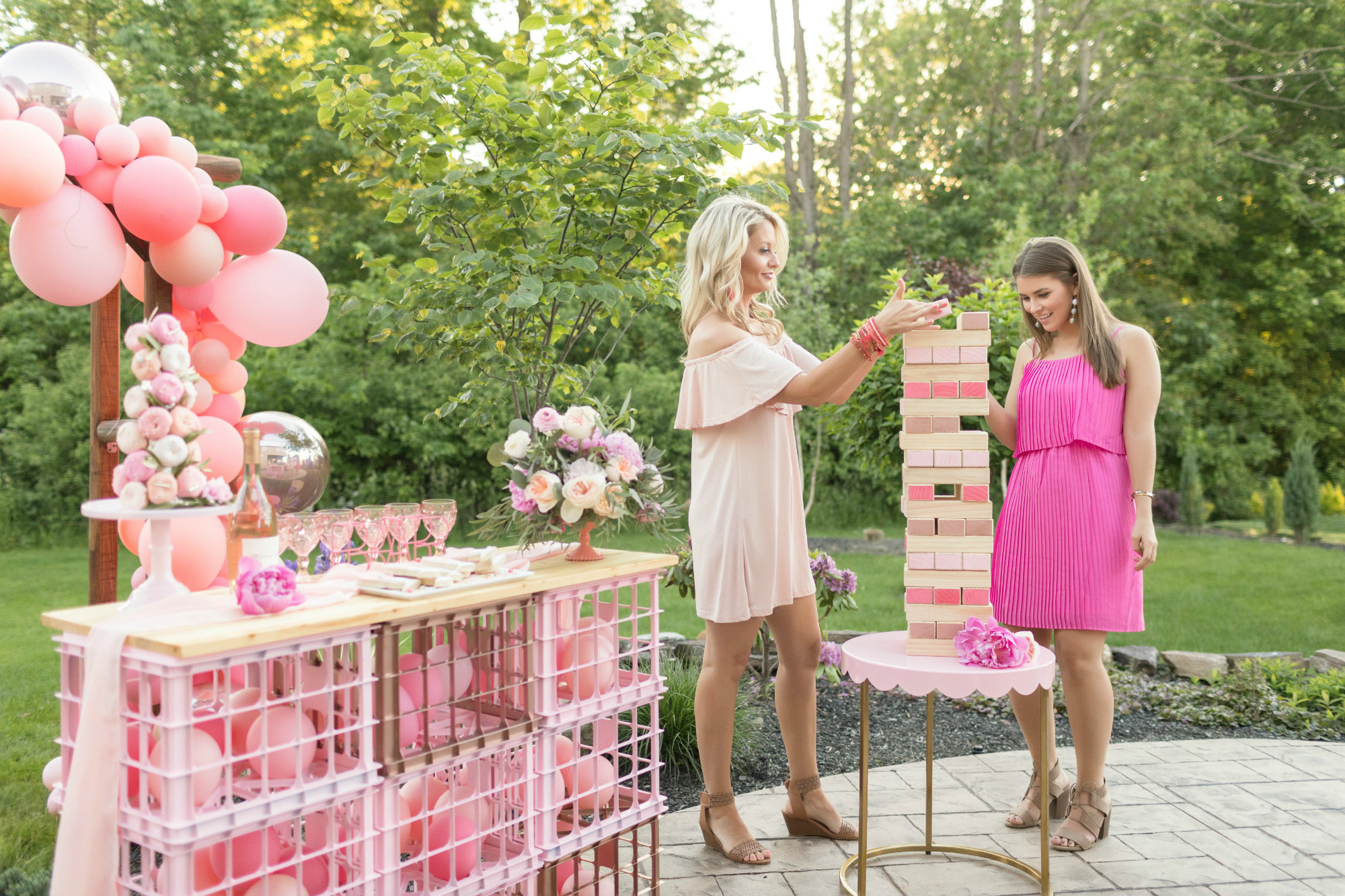 You're only 3 steps away from the perfect party.
Purchase
Review the blueprint and purchase the party items in a few easy steps.
Prep
Follow our easy ideas to wow your guests.
Assemble
Follow our timeline and party tips for seamless execution.
Buy your party items with a few simple clicks.
(prices and availability subject to change)
Additional Tip
For the dining table, layer a chiffon table runner under the charcuterie grazing board with fresh olive branch leaves peeking out from the bottom. Determine what you will use for the charcuterie board —  either DIY or ask a local wood worker to create one. You can also use several smaller charcuterie boards placed together instead of one continuous board. The food on the grazing board is so beautiful that the table doesn't need much other décor. Each place setting includes a gold rimmed wine glass, a water goblet, gold flatware and dining plates — topped with a wine glass cookie favor and greenery.
Additional Tip
For the DIY milk crate bar, I recommend purchasing a piece of wood (for the top of the bar) from a local woodworker or hardware store. Alongside the bar, I incorporated a jumbo Jenga game that I personalized with pink, coral, and rose gold paint. The game is a fun ice breaker and will provide plenty of laughs throughout the evening!
Prepare perfect party decor + food.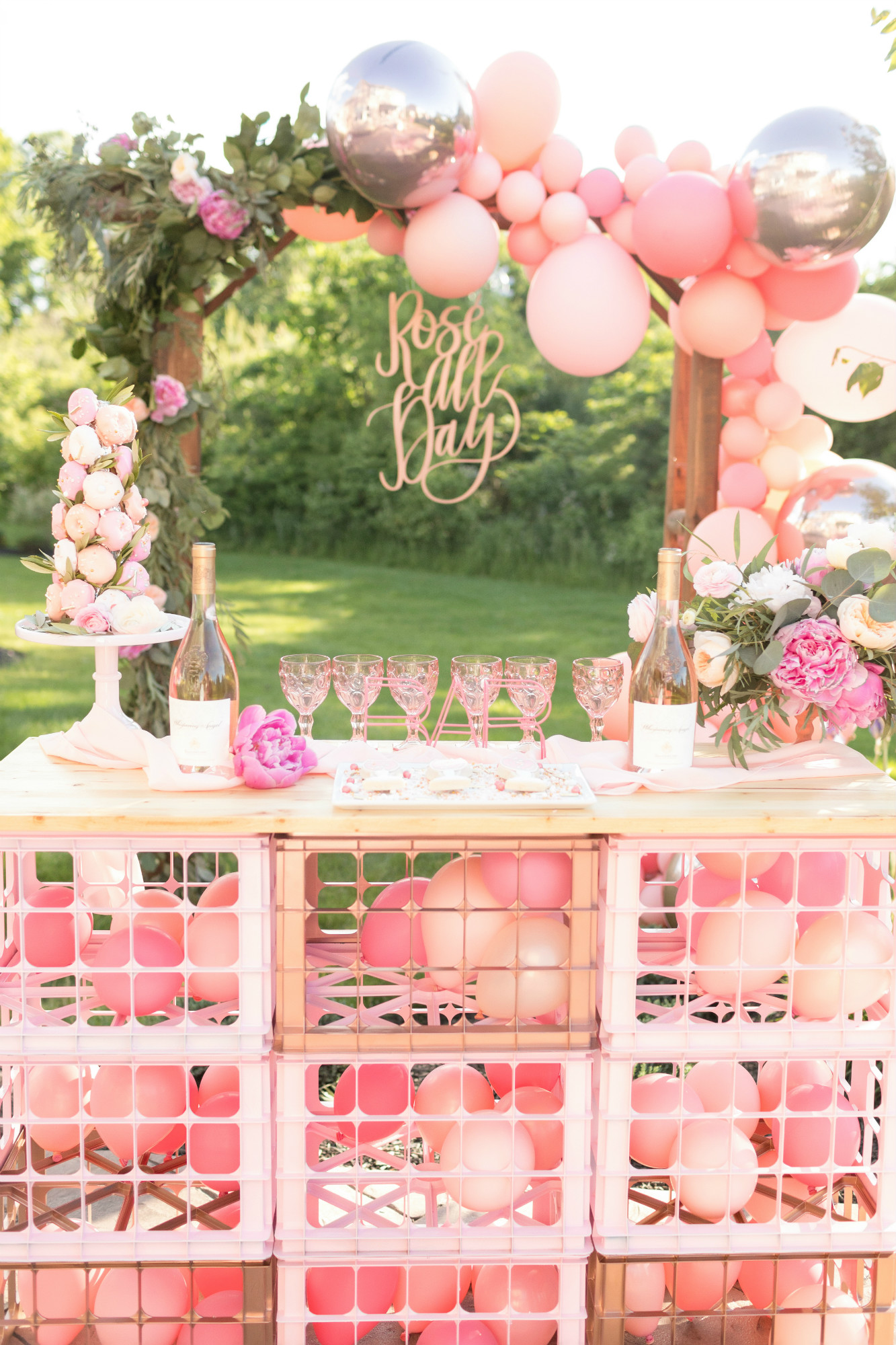 Materials
DIY Milk Crate Bar
9 milk crates
Pink spray paint
Rose gold spray paint
Variety of pink balloons
Butcher block top (for top of bar)
Soft pink chiffon table runner
Bar Backdrop
Free-standing wooden arch
DIY balloon garland
'Rosé All Day' laser-cut sign
Directions
Paint the 9 milk crates with pink and rose gold spray paint.
Stack the painted milk crates in a 3 x 3 formation and place butcher block on top.
Inflate a variety of different shades of pink balloons to fill the crates with. Accent the bar with a soft pink chiffon table runner, pink wine glasses, a dipped donut tower and a vase filled with fresh florals.
As a backdrop for the bar, use a free standing wooden arch to display fresh florals, a colorful DIY Balloon Garland and the "Rosé All Day" sign.
Charcuterie Grazing Board
The best part about creating a grazing board table centerpiece is that it doubles as décor and feeds a large crowd! There is also no cooking involved and it keeps you out of the kitchen during the party, allowing more time to spend with your guests.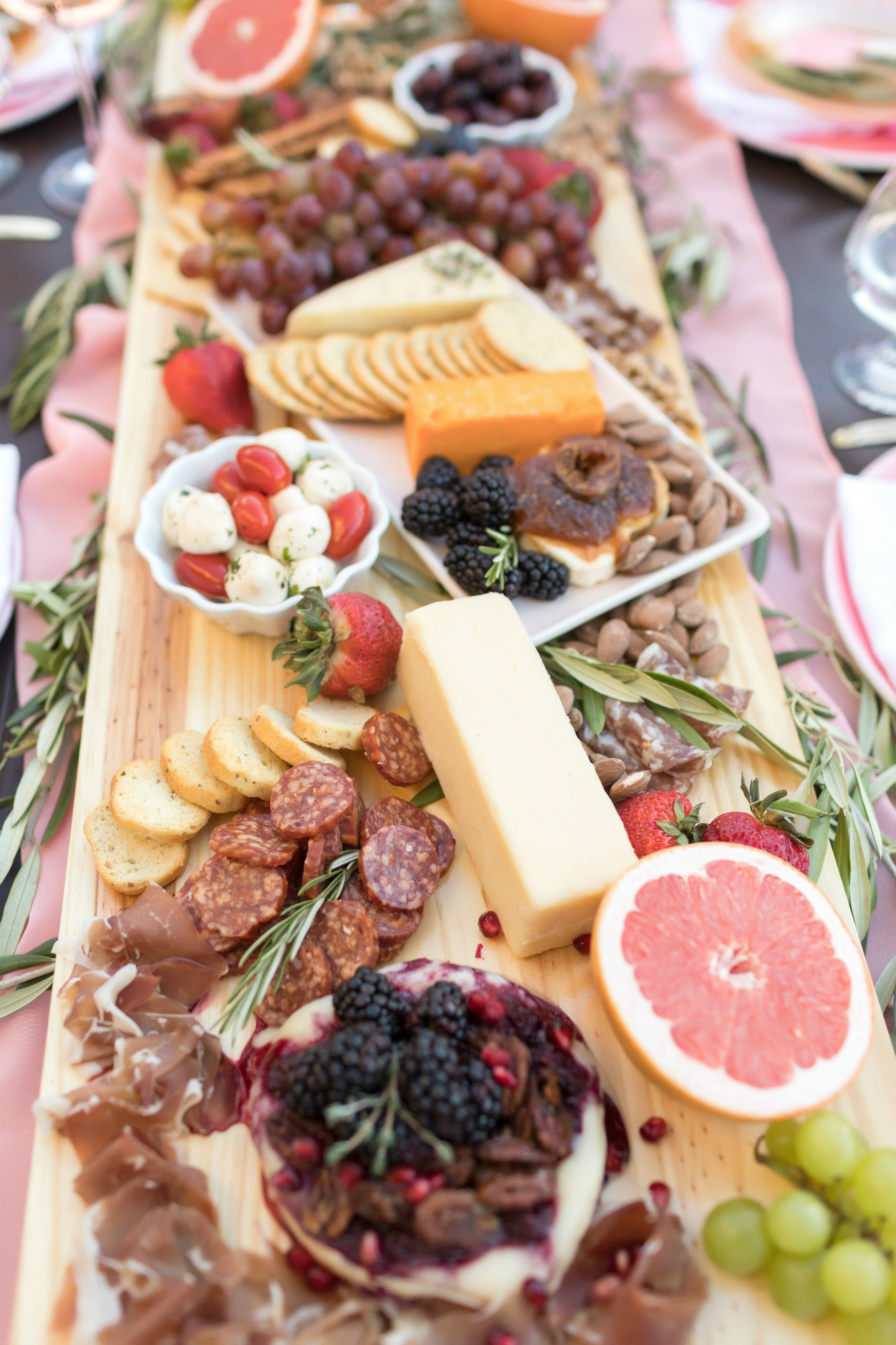 Ingredients
Brie Cheese (2)
Dill Havarti Cheese (1)
Basil Cheese (1)
Aged Cheddar (1)
Mozzarella Balls (2)
White Cheddar (1)
Goat Cheese with Fig Topping (2)
Bite Size Salami (1)
Prosciutto (2)
Sliced Salami (2)
Arugula
Cherry Tomatoes
Pomegranate Seeds
Grapes 2 lbs (all colors)
Grapefruit (3)
Peaches (4)
Strawberries 2 lbs
Blackberries 1 lb
Assorted Crackers
Parmesan Crisps
Bruschetta Rounds
Italian Loaf Bread
Crunchy breadsticks
Marcona Almonds
Pecan Halves
Artichokes
Pickles
Directions
To create visual interest on the board, incorporate small serving dishes, such as ramekins for the tomato and mozzarella balls. pickles and artichokes. Two rectangular plates placed on either side of the board can be used to display a block of cheese and some crackers. It also helps to select something unique for the center of the board, such as a wine bottle holder that will also come in handy for refills throughout the evening.
Once the serving dishes and props are in place, next add on the meat and cheeses. Be sure to cut the cheeses in different ways so each one looks a little different. For the meat, some of it should be rolled and the rest of it can be stacked loosely around the board. Now, begin filling in the empty spaces left with fresh fruit, nuts and crackers. In addition to small fruit, sliced grapefruit and grilled peach halves add color to the grazing board and really evoke the season of summer.
The board should be assembled 1-2 hours before guests arrive and should be the very last item placed on the outdoor table just prior the guests arriving.
Pull it all together in just a few easy steps.
Timeline
3 Weeks Prior
Place your order for the desserts, such as dipped mini donuts and themed sugar cookies
Order online party decorations, such as the DIY Balloon Garland Kit, milk crates and linens
Determine what you will use for the charcuterie board and if you'd like to DIY it or ask a local wood worker to create one (tip: you can also use several smaller charcuterie boards placed together instead of one continuous board)
2 Weeks Prior
Spray paint the milk crates
Do an inventory of serving ware that you own and purchase anything you might still need, such as wine glasses, dinner plates, ramekins and platters
Send out party invitations
1 Week Prior
Purchase wine and dry goods for the charcuterie board, such as crackers and nuts
2 Days Prior
Shop for the remaining food items, including meats, cheeses and produce
1 Day Prior
Assemble the DIY Balloon Garland
Pick up some fresh flowers from your local florist or grocery store
Layout the serving dishes on the charcuterie board to map out where the food items will be placed the day of the party
Set out the dishes, glasses, flatware, platters and linens that will be used to set the table
Day Of
Pick up the desserts
Chill the wine
Allow 1-2 hours to arrange the food on the charcuterie board
Set the table and style the milk crate bar
Place the assembled charcuterie board on the table just before the guests arrive
Estimated Budget
10 People

Decor: $400

Food: $150 – $200

Beverage: $50 – $100

TOTAL: $600 – $700
One Stylish Party shares its top tips for pulling off this event.
Tip 1
Plan ahead and allow ample time to set-up. To fill a 6 ft grazing board, it does take some planning and about 1-2 hours of prep work the day of the party before guests arrive. You can purchase the dry goods about 1 week beforehand, while the fresh items (such as fruit and cheeses) should be picked up 1-2 days before the party. It helps to do a mockup of the board ahead of time so you can select the serving dishes needed to display the food. On the day of the party, start by setting the outdoor dining table and decorating the bar area, followed by the grazing board.

Tip 2
Let the food and wine take center stage. When planning a party, it is easy to get carried away with the details and include every idea or décor element that comes to mind. However, sometimes it is best to edit and eliminate details that are not necessary. The goal is to source décor that compliments the menu — and does not overpower it. For an alfresco dinner party, it is nice to incorporate seasonal flowers, bright table linens and a fun décor element, such as a DIY balloon garland. A monochromatic color pallet with varying shades of the same color works well to ensure the party details are cohesive, but not too busy.

Tip 3
Integrate unique props and lawn games in your outdoor dinner party. Think through different elements that will encourage conversation and interaction between guests. Set-up a fun and unique bar area to display the wine and allow the guests to mingle before they sit down to eat. The bar is also a fun area to decorate and carry through the party theme. Another addition to an alfresco dinner party could be a lawn game, such as a jumbo jenga for guests to play, which will likely provide lots of laughs throughout the evening!

Tip 4
Shop local when possible. Pop into your local flower shop the day before the party to pick up a fresh bouquet or arrangement to display. Check out your local farmer's market to pick up fresh fruit and artisanal cheeses for the grazing board. Reach out to a local bakery to create some sweets, such as cookie favors and a dipped donut tower for the bar.

Tip 5
Enjoy the moment. Being the hostess with the mostess also means being able to be present with your guests! When you put so much time and effort into planning a nice evening for your guests, you want to be able to enjoy it too. Once the food is served and the wine is poured, it is now time to enjoy the moment!