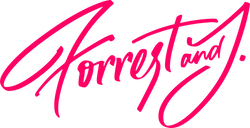 Squeeze the Day Lemonade Bash
Featuring Cravory Cookies and Califia Farms
In Collaboration with Forrest and J.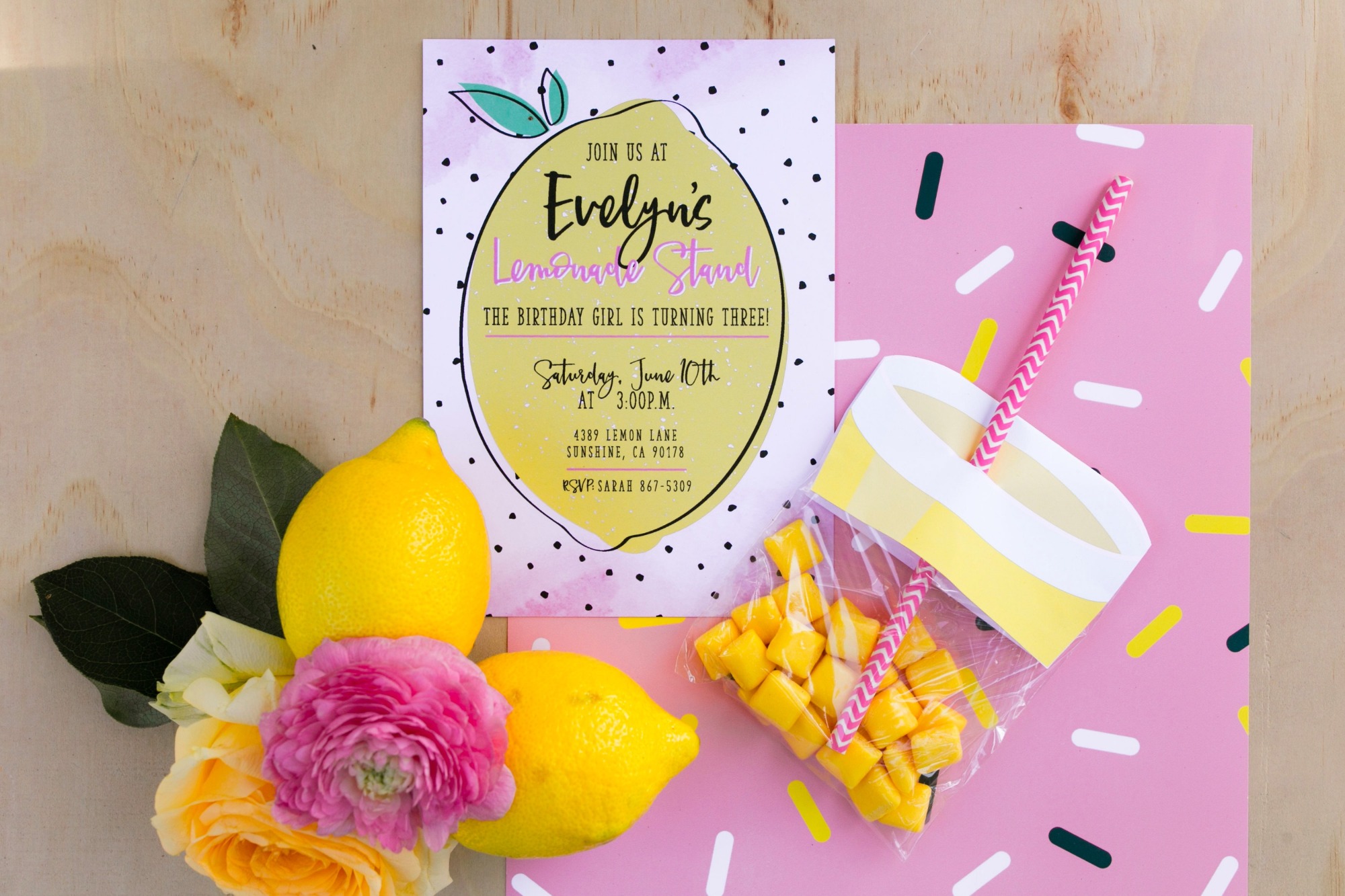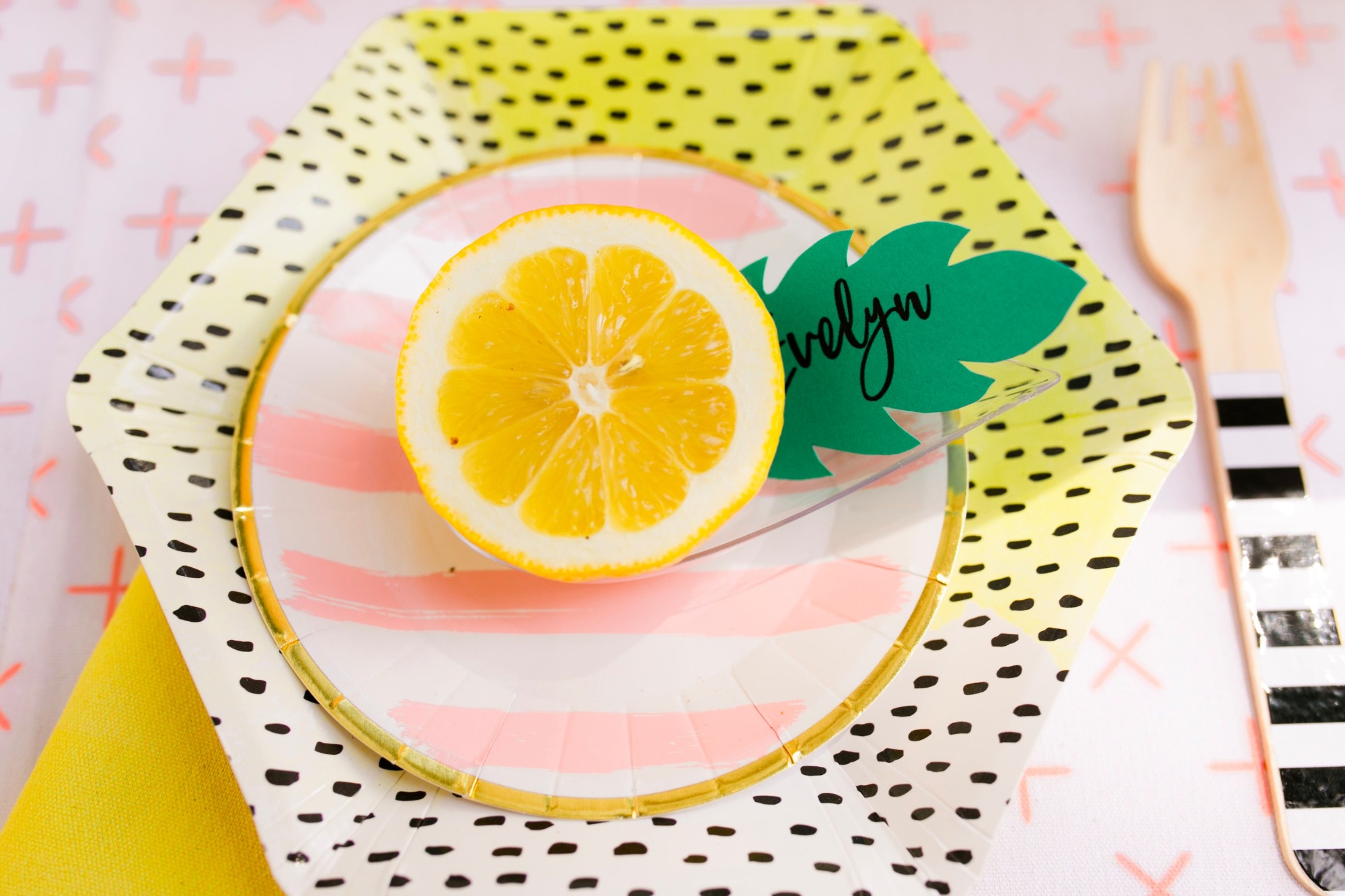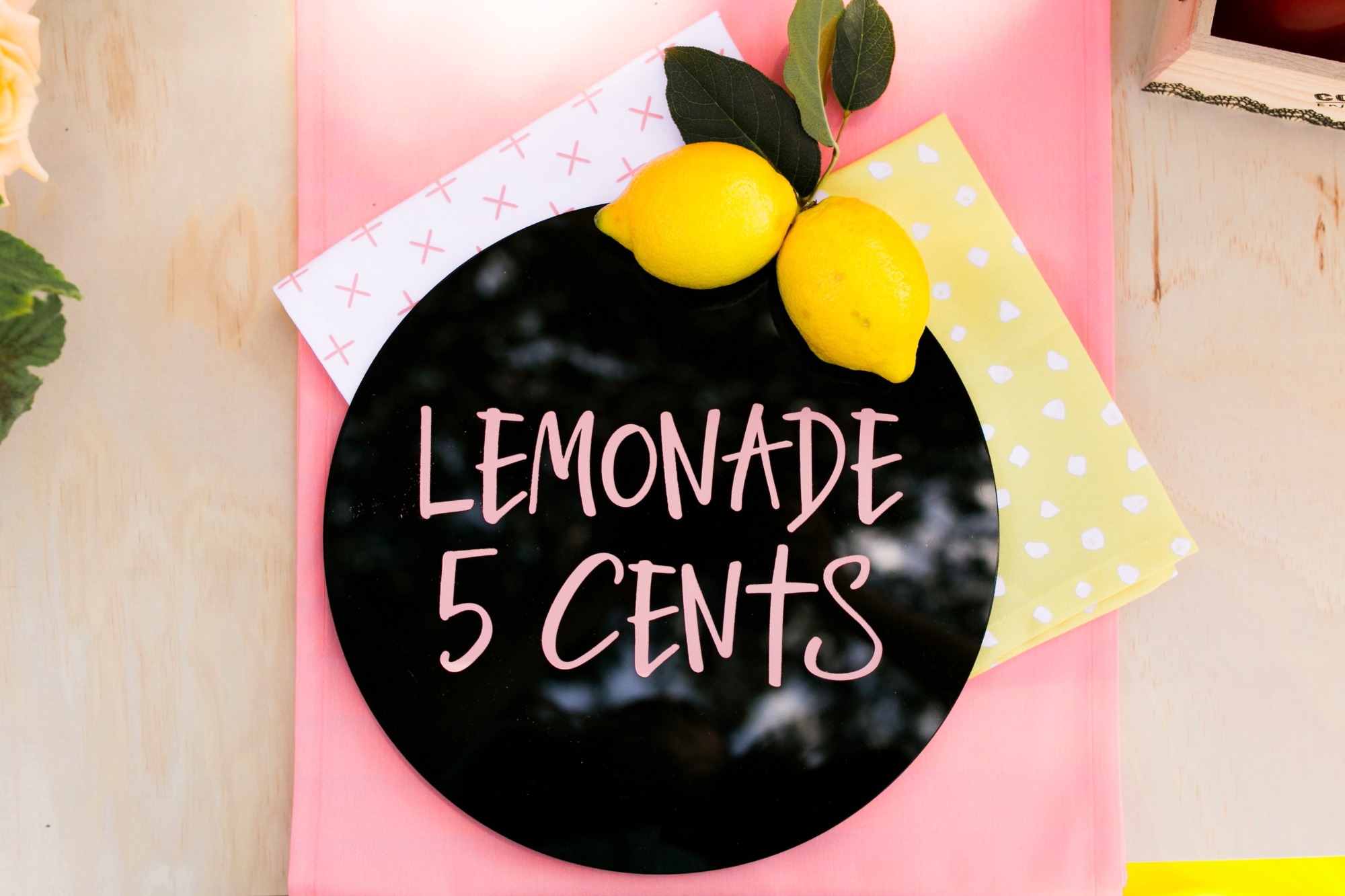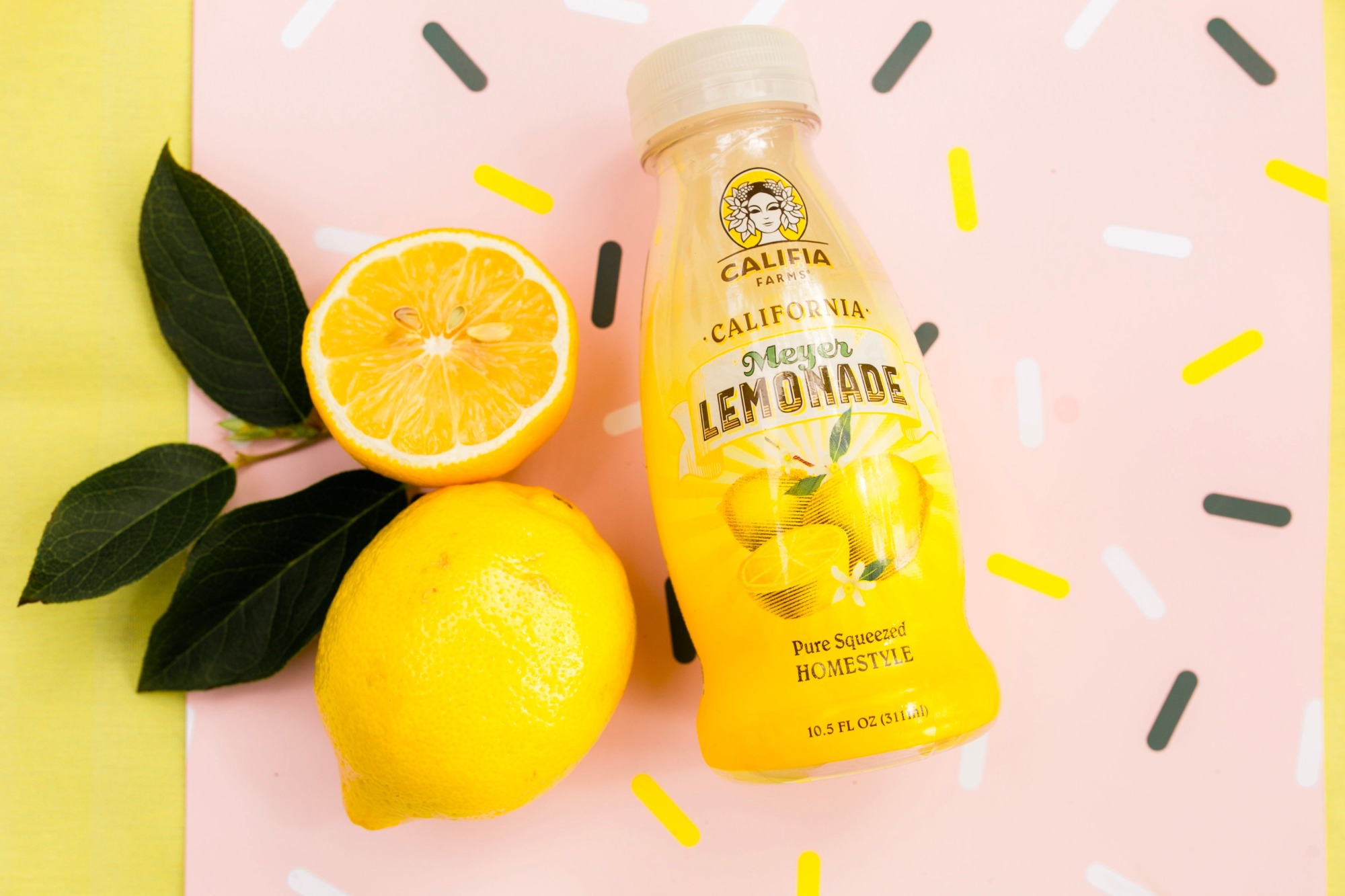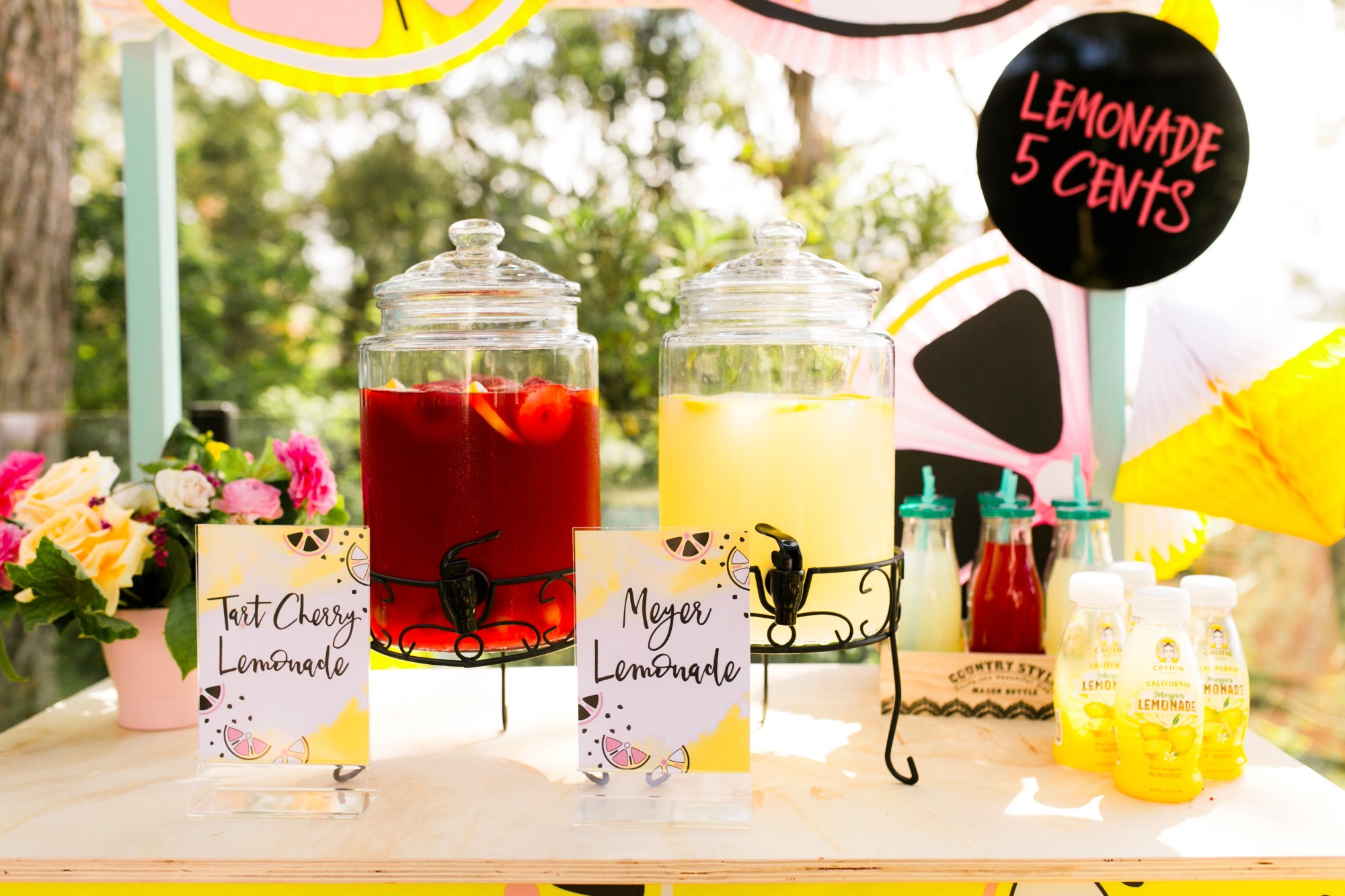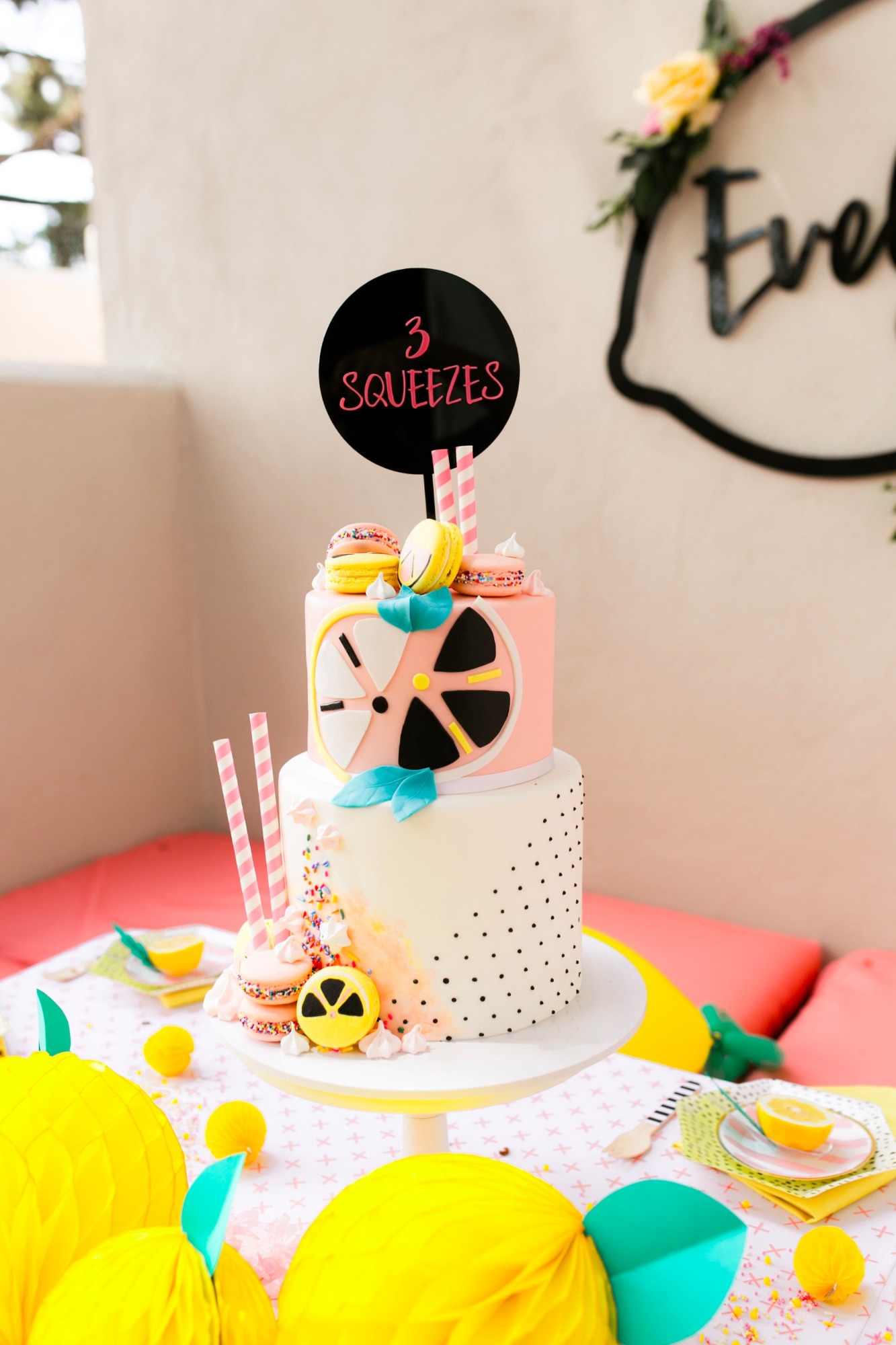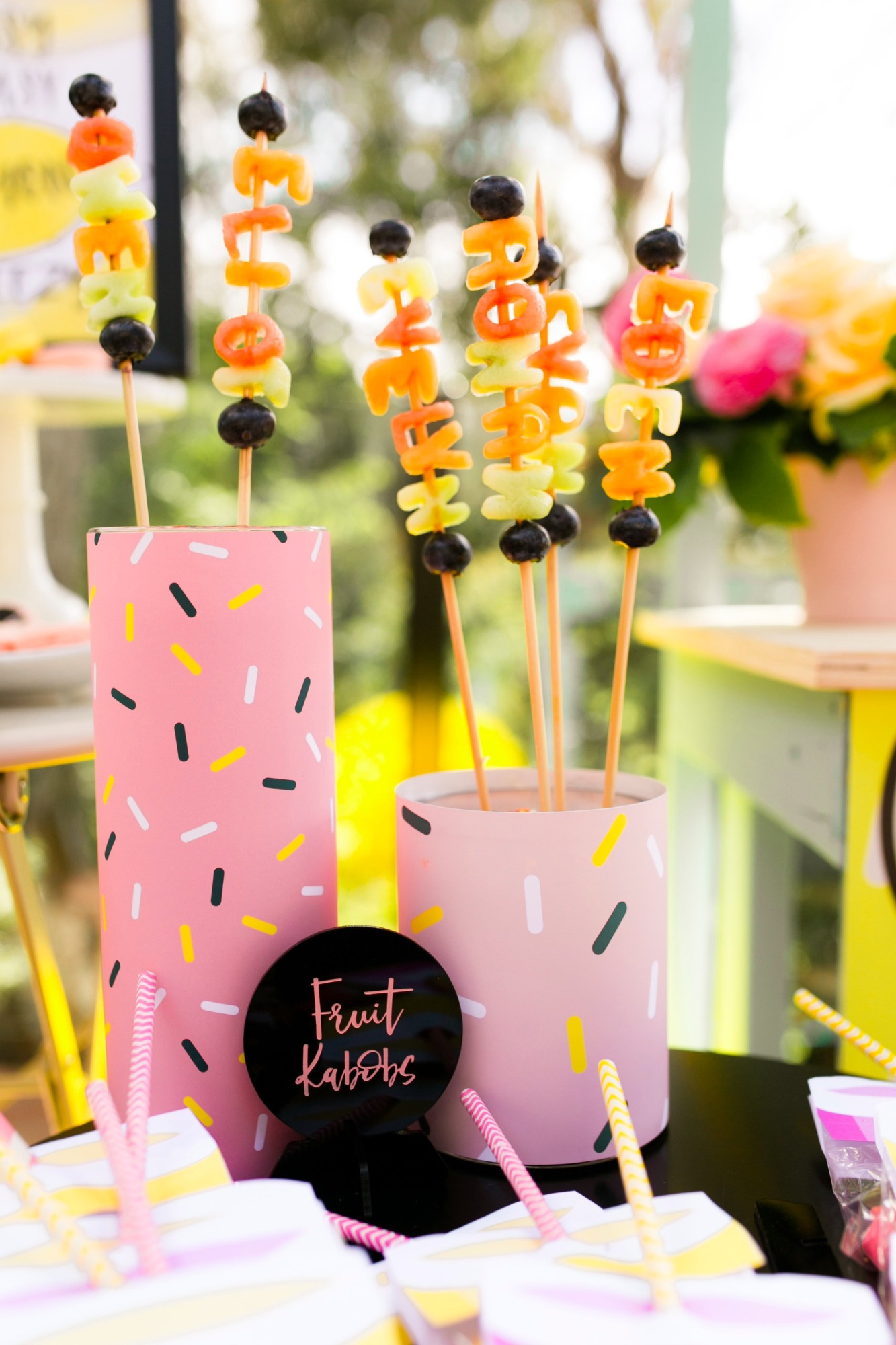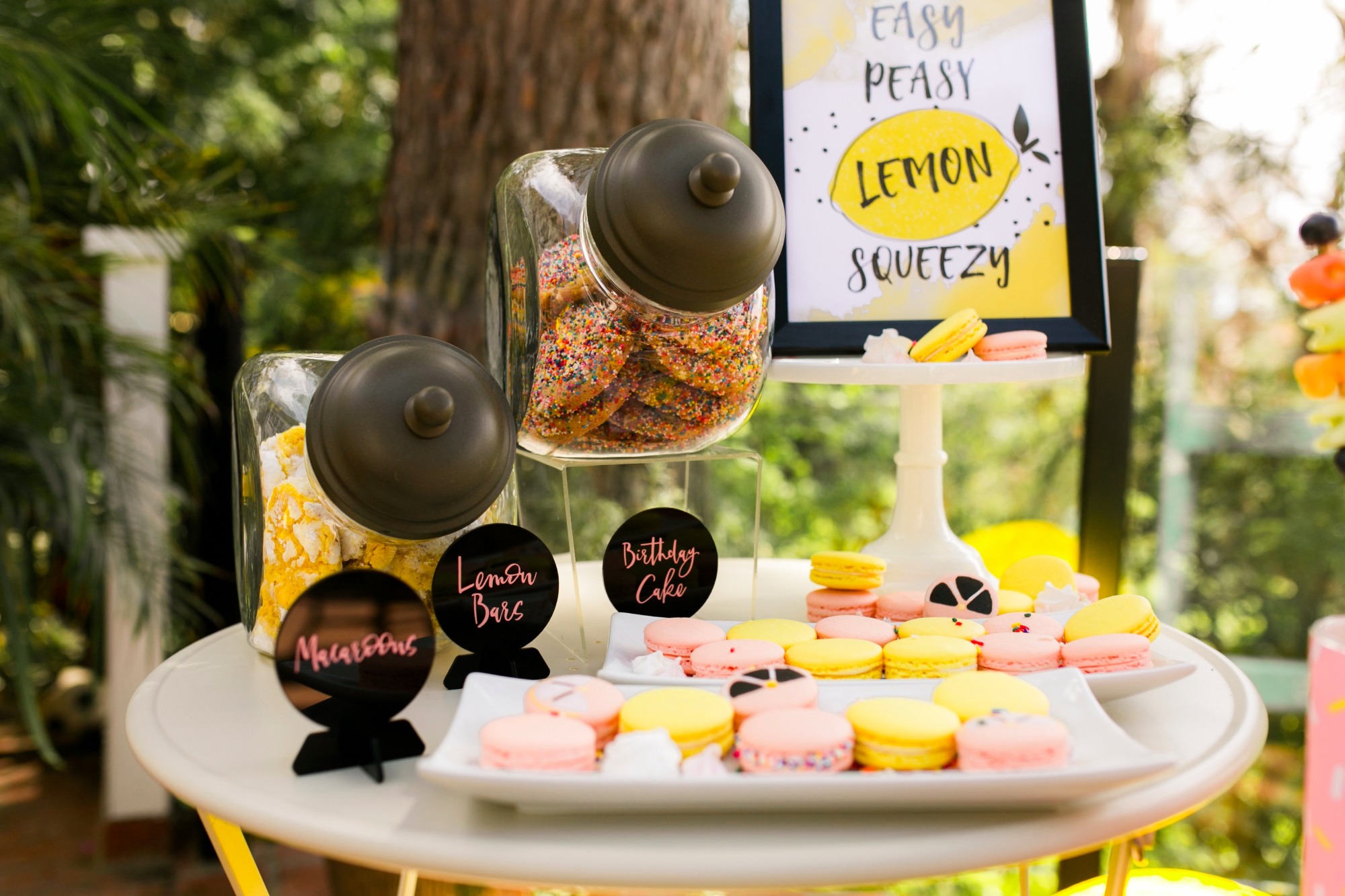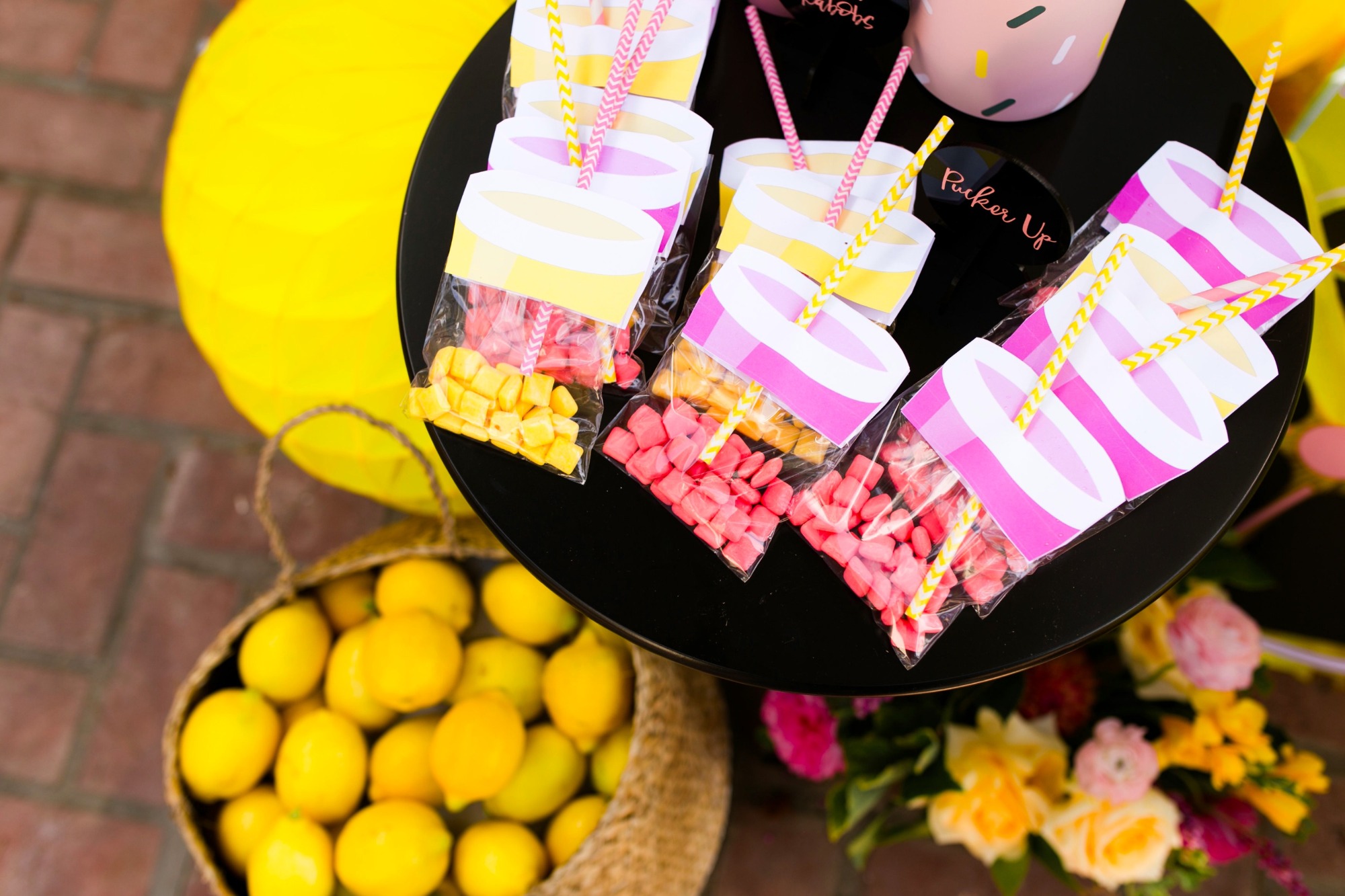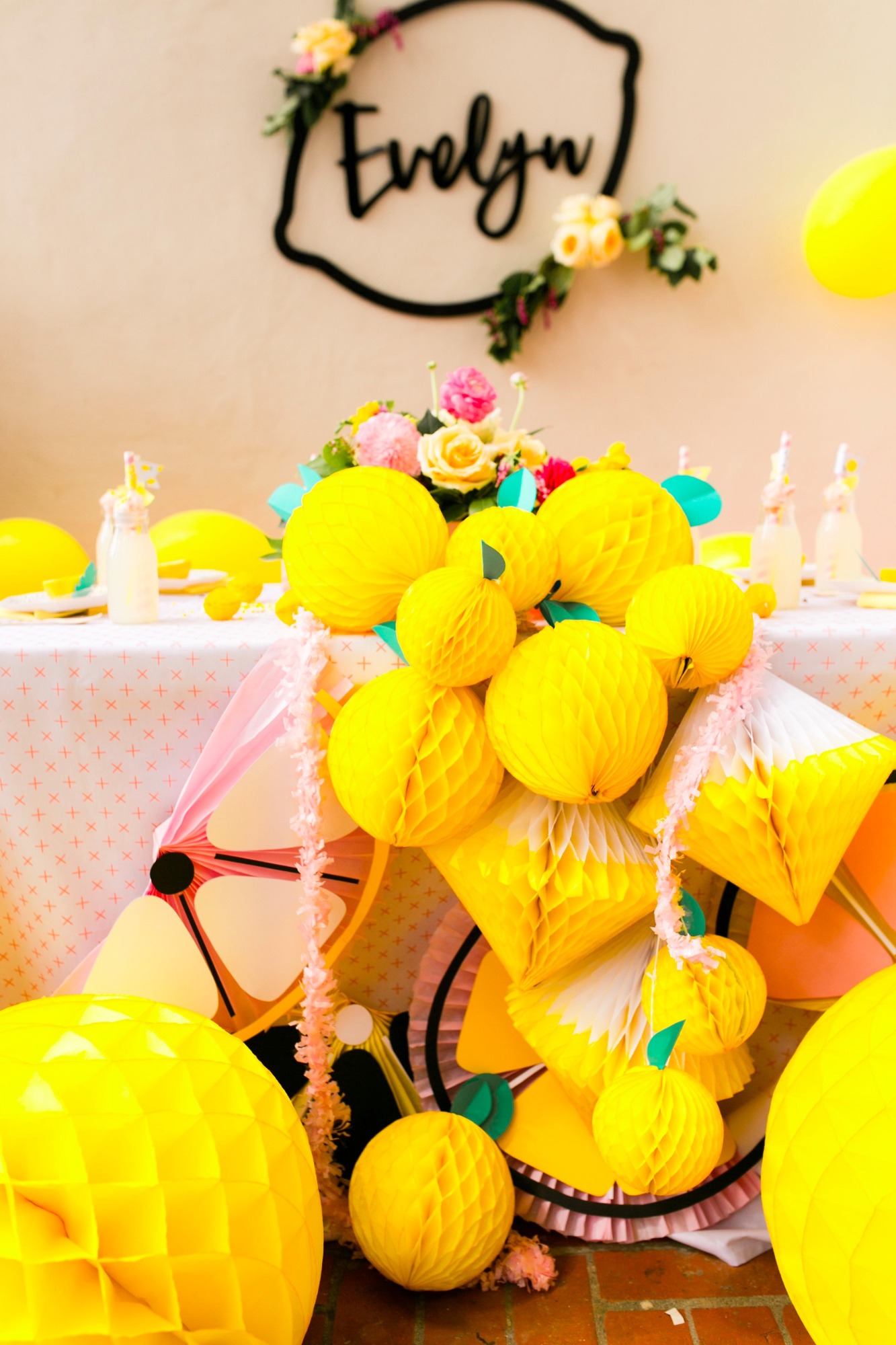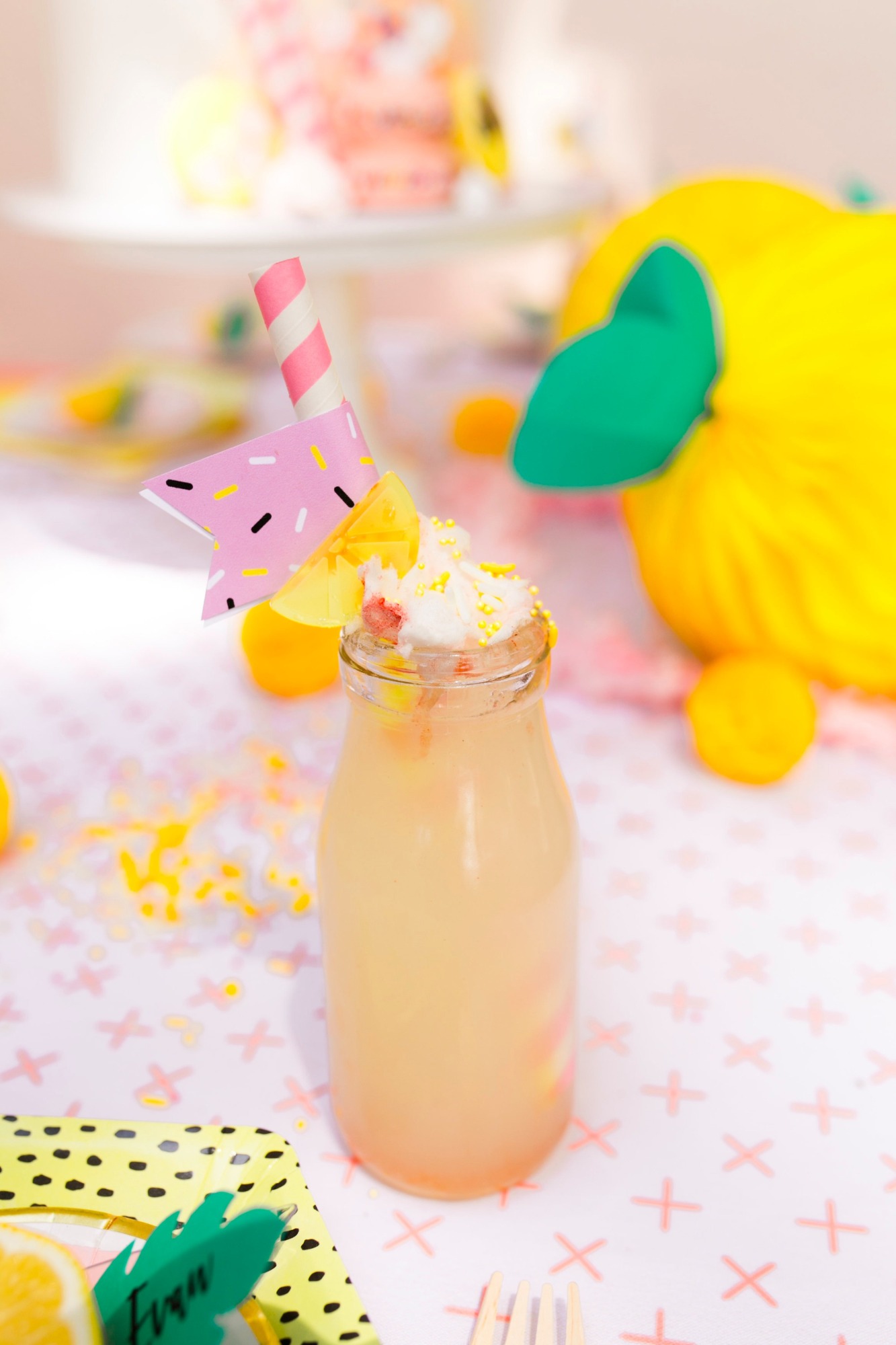 You're only 3 steps away from the perfect party.
Purchase
Review the blueprint and purchase the party items in a few easy steps.
Prep
Follow our easy ideas to wow your guests.
Assemble
Follow our timeline and party tips for seamless execution.
Buy your party items with a few simple clicks.
(prices and availability subject to change)
Additional Tip
Please refer to the Prep section below on how to create the adorable DIY lemon bunting fans and lemon balloons.
Additional Tips
For the lemonade stand, we recommend referring to Pinterest if you would like to build your own stand or checking out Etsy for vendors who can build one for you.
Fill the glass cylinder vases high enough with the rainbow sprinkles so that personalized name fruit kabobs are well-supported. We also like using rainbow sprinkles to add some colorful decor on the tabletop. See Prep section below for detailed instructions on how to make the personalized fruit skewers.
We also recommend checking out stores like Cost Plus World Market, HomeGoods, Pier 1 Imports, and Target for good deals on standard party decor items such as cake stands, trays / platters, drink dispensers, and small tables.
Additional Tips
Place cut half of lemon and a handwritten name card in the plastic teardrop spoon for each guest's place setting.
Pour the lemonade into the glass bottles for each place setting. Add the straw first, then garnish with cotton candy and a dash of sprinkles.
DIY Lemonade Candy Favors
Additional Tip
Please refer to our Prep section below for detailed instructions on how to make these adorable DIY lemonade candy favors for your guests. You can use any pink or yellow candy you would like – we used Chiclets in our favor bags!
Prepare perfect party decor + party favors.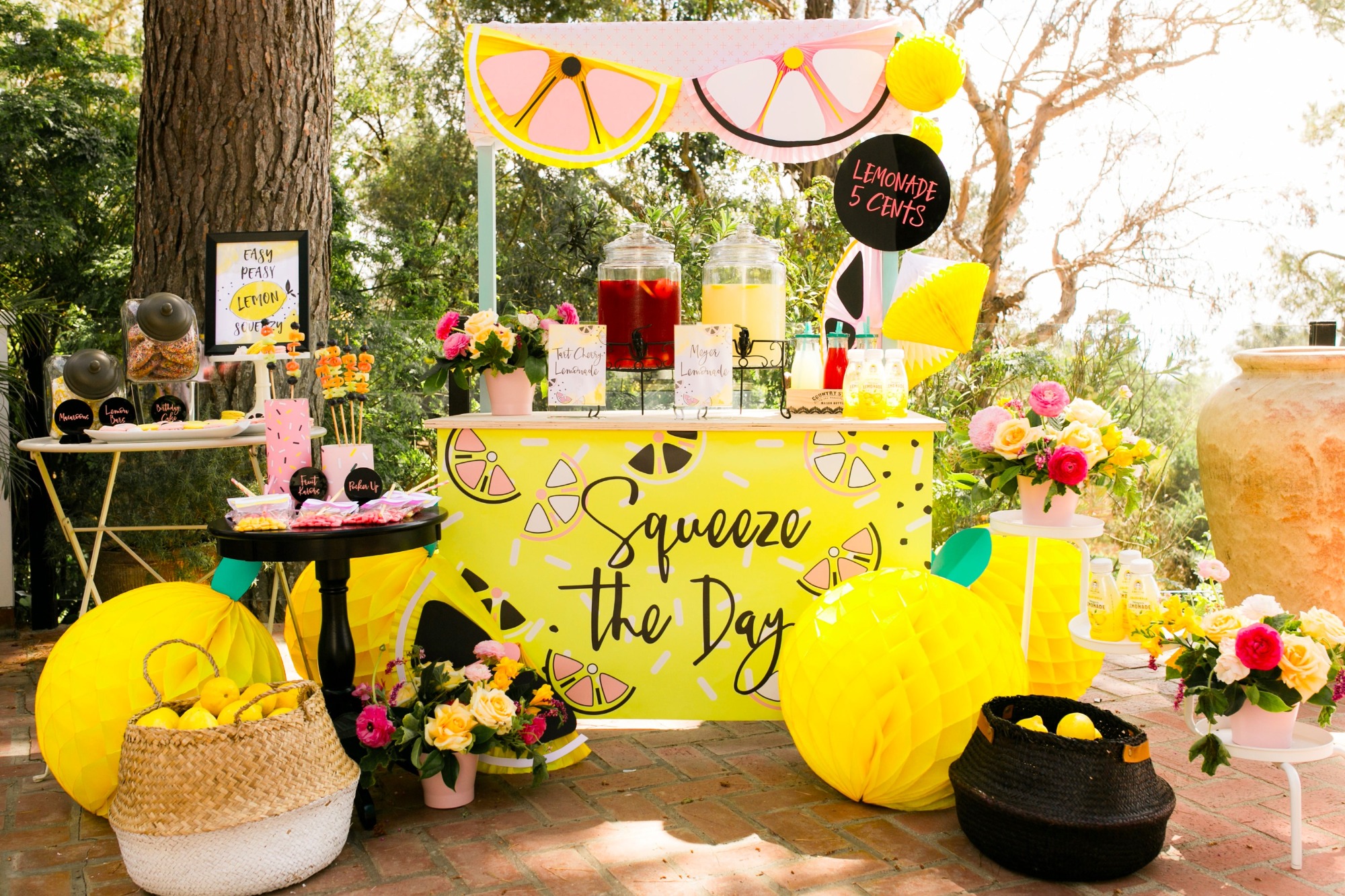 Materials
Pink and Yellow Bunting Fans
Construction paper (pink, yellow, white, and black)
Rubber cement
Scissors or Cricut machine
Directions
Cut out templates to use to help cut out pieces from pink / white / yellow / black construction paper (we recommend using a Cricut machine to save time): triangles with rounded edges, small circles, and long thin strips, and thin archs.

Use rubber cement to adhere the construction paper to bunting fans.  Allow at least 5 minutes to dry.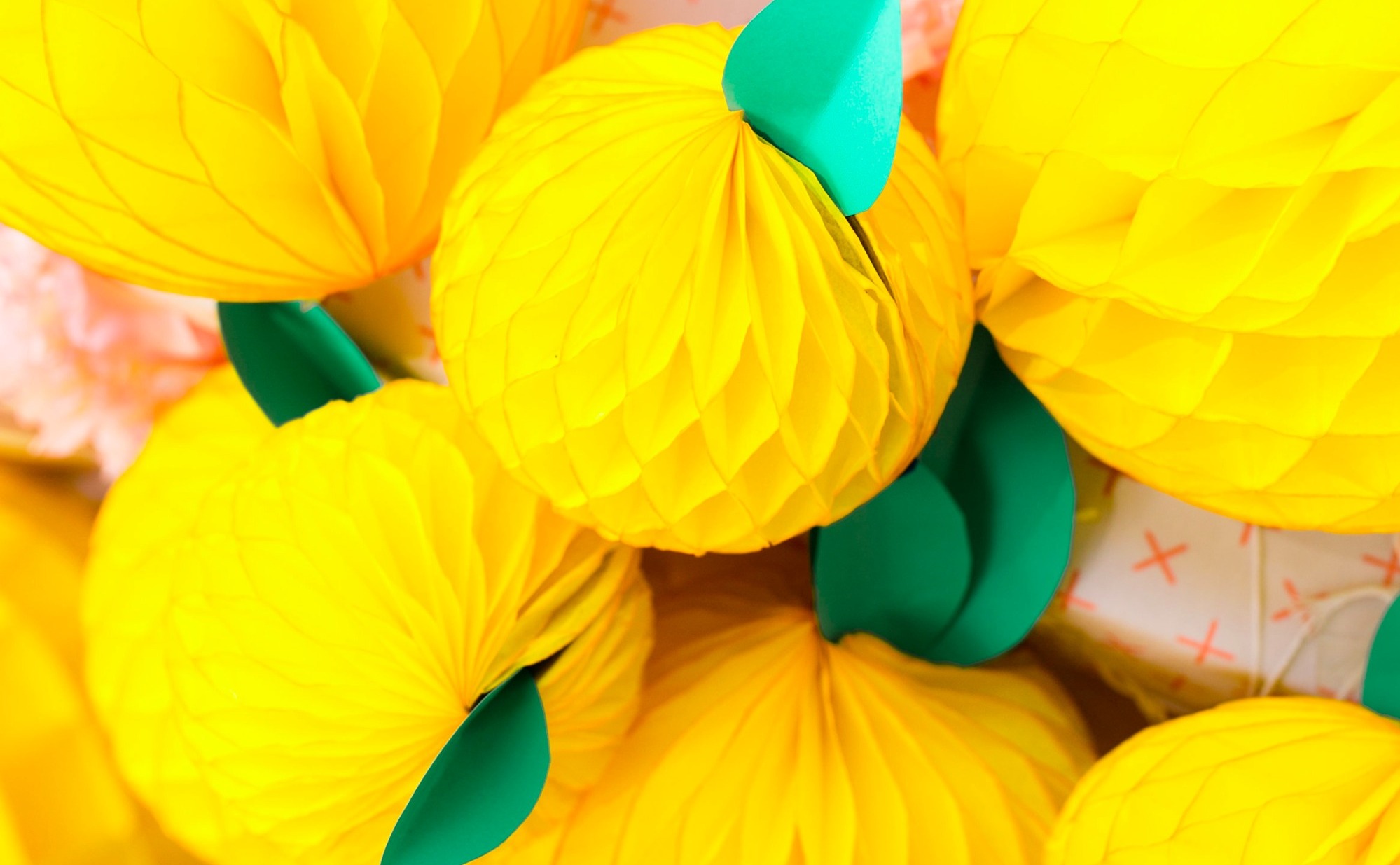 Materials
Yellow honeycomb balls (in 5″, 8″ and 19″ sizes)
Green construction paper
Rubber cement
Scissors or Cricut machine
Directions
Cut out a leaf template in small, medium, and large sizes.

Trace your template on construction paper and cut (we recommend a Cricut machine to save time).

Use rubber cement to adhere paper to the top of the honeycomb balls to create small, medium, and large lemons.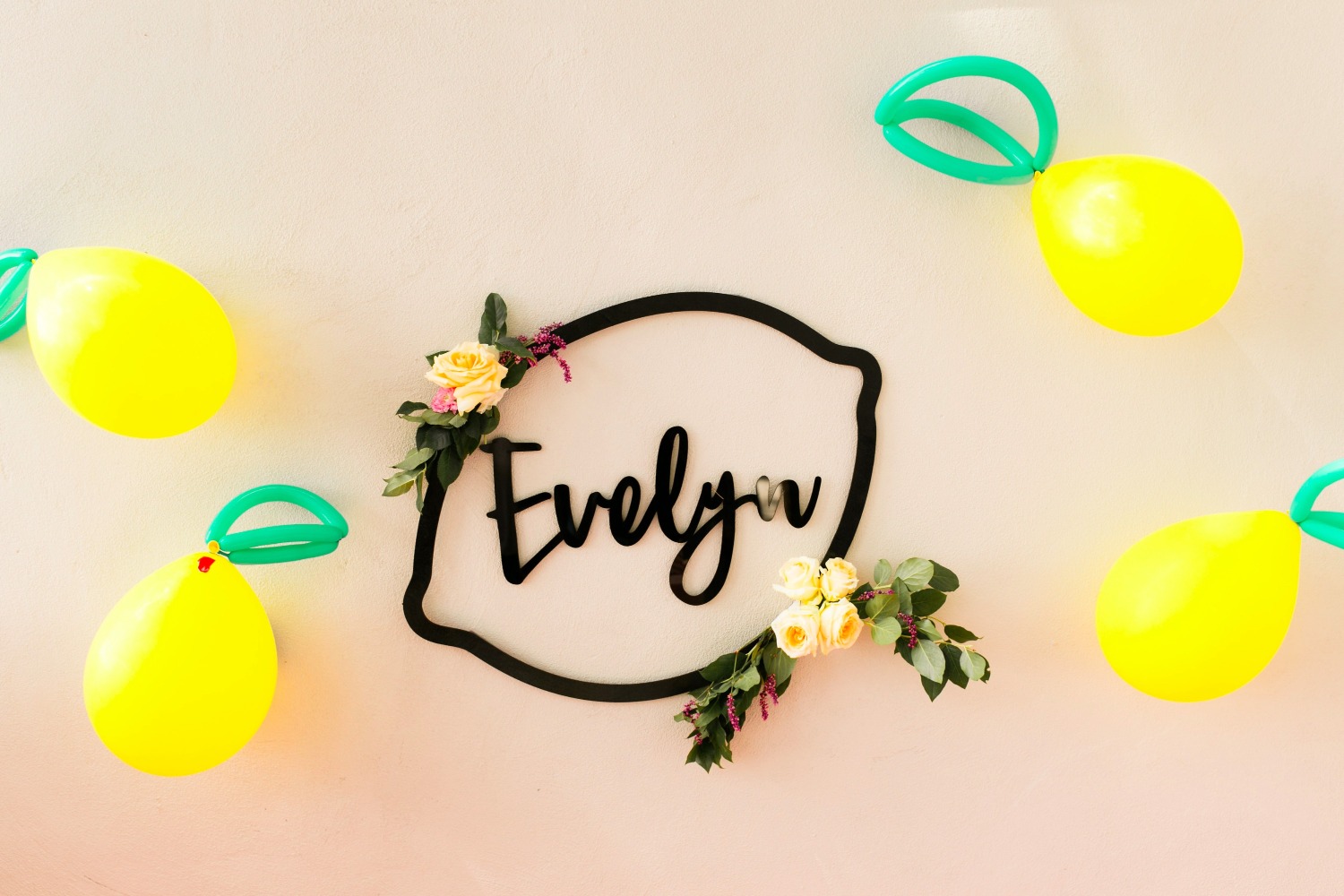 Materials
11″ yellow balloons
Green long balloons (for balloons animals)
Hand-held balloon inflator / pump
Scissors
Directions
Oh Happy Day's Lemon Balloons
Inflate a yellow balloon. Tie a knot on the end of the nub, leaving the balloon a little bit deflated.

Hold both ends of the balloon and stretch them in opposing directions. Squish the center of the balloon until the balloon resembles a lemon shape.

Inflate a long green balloon to nearly full length, leaving a nub of uninflated balloon at the end. Starting at the knotted end, measure 10", then twist the balloon. Measure another 10", twist, then tie to the end. This should begin resembling a leaf.

Add a spine to the leaf with the excess, and leave 3" of balloon for a stem. Trim the excess. Then, tie the leaf and stem to the lemon.
Personalized Fruit Skewers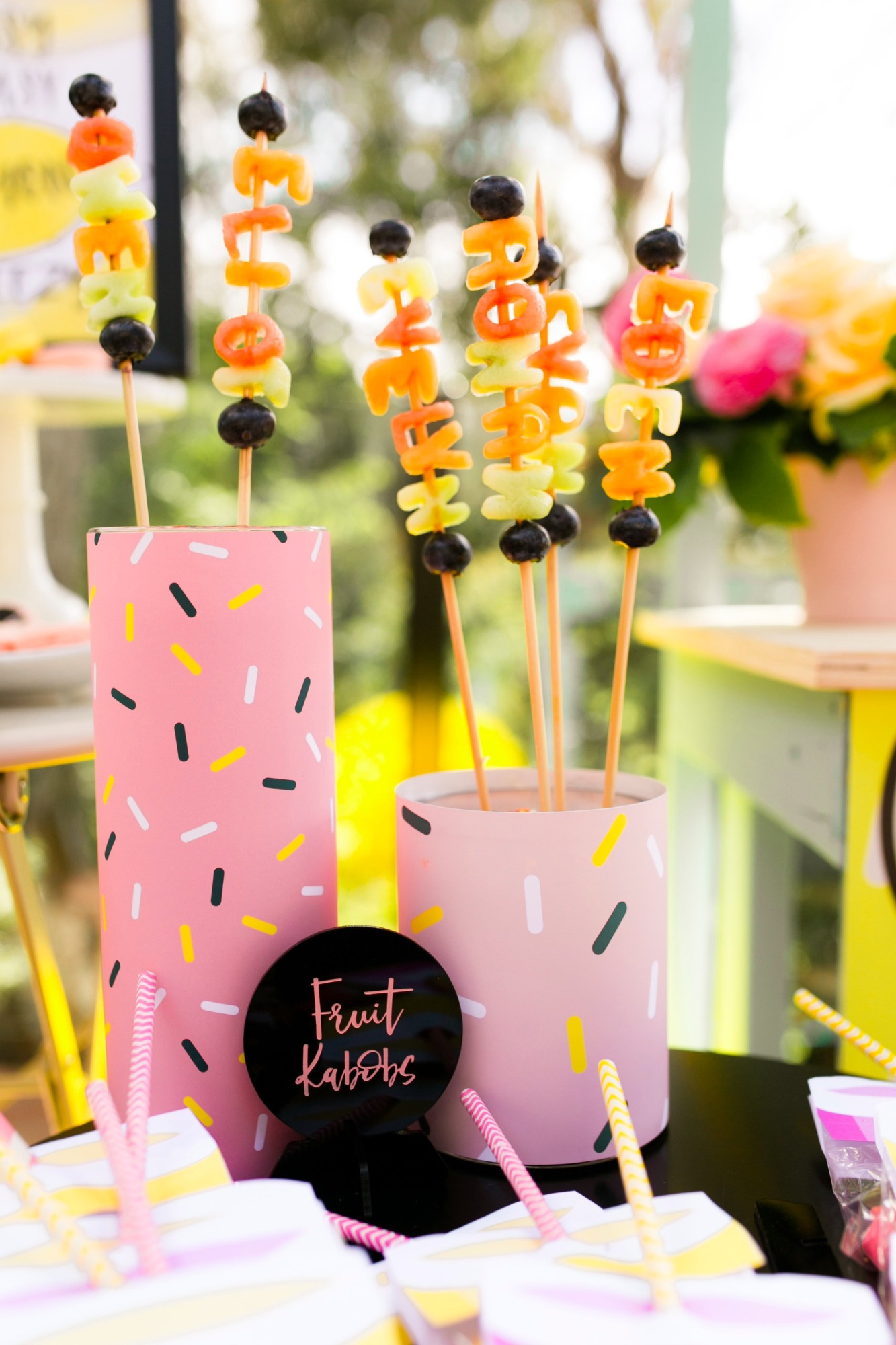 Materials
Various fruit (blueberries, mangos, and melons)
Alphabet-shaped cookie cutters
Wooden skewers
Directions
Cut various types of fruit (melons and mango) into thick slices.

Use alphabet cookie cutters to push through letters for each guest's first name.

Pop the letters out of the cookie cutter with a wooden skewer.

Thread a blueberry through a long wooden skewer, then thread the letters of the child's first name, and finally, top the skewer with another blueberry.

Repeat until all skewers are complete.
DIY Lemonade Party Favors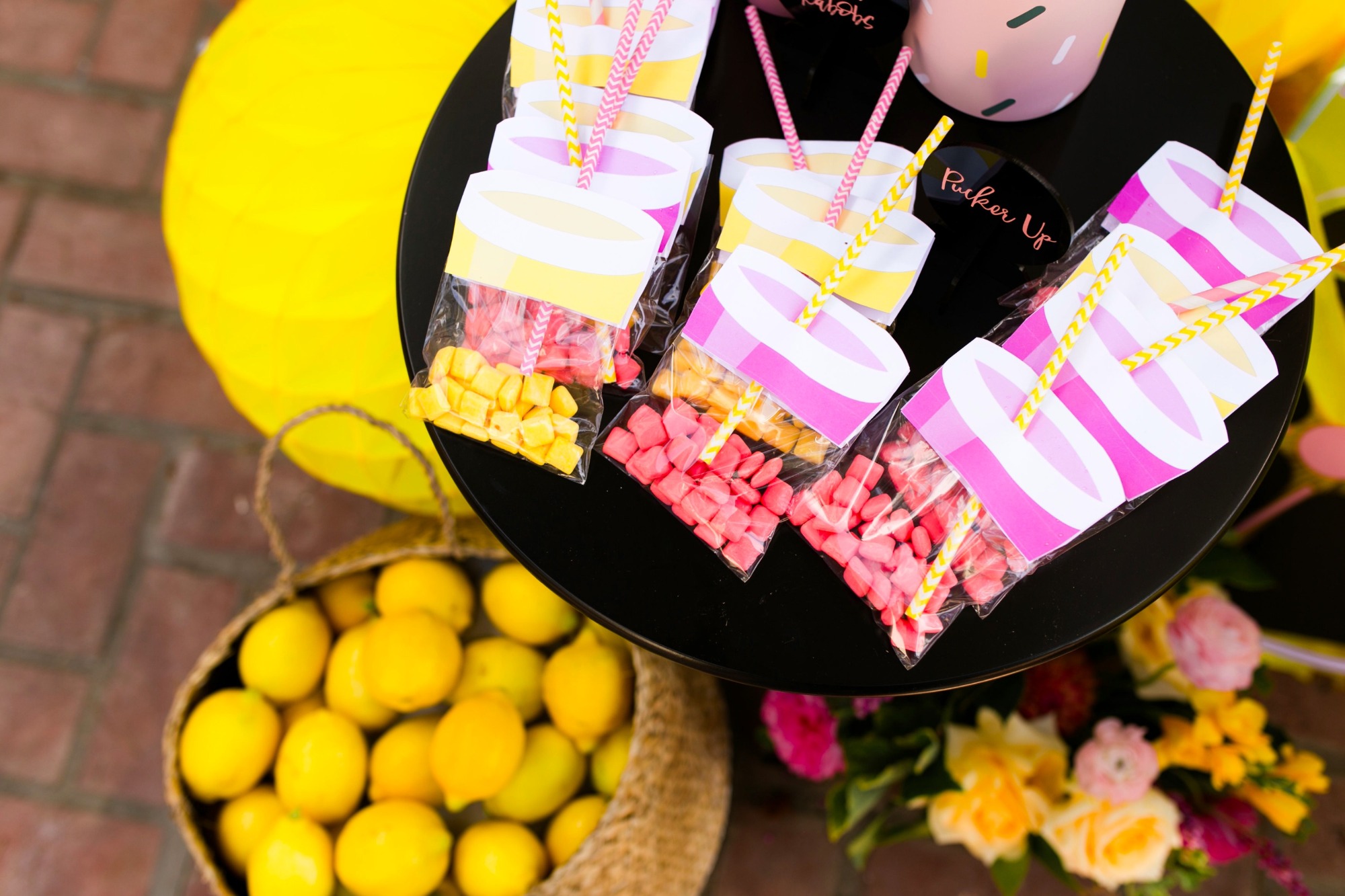 Materials
Scissors
Tape or stapler
Candy or gum (we used pink & yellow Chiclets)
Directions
Design Eat Repeat's Printable Lemonade Glass Party Favors
Upload the printable template to create the fun bag toppers.
Put the pre-cut Avery small white tent cards in your printer to create the fun bag toppers.
The tent cards are pre-cut, so after you print the template, all you have to do is trim the top/sides of the "glass'.
After trimming the sides, cut a small slit in the "rim" of the glass just big enough to slip in the straw.
Add your candy of choice to each bag.
Insert the straw, fold each card over the top of the bag, and tape the bag shut.
To achieve the slanted edges at the bottom of the glass, simply fold over the bottom corners of the bag and tape to the back.
Depending on the size of the cellophane bag, you may need to also fold in the top of the bag to match with the sides of the printable.
Pull it all together in just a few easy steps.
Timeline
3 weeks prior
Order custom party invitations, signage, and decor from Midnight Confetti 
Order cake and any other treats for the party
2 weeks prior
Purchase any necessary decor, props, linens, and serving ware
Order floral arrangements from your local florist (optional)
Build or purchase the lemonade stand (there are multiple tutorials on Pinterest)
1 week prior
Purchase groceries and lemonade
Make your DIY lemon slice bunting fans and lemon honeycombs (see Prep section above for detailed instructions)
Prep and make any food you can prepare ahead of time
Place all signage in frames
Day of
Create lemon balloons (see Prep section above for detailed instructions)
Make the personalized fruit skewers with cookie cutters for your guests (see Prep section above for detailed instructions)
Pour lemonade into containers, add any fruit / garnishes that you like
Bring out the lemonade stand and decorate with signage and lemon garland
Pour lemonade in kids bottles for tabletop. Add the straw first, then garnish with cotton candy and a dash of sprinkles
Set out flowers if shaded or 30 minutes prior to party if they are in direct sun
Lay out your cake and treats 30 minutes before party
Estimated Budget
10 People

Decor: $600 – $750

Food: $100 – $300

Beverage: $25 – $50

TOTAL: $725 – $1,100

*Note: excludes the cost of the lemonade stand
Tip 1
Use double sided tape to adhere lemonade sign to the front of your stand.
Tip 2
Create garland with your DIY Lemon Slices Bunting Fans:  Place string across the top of the bunting fans.  Use scotch tape to keep string in place.  Leave extra string on either end to tie.
Tip 3
Tape string to your honeycomb lemons and tie or tape them on to the sides of the stand.
Tip 4
Use heavy double sided tape to adhere your "Lemonade 5 Cents" sign to the lemonade stand.
Tip 5
Place newspaper in the bottom of your baskets as filler.  Place whole lemons on top.
Tip 2
Attach string to each lemon honeycombs at the top using tape on the inner cardboard (hide the tape behind your green leaf made of construction paper).
Tip 3
Use masking tape to attach the honeycombs to the tablecloth by the string you added.  Layer the honeycombs to create the look you like.  
Tip 4
Add the extra large honeycombs around the bottom of the table.
Tip 5
Add the pre-made Lemon Slices Bunting Fans by sticking them into the honeycombs.
Tip 6
Set your table with plates, drinks, silverware, and napkins.  Leave room in the middle for the cake and cake stand.  Add confetti across the table for a cute touch!
Tip 1
Use heavy stucco tape or painters tape to adhere the personalized laser cut lemon sign to the wall.  
Tip 2
Add florals to the sign with flower wire.
Tip 3
Use heavy stucco tape to tape the lemon balloons to wall.