Valentine's Day for Two
In Collaboration with Castello
You're only 3 steps away from the perfect party.
Purchase
Review the blueprint and purchase the party items in a few easy steps.
Prep
Follow our easy ideas to wow your guests.
Assemble
Follow our timeline and party tips for seamless execution.
Buy your party items with a few simple clicks.
(prices and availability subject to change)
Arrange the perfect tablescape.
STEP 1
Lay out black doilies in a straight line.
STEP 2
Cut apart peonies and place 1 or 2 stems into each of the bud vases.
STEP 3
Place placemats side-by-side in front of the peonies in bud vases.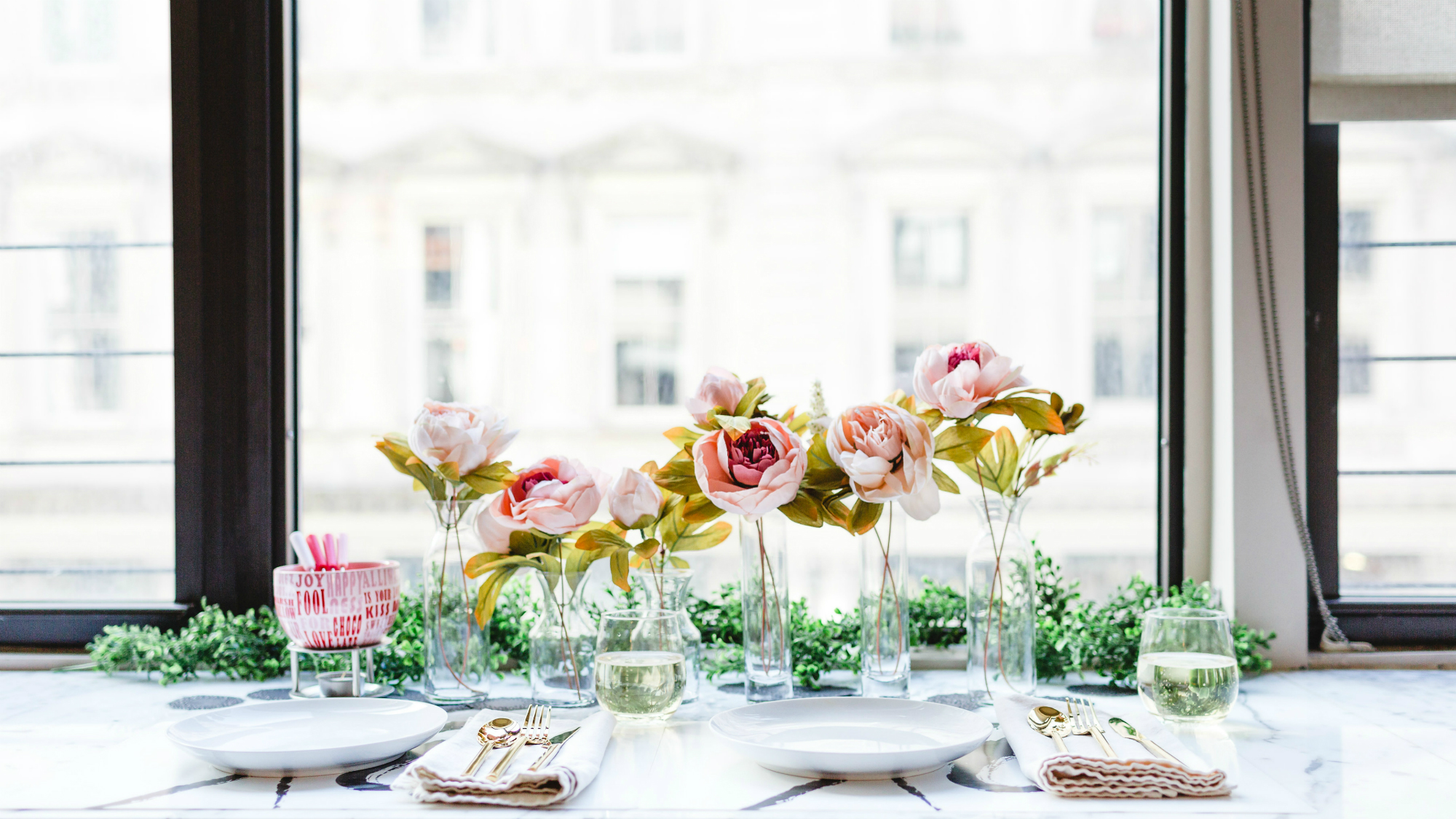 STEP 4
Lay out plates, napkins and flatware.
STEP 5
Place fondue, cheese board and grilled cheese in the middle of the place settings.
STEP 6
Place napkin in between bread plate and dinner plate.
Pull it all together in just a few easy steps.
Timeline
2 Weeks Prior
Purchase party decor items online
2-3 Days Prior

Purchase food & beverages for the dinner
Day Of

Setup place settings and flowers
Prepare food offerings for the dinner
Estimated Budget
2 People

Decor: $100 – $200

Food: $30 – $50

Beverage: $30 – $50

TOTAL: $160 – $300
Prep the perfect party food.
Super Easy Chocolate Fondue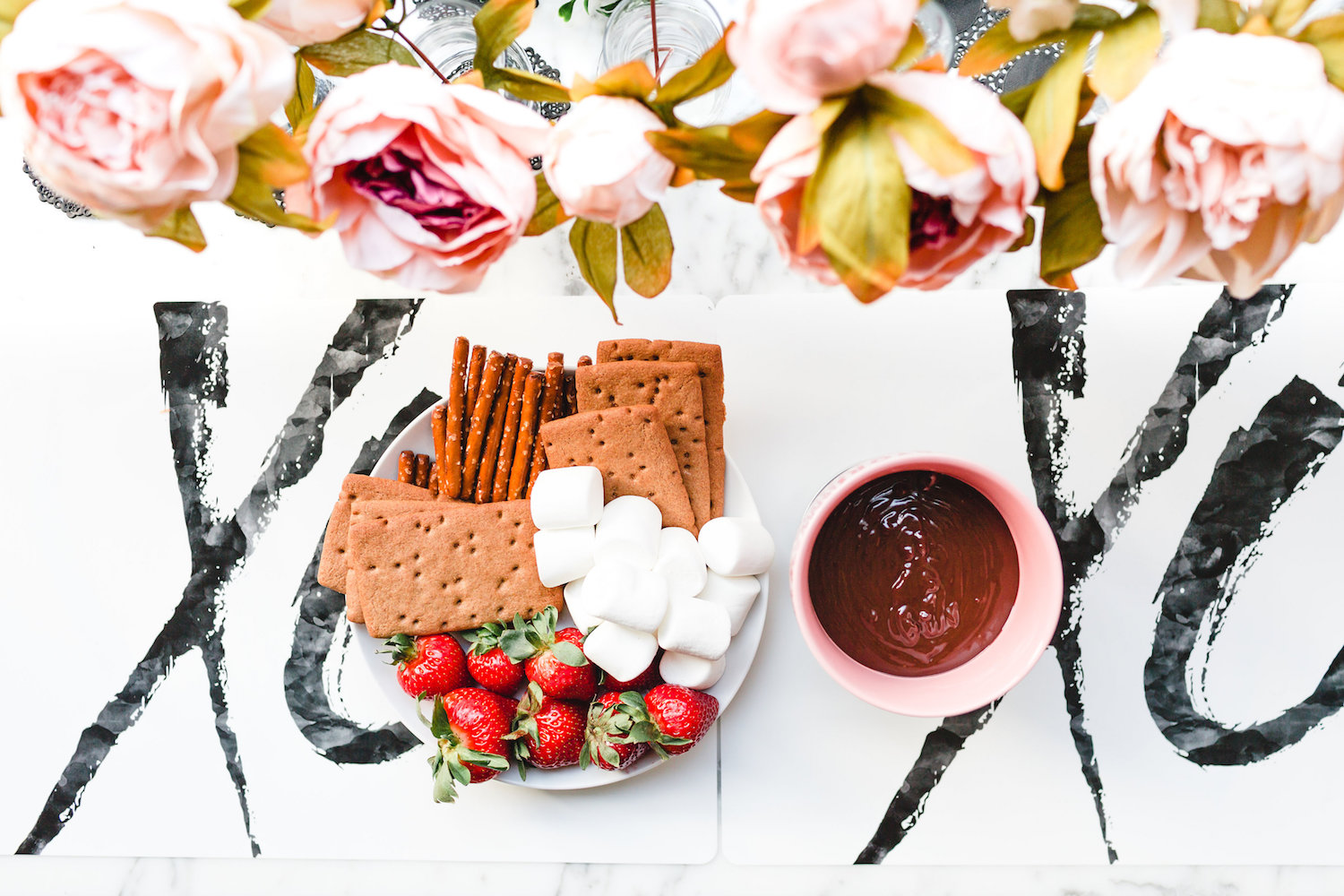 Ingredients
½ cup dark chocolate chips
¼ cup whole milk
1 tablespoon unsalted butter
Strawberries, marshmallows, graham crackers and pretzels, for dipping into fondue
Directions
Combine dark chocolate chips, whole milk and butter into a microwave safe bowl
Microwave on high for 1 minute.
Remove and stir until smooth.
Transfer to fondue pot.
Serve with strawberries, marshmallows, graham crackers and pretzels.
Raspberry & Nutella Stuffed Grilled Cheese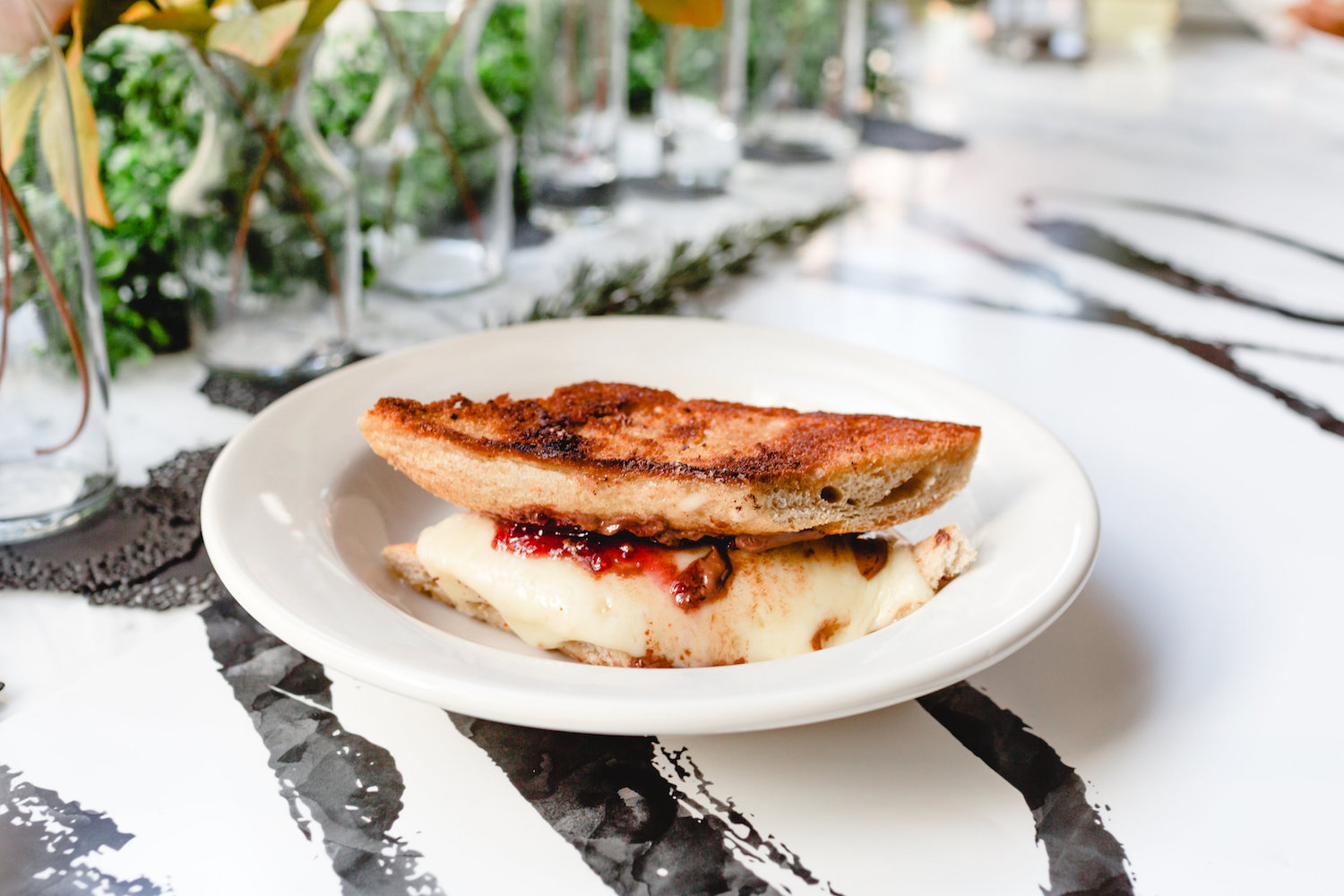 Ingredients
2 thick slices artisan bread
1 tablespoon butter, room temperature
1.5 oz Castello Aged Havarti Cheese
2 tablespoons Nutella
1 tablespoon raspberry jam
Directions
Heat a griddle or large pan on medium high heat until hot, then lower to just above simmering and let sit for 3 minutes.
Meanwhile, butter the outsides of your bread, spreading evenly to the edges. Place butter-side down and top one slice with Havarti cheese and the other with Nutella.
Place both slices butter-side down in pan and cover with a lid. This will help your cheese to melt without burning your bread. Keep an eye on the toasted-ness of the bread and the melted-ness of the cheese. It should take 3-5 minutes to grill, depending on the strength of your flame.
Just before taking the grilled cheese off the heat, spread the Nutella side with a spoonful of raspberry jam. Remove both slices from heat and sandwich together. Cut and serve immediately!
Castello Sweetheart Cheese Board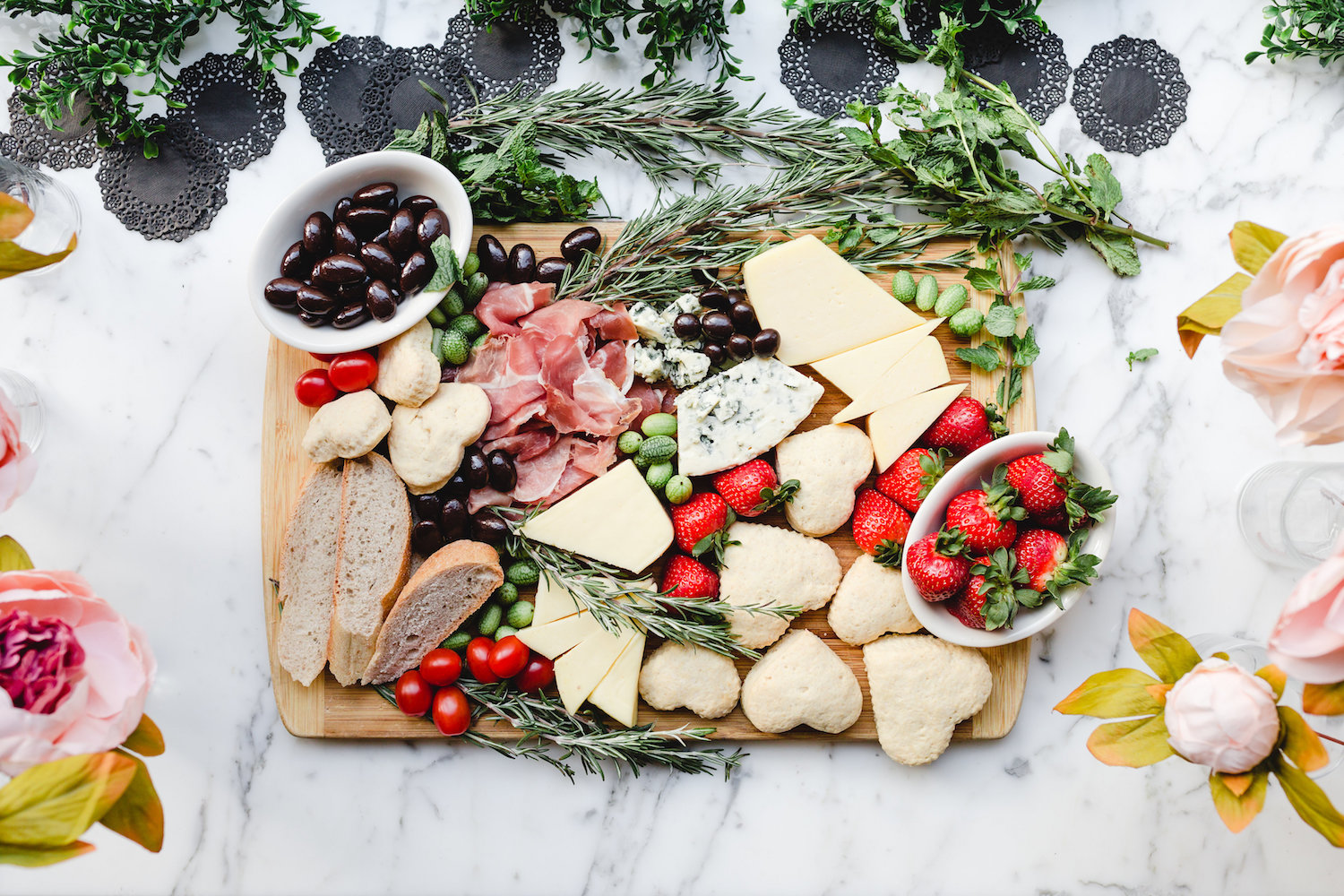 Sweetheart flatbread crackers
Ingredients
1 ½ cups flour
1 teaspoon baking powder
½ teaspoon salt
1 tablespoon sugar
4 tablespoons butter, cold and cut into pieces
½ cup buttermilk
Directions
Preheat oven to 350°F.
In a food processor, pulse together flour, baking powder, salt, and sugar.
Pulse in the butter until the mixture becomes a coarse meal.
Slowly stream in buttermilk, and pulse until dough forms into a ball.
On a lightly floured surface, roll dough to bout 1/8-inch thick.
Cut into hearts and place on a parchment-lined baking sheet.
Bake until crisp, about 20 minutes.
Cool crackers on cooling racks.
Once completely cool, crackers can be kept in an airtight container for up to a week.
Adapted from Heather's French Press
Ingredients
Traditional Danish Blue
Creamy Havarti
Aged Havarti
Prosciutto
Dark chocolate almonds
Dark chocolate acai berries
Strawberries
Baguette, sliced
Tomatoes, cucamelons & rosemary (garnish)
Directions
Arrange cheese board, as shown, and serve.