Unicorn parties are among our most popular parties for kids' birthdays.  The delightful theme is perfect for the magical land of childhood, a place a like to visit as often as we can.  Check out our ideas for the BEST unicorn party ideas for decorations, favors, invitations, and more!  Let us know if you are planning a unicorn party for your little one soon.
1) Magical Unicorn Birthday Party
One of our most popular parties from Itsy Belle Studio, featuring the adorable stripped favor bags featured above and directions for a DIY piñata which will be the hit of the party!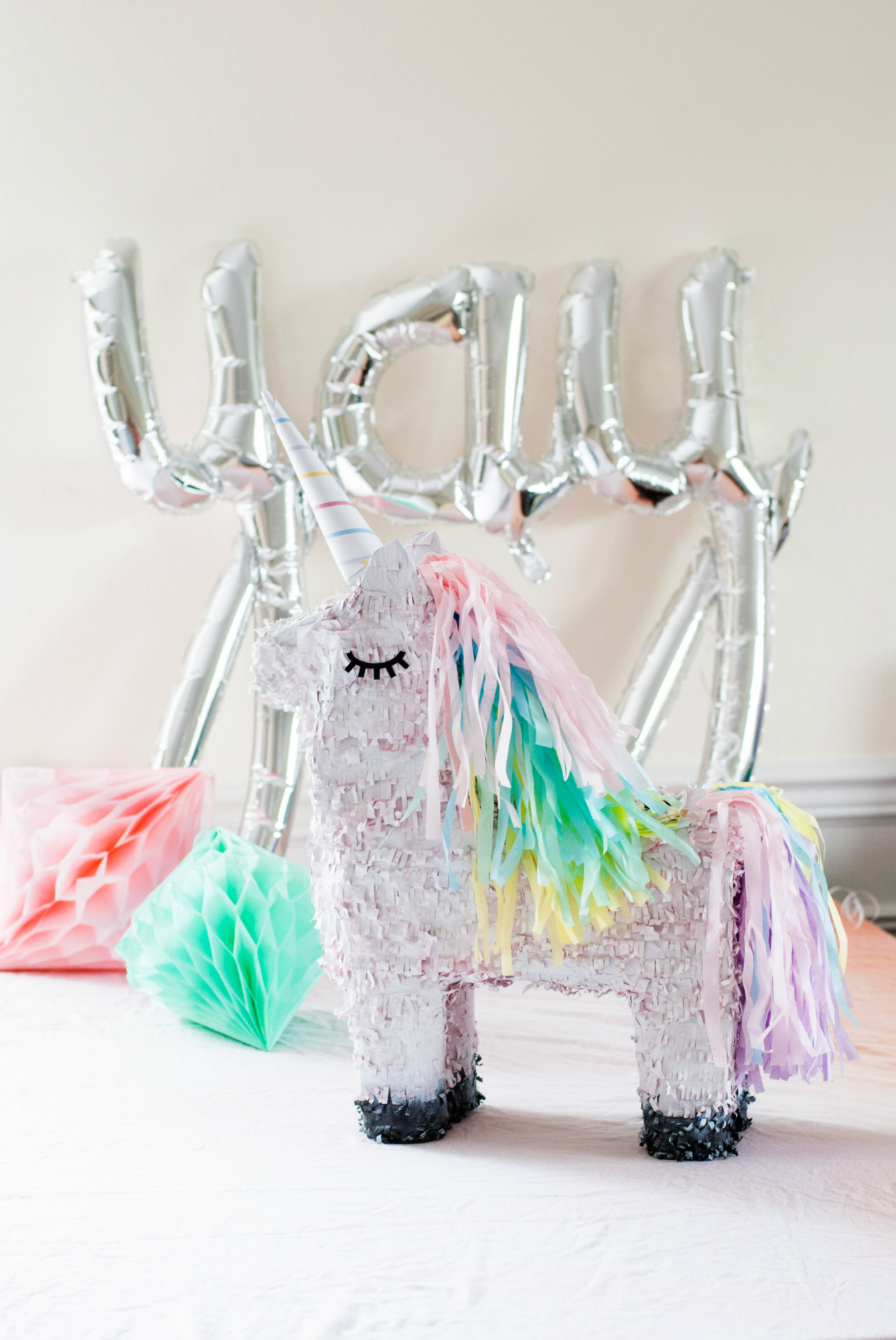 "Be a Unicorn in a Field of Horses."  This charming party features the iconic unicorn cake, magical ice cream cones, and colorful unicorn inspired decor from Cherry Blossom Events.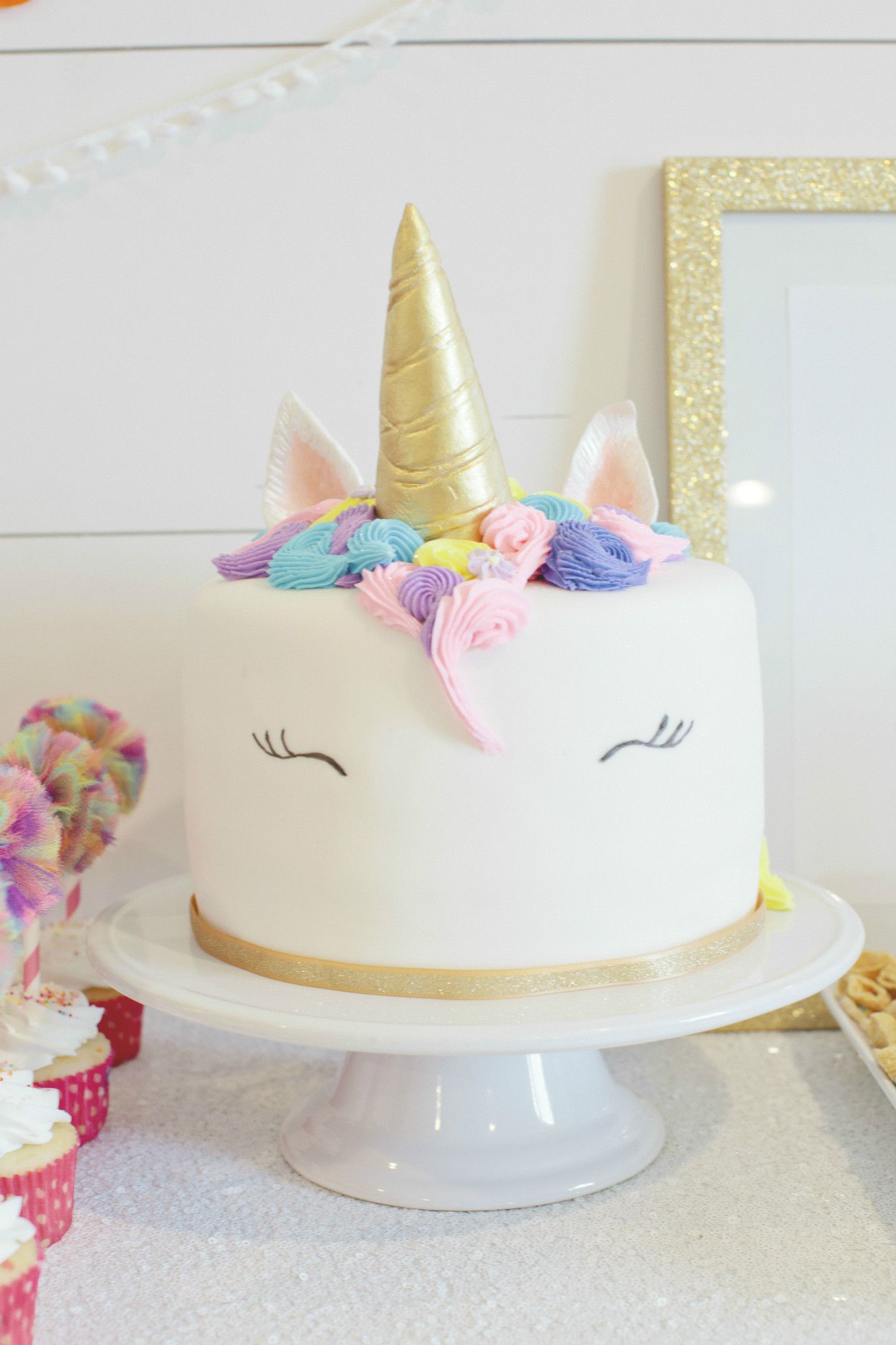 This adorable party styled by Twinkle Twinkle Little Party features the Slumberkins Unicorn plush.  We love the message behind Slumberkins, a company that promotes developing positive life skills in children. What a wonderful way to get a group of friends together for a celebration.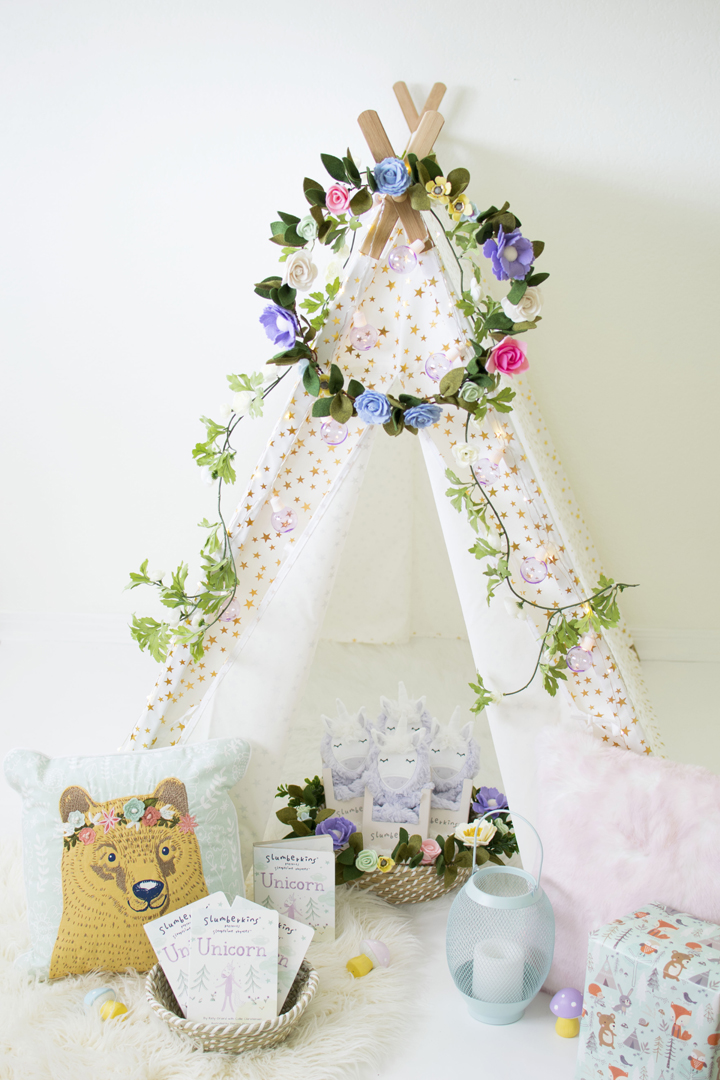 4) Happy Wish Party's Magical Unicorn Party
Leave it to Happy Wish Party to pull together the most fabulous ideas in one party, including a unicorn cookie decorating kit and a balloon garland that will make your party backdrop, how should we put it.. MAGICAL…
5. Unicorn Sprinkles from Sweets & Treats
What unicorn party would be complete without sprinkles?  We love these sprinkles from Sweets & Treats.
6. Personalized Unicorn Hair Tie Favors from Plum Polka Dot
Everyone can use more hair ties, right?  Especially when they are personalized for the party and have unicorns on them.
7. Unicorn Invitations from Just a Little Sparkle
Invitations set the tone, and for a unicorn party, we love the watercolor touches in Just a Little Sparkle's sweet printable invites.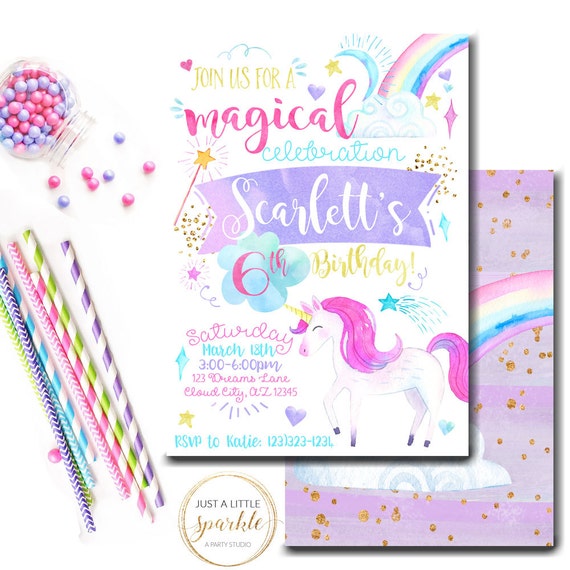 8. Unicorn Party Confetti from FestiveFetti
So many party decor uses for confetti – on tables, in favor packaging, in confetti balloons. FestiveFetti's unicorn confetti is a mix of pastel rainbow confetti, sequins and gold unicorns.  The unicorns can be used as cupcake toppers too!  We love a party decor item that is versatile.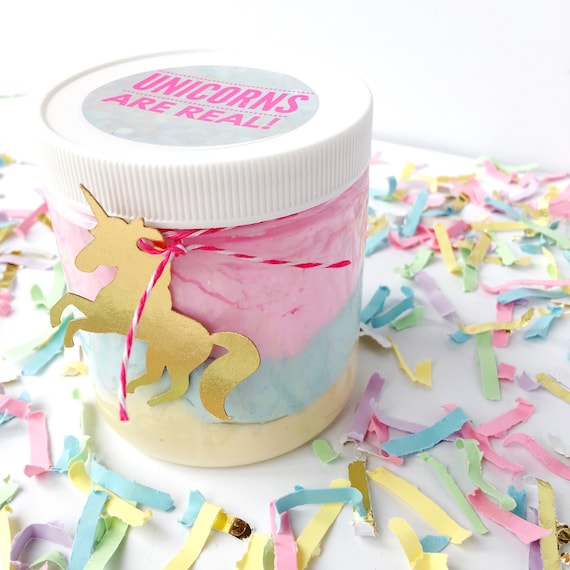 9. Mini Unicorn Piñata from La Jolie Fête
These mini unicorn piñatas are too cute for words.  We'll take 12.
10. Unicorn Fabric from Spoonflower
You can bet Spoonflower's design community has created a nice collection of unicorn fabrics for all your party decor needs.
11. Personalized Unicorn Cake Topper from Avalon Sunshine
This cake topper is darling and delicate, perfect for a unicorn themed party!
12. Unicorn Plates & Napkins from CIBY Parties
Fairytale parties call for fairytale plates, and these unicorn plates double as cute table decor.
13. Unicorn Balloons from Sprinkles and Confetti
No party is complete without balloons, and Sprinkles and Confetti will not only ship you a unicorn balloon but a custom box of unicorn decor to go with it.
14. Unicorn Quote Printed Artwork from Minor Details CLE
This print would be gorgeous at the entrance of the party, and then let the birthday child keep it for room decor!  This way the party memories will always be close at hand.
15. Iridescent Pastel Garland from Fancy Flamingo Design
We love these pom pom garlands for creating a festive atmosphere that doubles as favors for your party guests.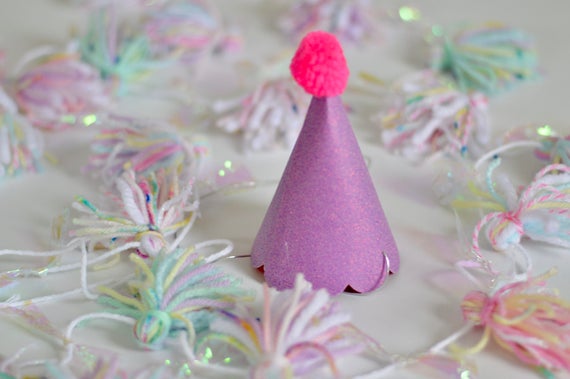 Thanks everyone for checking out our unicorn party ideas from our amazing and talented community!  Let us know what kind of party roundups you would like to see next.